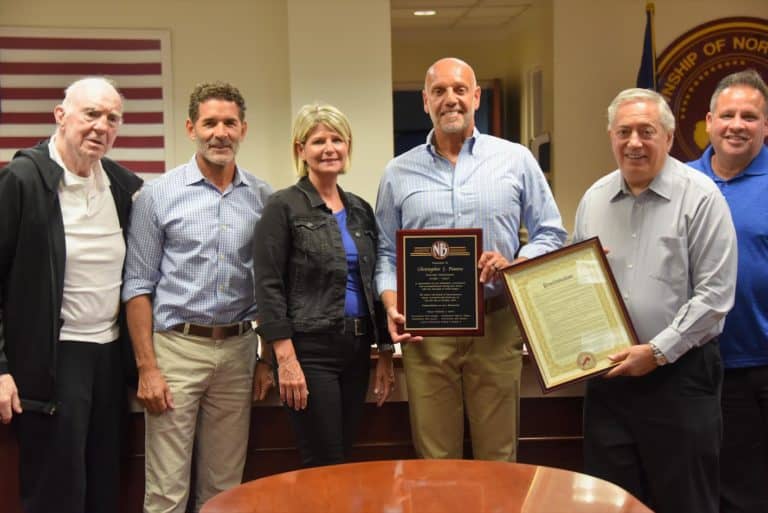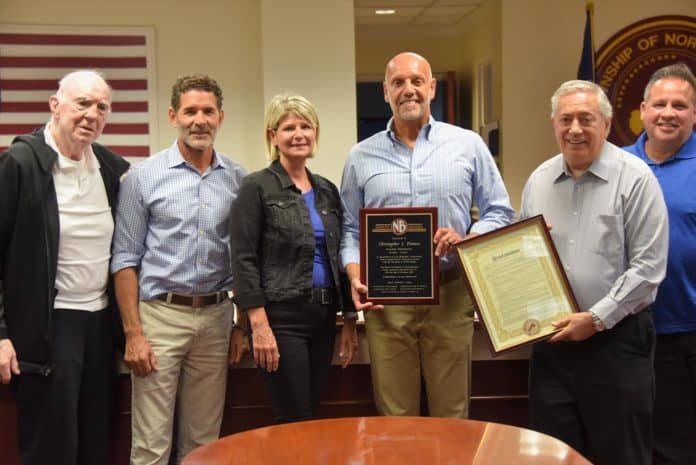 The North Bergen Board of Commissioners has honored former Township Administrator Chris Pianese with a proclamation. Mayor Nicholas Sacco read the proclamation into the record at the Oct. 6 meeting, the first in-person meeting since the onset of COVID-19 in 2020.
Pianese retired after 32 years at the beginning of July, handing the reigns over to now-Township Administrator Janet Castro, who previously served as Health Officer for North Bergen and several other North Hudson municipalities.
While Pianese served as Township Administrator starting 2002, he starting working for North Bergen in 1989 as Assistant Comptroller. He became Chief Financial Officer in 1995 before becoming Township Administrator.
"He was responsible for the complete day-to-day oversight of the township," Sacco said. "The commission form of government does not have a full-time mayor or commissioners. So we used to run the government by crisis. When I first took office, we would come here after work and spend hours trying to fix problems, going all night. Then we decided the best way to handle this simple to get a Township Administrator who would be able to run the day to day operations in Town Hall, coordinate it, and then report back in. The government then ran more smoothly."
Pianese was the second town administrator in the township's history.
"He's done such an outstanding job," Sacco said. "When he told me he was leaving, it was one of the terrible days of my life."
A lasting legacy
Some of Pianese's accomplishments mentioned in the resolution include: the designation of Tonnelle Avenue as a redevelopment zone, leading to a $250 million revitalization of the area; managing the building of the $5 million municipal court complex and $6 million municipal pool complex simultaneously; and improving the township's bond rating from Moody's Financial Services from Baa3 to Aa2.
"From Baa3 to Aa2, that means a great deal when you're borrowing money," Sacco said.
Pianese was also responsible for negotiating payments-in-lieu-of-taxes agreements leading to a resurgence of residential development; spearheading efforts to construct the new $18 million township library and community center; and initiating and continuing the redevelopment of the Paterson Plank Road downtown area.
"And of course, the new park that went in at the time," Sacco said referencing the park that opened on Paterson Plank Road in 2020.
Other accomplishments highlighted by the resolution include overseeing the creation of the North Bergen Help Desk program to improve constituent services; helping guide the township through the COVID-19 pandemic; negotiating collective bargaining agreements for all labor unions; initiating shared services agreements with local municipalities; aiding in the regionalization of five North Hudson fire departments which resulted in the North Hudson Regional Fire and Rescue; and converting the Emergency Management Service from volunteers to paid employees.
As Township Administrator, Pianese was responsible for five departments with over 540 total employees.
"The agencies were out there on their own operating model, and Chris made sure they all fell into line and worked together," Sacco said.
Deep roots in North Bergen
In addition to Township Administrator, Pianese also served as a Board Commissioner for the North Hudson Regional Fire and Rescue, the Director of Special Projects for the North Bergen Municipal Utilities Authority as well as the North Bergen Free Public Library, the North Bergen Parking Authority, and the North Bergen Board of Education.
Sacco presented Pianese with a framed copy of the proclamation and a plaque.
"I just want to take another opportunity to thank everyone," Pianese said. "It was the opportunity the mayor gave to me 20 years ago, when he entrusted me to run the town as the manager."
Pianese briefly reflected on his relationships with Sacco and the board: "It was just a great bond, as well as with other commissioners… It's been a great time. It's just been a great opportunity and I feel good about what I've done. As a resident, I'm proud to be here."
For updates on this and other stories, check www.hudsonreporter.com and follow us on Twitter @hudson_reporter. Daniel Israel can be reached at disrael@hudsonreporter.com.