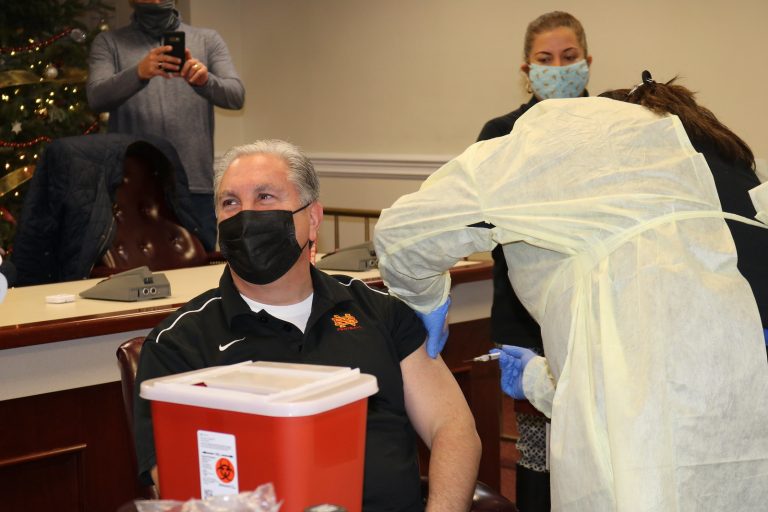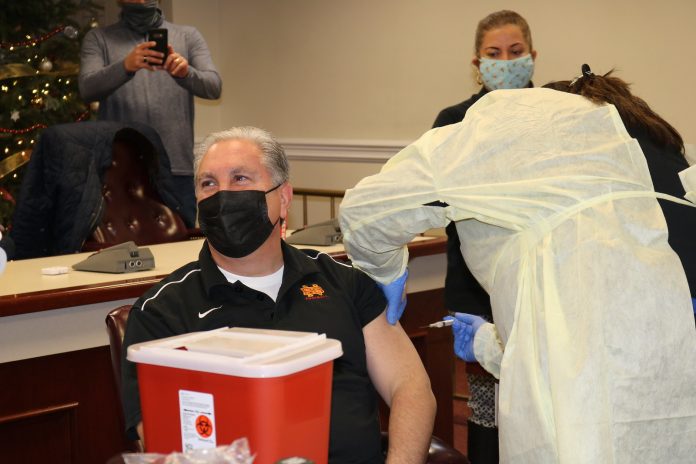 As Phase 1A of vaccine distribution rolls out in New Jersey, municipal frontline workers across North Hudson have begun to receive the vaccine.
North Bergen
North Bergen's first doses of COVID-19 vaccines were administered to a select group of municipal healthcare and frontline workers on Dec. 24 in the township municipal chambers.
North Bergen is the first municipality in Hudson County, and one of the first in the state, to administer the Moderna vaccine to municipal employees. The township initially received 500 doses for Health Department, EMS, and funeral home workers.
The vaccine requires two doses, with the second dose to be administered 28 days after the first. As more doses are received, the vaccine will be made available to additional groups and the general public in the months ahead.
Union City and Weehawken
On Dec. 26, Union City and Weehawken municipal healthcare workers and EMTs began receiving the Moderna vaccine.
"We are so pleased to be able to partner with Weehawken to provide our frontline healthcare workers with the vaccine," said Union City Mayor Brian Stack.  "These are our healthcare workers and EMTs, who are called upon to treat patients who have been hardest hit by the COVID-19 virus."
"Providing vaccinations to our frontline healthcare workers is critical," said Weehawken Mayor Richard Turner. "We must take care of the workers who are treating our family, friends, and neighbors suffering from this terrible virus."
Once healthcare workers have been vaccinated, Union City and Weehawken will offer vaccines to first responders and essential employees and continue through each category. In Phase 1B, first responders including police and firefighters, other frontline essential workers, and vulnerable members of the community will be vaccinated. In Phase 1C, the final phase before residents will begin receiving the vaccine, all other essential workers will be vaccinated.
Stack continued: "It is so important, especially in such a population dense community, that we get the message out there that the vaccine is safe and effective. When we start vaccinating residents, we want them to be optimistic in the successfulness for the vaccine and comfortable being vaccinated."
Turner concluded: "Vaccines are the only way we are going to combat the COVID-19 virus. We want our employees and residents to know that we are confident in the vaccine and the vaccination process and want to encourage eligible employees and residents to get vaccinated."
For updates on this and other stories, check www.hudsonreporter.com and follow us on Twitter @hudson_reporter. Daniel Israel can be reached at disrael@hudsonreporter.com.