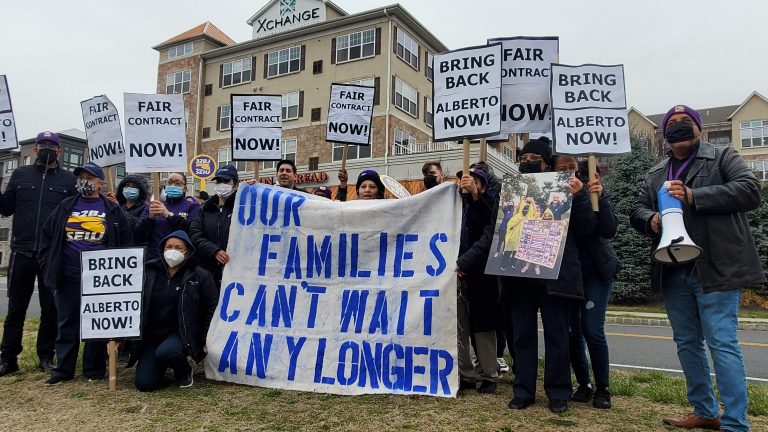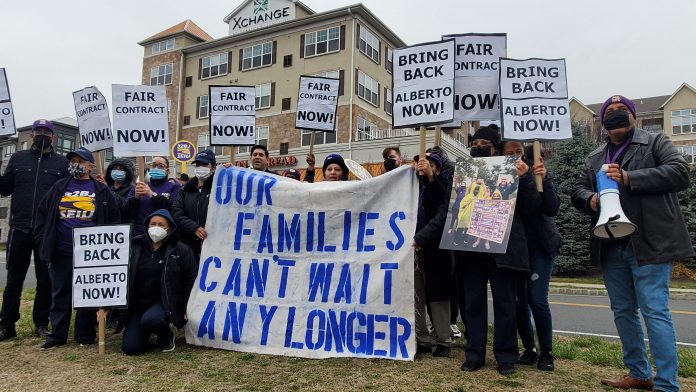 32BJ SEIU union workers from the Xchange apartment complex in Secaucus have rallied to demand for more wages and benefits, saying that they've only received minimal wage increases despite their work throughout the pandemic.
The workers, which comprises porters and concierges employed under Planned Companies that have been unionized since late 2019, said that they've gone for almost two years without a contract, including having only gotten at $13.25 per hour wage without any health care.
32BJ Vice President Kevin Brown said that Planned has stalled on making any offers. "They're just messing around at the table wasting time wasting lawyers, which they don't care about, and the owners of this property, Atlantic Realty, they're not doing anything to encourage Planned to work this out," he said. "This needs to be resolved as soon as possible."
The union's demands include a three year agreement to get over the minimum wage, provided healthcare, paid time off and "basic decency" from their employers and the owners of the complex.
One worker named Martha Roca, who has been employed at the Xchange for three years, said that she has cleaned and worked throughout the pandemic, but despite that, Planned hasn't paid enough to support her family.
"We need jobs to help us to put food on our table," she said via an interpreter during a speech. "No job [should] force us to choose between paying for necessities and having health insurance."
Brown also took more aim at Planned and Atlantic over how much they earn compared to the workers during the rally. "I'm sorry sisters and brothers, I don't know any other word, but b******t!" he exclaimed.
Hudson County Commissioner Bill O'Dea also attended the rally to support the union, saying that it is a "disgrace" on how the workers are being treated. "It affects their safety, our families and our livelihoods," he said during a speech. "These essential workers are crucial to keep the New Jersey economy thriving, and must be treated as such."
O'Dea said that back at the Board of Commissioners, they'll be doing resolutions and letters to support the union's efforts to organize and that Planned can negotiate in good faith.
Planned did not respond for comment on the union's rally.
The union plans to meet at the bargaining table again on March 29.
For updates on this and other stories, check www.hudsonreporter.com and follow us on Twitter @hudson_reporter. Mark Koosau can be reached at mkoosau@hudsonreporter.com or his Twitter @snivyTsutarja.