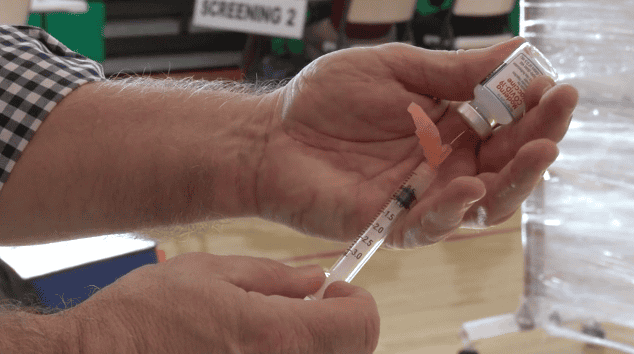 In the town of Secaucus, vaccination rates are the highest in Hudson County, officials said. In an interview with the Hudson Reporter, Town Administrator Gary Jeffas broke down the numbers.
According to Jeffas, over 100 percent of adults have received their first dose of a vaccine. Jeffas said data from the Health Department actually showed that somehow "101 percent" of residents had received a first dose. At least 93 percent of adults were fully vaccinated.
"We're the highest in the county, percentage-wise," Jeffas said. "We consider that to be outstanding. We basically can't do better than where we are."
The town is administering vaccines from the Recreation Center at 1200 Koelle Boulevard. Jeffas said that vaccinations are available at the site every Wednesday from around 3 to 5 p.m. Whether it's their first or second dose, residents can walk in.
Booster shots and youth vaccination
For third doses and boosters, residents must make an appointment by calling the Health Department at 201-330-2031 or by visiting secaucusnj.gov/vaccine.
"Most people are coming in for boosters," Jeffas said.
In addition to boosters, the town has been offering vaccinations at schools through the school district.
"We've been doing days with the schools where we're doing the 5- to 11-year-olds," Jeffas said. "But those are set days with the school. We set it up with the school system and arrange that through them."
Data on the vaccination rates for boosters shots and newly eligible youth is not yet available. However, in terms of boosters, Jeffas estimated a few hundred boosters had been administered in the weeks the town has offered them.
"We've been running clinics since it came out," Jeffas said. "We've been doing about 140 doses every time, so I can safely say we've done boosters for about 600 people, based on my rough count."
Get vaccinated
Secaucus offers both Moderna and Pfizer vaccines.
"We just started out doing all Moderna until we were able to do Pfizer," Jeffas said. "Now it is both, so some people are coming in for Pfizer, most for Moderna."
Those eligible for first and second doses of the COVID-19 vaccines include those age 18 and over for the Moderna vaccine and those age 5 and over for the Pfizer vaccine. Third doses of those vaccines are available for those who are severely immunocompromised and received their second dose at least four weeks ago.
Booster shots, which for Moderna is a half dose and for Pfizer is a full dose, are available to those who are 65 and older, those who are 18 and older who live in long-term care settings, or hav underlying medical conditions, or live or work in high-risks settings, and have received the Moderna or Pfizer vaccine at least six months ago.
Those who live or work in Secaucus, and are eligible for the vaccine, can get the jab at the Recreation Center. For more information, go to secaucusnj.gov/vaccine.
For updates on this and other stories, check www.hudsonreporter.com and follow us on Twitter @hudson_reporter. Daniel Israel can be reached at disrael@hudsonreporter.com.