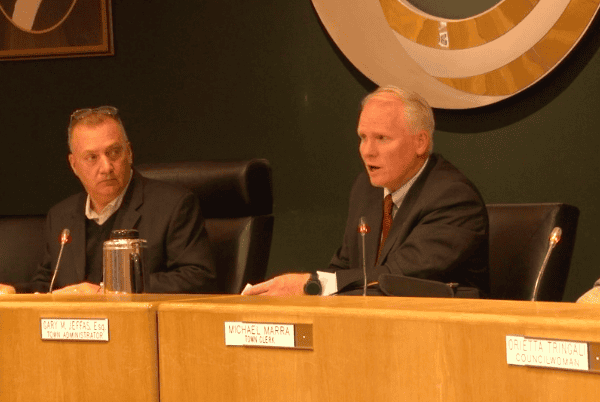 The Secaucus Town Council has voted to introduce an ordinance that would promote the construction of electric vehicle parking spaces.
The council voted unanimously to introduce the ordinance at its Nov. 23 meeting. The ordinance would encourage "electric vehicle supply/service equipment" as well as "make-ready parking spaces," which are normal parking spaces that can be converted to electric parking spaces later on.
Town Administrator Gary Jeffas broke down the details of the ordinance to the Hudson Reporter.
Following the model ordinance
"So the reason we did that is that the state recently passed a statute and the municipality is pretty much adopting what they did at the state level," he said. "It requires builders, when they're constructing, to put in a certain amount of electric vehicle parking spots."
The introduced ordinance, based off of a model ordinance unveiled by Gov. Phil Murphy, aims to makes it easier for people to drive electric by streamlining the local approval process for installing convenient and cost-effective charging infrastructure.
The ordinance provides minimum requirements and consistent guidance for electric vehicle parking. According to Jeffas, the ordinance would also make it so that electric vehicles would count for double the parking requirement when developers are constructing parking.
"Under the state guidelines which we adopted, there's a provision in there that if you put in one electric vehicle parking spot, it would count as two parking spots," he said. "It helps a builder out, because if you're building something that requires 50 parking spots, if you put in some electric vehicle spots, they count as two spots."
In addition, make-ready spots would also count toward the requirement.
"The make-ready is a spot that you can get credit for as long as it's ready to pull the trigger on," he said. "It's an easy conversion into an electric vehicle spot." 
Overall, Jeffas said it would be a good way to incentivize constructing electric parking spots.
"It's kind of a way to encourage more implementation and building of electric vehicle parking," he said. "It's just kind of a good incentive for builders to consider that in all of their projects." 
Changing one-way roads
Another matter regarding vehicles and traffic was also introduced at the meeting, specifically an ordinance reversing the direction of two one-way roads in town. Per Mayor Michael Gonnelli's request, Jeffas explained the change at the Nov. 23 meeting.
"We are just changing the directions," Jeffas said at the meeting, referring to portions of Second Street and Fourth Street.
According to Jeffas, the shift is occurring after suggestions from the neighborhood.
"Just based on resident requests, and the mayor and councilmen knocking on doors and speaking with the residents, there was just a request to change the one-way directions between First Street and Fourth Street," he said. "Now First Street will be coming out towards Flannigan Way. Second Street will going in toward Centre Avenue. Third Street will be coming out and Fourth Street will be going in."
The move was not being done without consideration for current traffic, according to Jeffas.
"It will be a cleaner traffic flow," he said. "The police did a study of the area. That was the recommendation to have the smoothest flow of traffic throughout those blocks."
After the meeting, Jeffas told the Hudson Reporter said it wouldn't be implemented immediately, but likely within the next month or so. 
"We'll give it a number of weeks because we have to get all of our signage done, as well as if there's any painting that needs to be done on the street," he said. "We'll usually send a notice in advance out to the residents on those blocks to let them know we're in the process of making the change and we expect that on such date it's going to be changed."
Upcoming public hearings
A public hearing for both of the ordinances will be held at the council's next meeting in December. The Secaucus Town Council will meet on Dec. 13 at 5 p.m. in the council chambers at Town Hall at 1203 Paterson Plank Road.
Residents can attend in person or watch a recording of the meeting posted to the town's website afterwards. For more information, go to secaucusnj.gov and click on the event on the calendar webpage.
For updates on this and other stories, check www.hudsonreporter.com and follow us on Twitter @hudson_reporter. Daniel Israel can be reached at disrael@hudsonreporter.com.