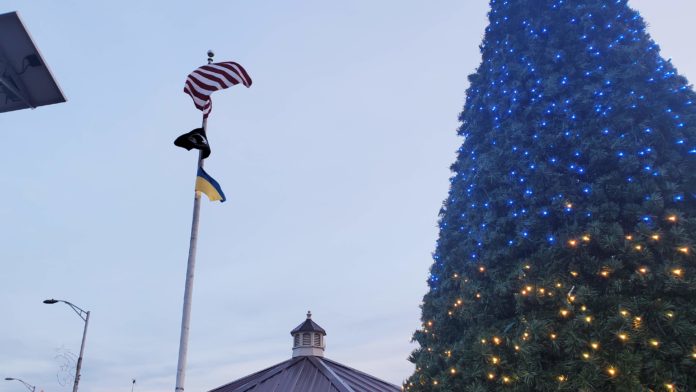 Secaucus continues to offer its support, both symbolic and material, to Ukrainians affected by the Russian invasion.
"Over the last month, the people of Ukraine have suffered unimaginable horrors of the war," Mayor Michael Gonnelli wrote in the town's monthly newsletter.
Millions of Ukrainians have been forced to flee their homes, families have been torn apart, lives lost, and the country has been ravaged by Russian troops who more recently have been accused of war crimes.
"While the war was not started by citizens of the country, they are the ones who feel the repercussions most severely," Gonnelli wrote. "I ask the residents of Secaucus to collectively pray for peace and for a return to normalcy in Ukraine."
Secaucus has installed signs around the town to show solidarity with Ukraine and have lit the tree in the center of town with the colors of the Ukrainian flag. The town also partnered with North Bergen to collect donations of much-needed supplies for Ukrainians affected by the war.
"We cannot directly impact the current direction of events in Ukraine, but we are doing all we can to show our support for Ukrainians," Gonnelli wrote.
Residents step up to help Ukraine
Additionally, many organizations in town, volunteer groups at the Secaucus High School, and employees of the town have been working hard to gather supplies, sort donations and find a way to send much-needed items to Ukrainians who have been displaced or otherwise affected by the war.
"While our donation drive was successful, we had to find a way to send these supplies to the impacted regions," Gonnelli said. 
The town eventually connected with an organization started by Aleksandra "Sasha" Chmerkovskiy called "Baranova 27." The charity is named after the address where sons her sons Maksim and Valentin grew up. Maksim and Valentin, former Dancing with the Stars participants, are actively oversaw the shipment and distribution of donated supplies to the Ukrainian region, according to the town.
As of March 24, Secaucus donated 15 palettes of supplies to Ukraine. Items include: 562,000 pairs of nitrile gloves; 208,000 surgical gloves; 5,000 face shields; 3,600 white coveralls; 8,125 clear reusable masks; 2,400 medical gowns; 20,000 washable three-ply adult masks; and 20,000 washable three-ply kids masks. 
Offering support in any way
And while the town is not currently collecting donations for Ukrainians, it is continuing to offer support in other ways.
"We are currently working on gathering more supplies on the list of items needed and will send out another shipment soon," Gonnelli said. "Under Baranova 27's supervision, these items are being shipped to areas where Ukrainians have taken refuge."
In an interview with the Hudson Reporter, Town Administrator Gary Jeffas confirmed that the town was no longer collecting supplies for Ukraine. However, residents and local businesses have been making donations of medical supplies to be sent overseas.
"We have some businesses who've made donations of medical supplies, face masks, sanitizer, things like that, that are in need," Jeffas said. "They have gone out, and another shipment is going out soon of that stuff."
According to Jeffas, the issue was finding ways to get non-medical supplies to those who need it in Ukraine.
"We are no longer collecting things like clothing because it's been harder to get to organizations to ship the things out," Jeffas said. "They were looking for more of the medical necessities, those were taking precedence."
As the war rages on, Gonnelli asks residents to continue to pray for peace in Ukraine: "Secaucus stands with Ukraine. Please join me in praying for peace and the end to the war."
For updates on this and other stories, check www.hudsonreporter.com and follow us on Twitter @hudson_reporter. Daniel Israel can be reached at disrael@hudsonreporter.com.