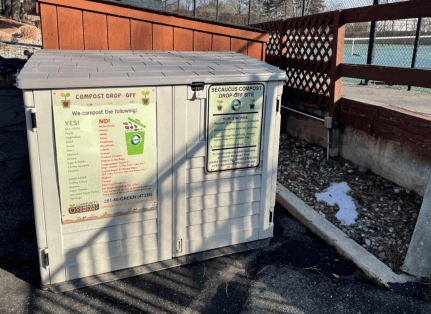 Secaucus will keep its composting program following its successful launch in June of 2021.
Mayor Michael Gonnelli and the Town Council authorized the pilot program last year, with five separate sheds collecting food scraps from the public. Following robust participation and its resounding success, the program will continue with hopes of major expansion in the future and a few minor changes to locations, the town announced in its monthly newsletter.
Since the installation of the compost sheds, the town has seen approximately 200 participants. Over the course of the last six months, local participants diverted more than 9,300 pounds of food scraps into Community Compost Company's system. As a result, the food scraps were processed into certified organic compost instead of ending up in landfills.
In 2022, the composting drop-off shed locations at Mill Ridge Ball Fields, Fountain Park and Harmon Cove Towers will remain the same. The Shetik Field shed has been relocated to The Cove Club at Harmon Cove, on the curb facing Hudson Regional Hospital behind the new Dog Park.
The shed at Xchange will be relocated from Laurel Hill Park to Riverside Station Blvd., next to the SMUA pumping station. All changes aim to make it easier for participants to drive up and drop off compostable materials.
Composting at community gardens
In addition to the CCC composting sheds, the Secaucus Environmental Department also encourages all Community Garden participants to use the compost systems located at each garden. The Department also conducts informational and training programs throughout the year. The programs are listed at green.secaucusnj.gov as they are scheduled.
"Composting is a climate mitigation strategy that everyone can take part in, so get involved in 2022 and become part of the solution," said Eileen Banyra, president of Community Compost Co. "Whether it's your backyard, a drop spot, or your community garden's compost bin, your banana peels, eggshells and coffee grinds will help restore the soil's health for growing nutrient rich food and reducing emissions generated in landfills. We are honored to partner with Secaucus to offer support and ensure the success of the food waste recycling program in 2022."
Register for the free program online at secaucusnj.gov/compost. For more information, contact the Secaucus Environmental Department at 201-864-7336 or environmental@secaucus.net.
For updates on this and other stories, check www.hudsonreporter.com and follow us on Twitter @hudson_reporter. Daniel Israel can be reached at disrael@hudsonreporter.com.