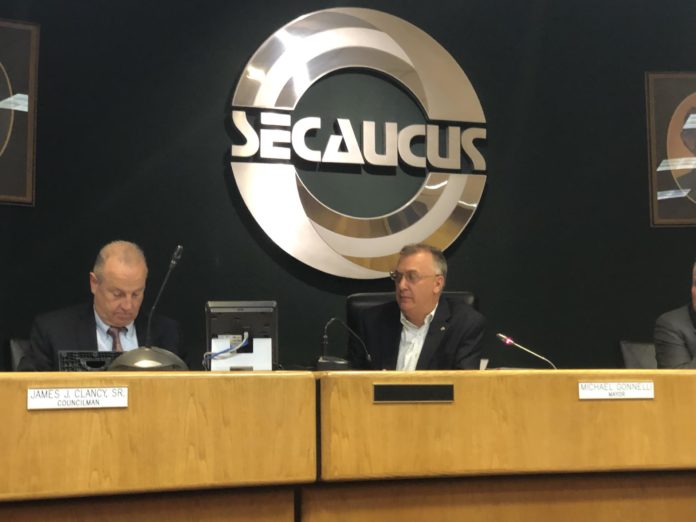 Secaucus has updated fees for after hours building inspections, as well as part-time inspectors.
Mayor Michael Gonnelli and the Secaucus Town Council have adopted an ordinance that does so at its October 25 meeting after it was introduced in September. The council voted unanimously in favor of the measure, except for Second Ward Councilman Mark Denhert who was absent for family reasons.
According to the ordinance, the mayor and council recognizes that the safety of all residents and the protection of human life, buildings and structures is of great concern. Secaucus addresses inspections and Certificates of Continued Occupancy through the town's Construction Department in the Town Code, Chapter 64.
Secaucus' Construction Department conducts Building Code and Certificate of Occupancy inspections in multi-family dwellings in conformance with the state standards in the public interest. Sometimes, the department performs said inspections after regular business hours as needed, and the fees for said inspections are recommended to be updated to cover said costs, according to the ordinance.
Fees for after regular business hour inspections and per diem Construction Code Inspectors are updated under the adopted ordinance. Building Code Inspections and Habitability Inspections conducted after regular business hours, and the rate of per diem Construction Code Inspectors are increased to $50 per hour.
The rate was previously $37 an hour, and it used to only apply to dwellings consisting of four or more units. Otherwise, there are no other changes to that chapter of the Town Code.
There was no discussion of the ordinance when it was introduced nor when it was adopted. After the October 25 meeting, Town Administrator Gary Jeffas told the Hudson Reporter that the ordinance aimed to primarily benefit part-time inspectors.
"We have, associated with our Health and Construction Departments, part-time inspectors," Jeffas said. "The plumbing, the electric, and the building inspectors, there's some part-timers that work there. Our prior ordinance said that their maximum rate was a maximum of $37 an hour for that kind of work. We upped it to $50 an hour."
Jeffas said the rate change was bringing Secaucus up to speed with rates offered by surrounding municipalities.
"All the going rates in all the towns around us are higher," Jeffas said. "So it just made it problem for us when part-timers retire or leave us. So the ordinance updates that the fee structure would be different and allow us to offer a higher hourly rate."
The next Town Council meeting will be held on November 9 at 7 p.m. in the council chambers at Town Hall at 1203 Paterson Plank Road. For more information, go to secaucusnj.gov.
For updates on this and other stories, check www.hudsonreporter.com and follow us on Twitter @hudson_reporter. Daniel Israel can be reached at disrael@hudsonreporter.com.