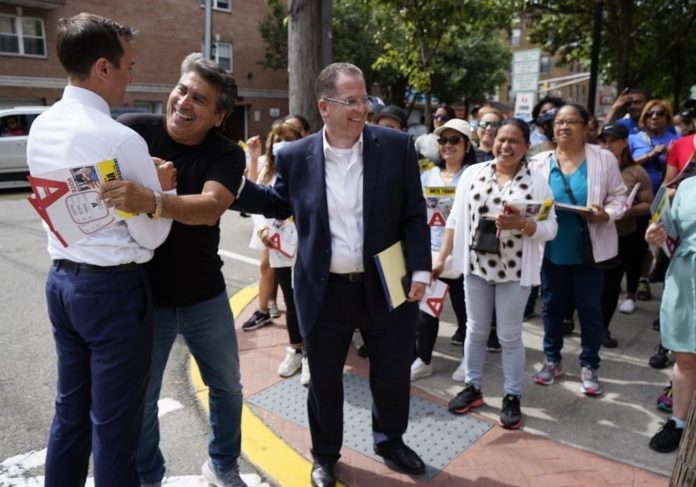 Union City Mayor Brian Stack is prepared to continue to guide America's densest city after his election to a sixth term. He and his slate of incumbent commissioners including Wendy Grullon, Maryury Martinetti, Lucio Fernandez, and Celin Valdivia, sailed to victory on May 10. 
In an interview with the Hudson Reporter, the mayor reflected on the 2022 non-partisan municipal election and what is next for the city. 
Stack enters sixth term
Stack agreed with the assessment that his re-election for a sixth term was a re-affirmation by voters of their support of his administration, but added his own take. 
"We work every term like it's the first term," Stack said. "The people of Union City have chosen us to lead the city for the next four years. We will work just as hard as we did in the first term and really show our constituents how dedicated we are. We really do our best and will even have more services and more programs for residents in the community." 
That coupled with the fact that he and his slate ran unopposed is enough to make a case for Stack's popularity in Union City. This is further proven by the high voter turnout in Union City in the past election, which was distinguished by a low turnout across the state. 
However, Stack was pleased with the results. His finally tally in the municipal election was equivalent to a turnout rate higher than nearly every other municipality. 
"We went over 10,000 votes," Stack said of his vote total. "I think our final was 10,046, which I was very happy about. We're always looking for everyone to participate in the election." 
Turnout serves as report card
According to Stack, turnout was especially important to him since he was running unopposed. 
"If we're running uncontested, we look at it as a report card based on how many people come out," Stack said. 
If there was a report card for the most recent municipal election based on voter turnout, Stack would likely get an A. He said there's no secret to his get-out-the-vote success, that is, other than keeping constituents happy. 
"Some people think there is a special ingredient for getting out the vote to the polls on Election Day, but it's not," Stack said. "It's done through the four years up until that election. We worked hard every day to try to deliver results. Whether the person is coming in with a problem, a personal problem or a neighborhood problem, or filing potholes, or that the parks look good, and our schools are running well, we listened." 
While Stack enjoyed a great show of support from residents in the recent election, he opted not to have elaborate festivities around his inauguration such as in Bayonne for Mayor James Davis and the Bayonne City Council and to some extent in Weehawken for Mayor Richard Turner and the Township Council. Instead, it was business as usual in Union City for the six-time mayor. 
What's next for Union City?
Looking ahead, Stack looks to continue the work he has been doing in Union City for more than a decade. Residents can expect the same level of constituent outreach Stack has been known for over the years, among other key services. 
"Our main goal is to try to stabilize taxes and continue to deliver good constituent services," Stack said. "We want to build upon our quality of life and keep City Hall accessible to the all of the community." 
In terms of specific projects, there are a number of things in the works in Union City. 
"We're working on redoing 32nd to 49th on Bergenline Avenue," Stack said. 
The Bergenline Avenue project follows ongoing street work on Palisade Avenue and Central Avenue. In addition to that, there is new open space in the works. 
"We're also working on building a small soccer field for young children on 41st and 5th Avenue," Stack said. 
On top of the new streets, sidewalks, and the new youth soccer field, the city is also looking to supplement the library. 
"In addition, the library at 43rd Street will be getting an 1,000 square foot addition," Stack said. 
New school in the works
The cherry on top of the plans for the next few years is a new school on Bergenline Avenue.  
"One additional item would be the brand new school next to 37th Street between Bergenline Avenue and Kennedy Boulevard," Stack said. 
The city is still in the planning stages of the new school project. 
"It's in the process of being designed," Stack said. "Hopefully, we'll be out to bid soon, but it's in the design phase… We should be out there doing some base work, and we'll send it out to bid over the course of this year." 
The school project in the works, as well as the other improvements and services planned and provided by the city, are the types of things Stack was referring to that drive residents out to vote for him in droves. 
"We deliver good services every single day," Stack said.  
Stack concluded by encouraging residents to reach out to him or the city if they need help with anything. 
"All residents can call my on my cellphone at 201-376-1942, seven days a week. I'll always be accessible and I'll always be there to help them." 
For updates on this and other stories, check www.hudsonreporter.com and follow us on Twitter @hudson_reporter. Daniel Israel can be reached at disrael@hudsonreporter.com.