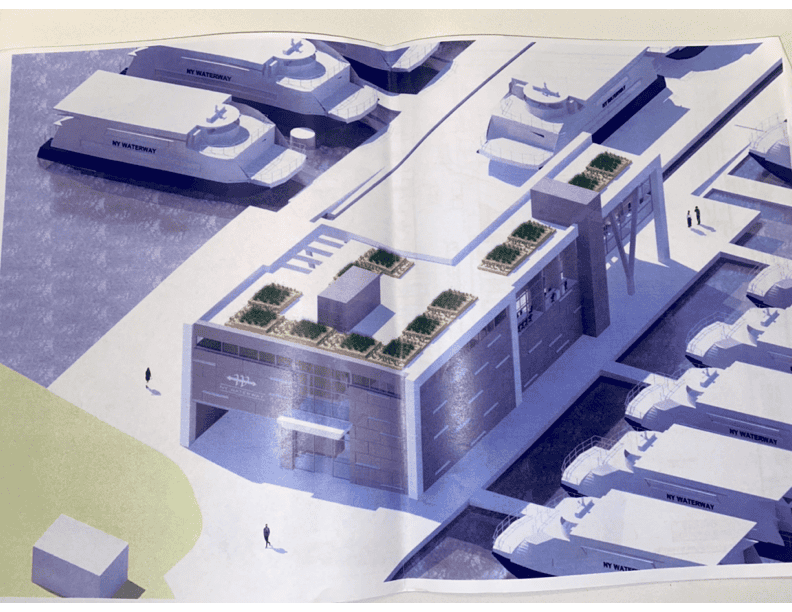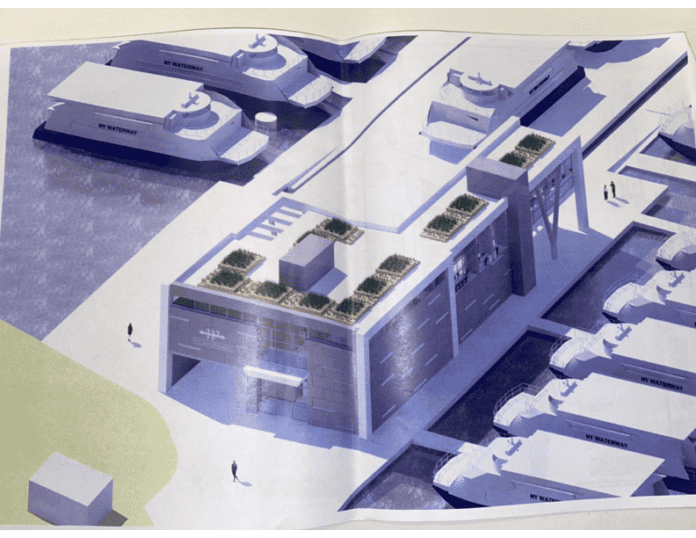 NY Waterway, a ferry operator between Hudson County municipalities and New York City, has once again sparked controversy among residents over plans for a ferry facility.
"Leaked" plans show NYWW is now looking to expand its facility in Weehawken, after recently losing a lengthy legal battle with the city of Hoboken over plans to construct a maintenance and refueling facility at the Union Dry Dock. The facility in Weehawken, while decades old, was only supposed to be temporary, thus the need for the facility NYWW sought in Hoboken. Earlier this year, NYWW settled with Hoboken, agreeing to sell the 3-acre plot of land to the city for approximately $18.5 million.
Now, as Hoboken plans to convert the Union Dry Dock to open space, NYWW is looking to expand its Weehawken facility, according to images of the "leaked" plans which were sent to the Hudson Reporter on Nov. 10 by a concerned Weehawken resident. The images show schematics, renderings and plans, all from September of 2020, for the expanded ferry re-fueling and maintenance facility.
The plans for the expansion show renderings of a two-story building on a new approximately 44,000 square foot pier, allowing approximately 30 ferries to berthed at the facility. Parts of the Hudson River would have to be dredged in an approximately 276,000 square foot portion of the site, making the water just 10 feet deep at high tide, according to the plans. The plans also show the expansion would also include the construction of a support wall that juts out nearly 700 feet into the Hudson River.
NYWW defends plans
A spokesperson for NYWW, Wiley Norvell, confirmed that it was looking to renovate its current facility on the Weehawken waterfront. Norvell added that NYWW had been open about modernizing the old site on the public record for some time.
"NY Waterway has safely fueled and maintained its fleet from this Weehawken site for more than 30 years," Norvell said. "We know our neighbors well and have always treated them with respect. As we look to upgrade this facility, we'll work closely with public officials to ensure it meets the highest standards for environmental safety and is consistent with our long standing policy of complying with public guidelines and oversight."
According to NYWW, it has always intended to maintain this site for refueling, as its proximity to Port Imperial makes it an essential refueling hub. The number of boats coming into the facility is unlikely to change regardless of whether the site is modernized or not, Norvell said.
NYWW said all their boats are, and have been, refueling at this one site in Weehawken for some time. During COVID, he said that NYWW birthed up to 25 boats there, according to Norvell.
Additionally, NYWW said that adding more berths in the future would be more beneficial to the environment by decreasing emissions. According to Norvell, it would enable boats to come in, turn the engine off, and stay while they're refueling and getting maintained, as opposed to having to make fast turn-arounds where they idle the entire time, using more fuel. According to Norvell, that's better for operations and air quality.
Outraged residents organized
Upon learning of NYWW's plans, Weehawken residents have wasted no time organizing their opposition. An online group known as Weehawken Residents Against Ferry Pollution has already taken up arms in advocating against the plans for the Weehawken facility, with almost 200 members. While these plans show the expansion would preserve the waterfront walkway, which was not the case in Hoboken, the group is nonetheless concerned about the project's impact on the environment and local community.
The group has specifically taken issue with pollution from the additional diesel engines from the ferries. According to a flyer circulated by the group, the air pollutants from the existing facility already affect residents on the waterfront as well as those up the cliff, with some reporting soot on windows, terraces and balconies.
"I currently live next to the temporary NYWW maintenance and refueling facility in Weehawken," said resident Cassandra Porsch, who is involved with the group. "Waterfront residents have been putting up with noise and pollution from the current facility for years. Because NYWW ran a massive PR campaign that it was being 'evicted' from this current facility when it was trying to move to Hoboken, we all thought the facility was leaving and just needed to be patient while the company found an appropriate location. Several more industrial areas were identified as possibilities in the fight with Hoboken. Now we have found out that in the negotiations to keep the facility out of Hoboken, dealmakers have chosen the current temporary facility location in Weehawken to make a permanent, expanded facility, without seeking any input from residents who live here."
Many like Porsch feel that the facility should not be in a residential area.
"We are begging our elected officials to not sell out the people of Weehawken in the deal to keep the facility out of Hoboken," she said. "The facility does not belong in a waterfront residential area of Hoboken, and for the same reasons, it does not belong right on our doorsteps in Weehawken. If it's not good for Hoboken, it's not good for Weehawken. For the health and welfare of our families, we believe our government representatives should help move this facility to a proper industrial location."
No official plans yet
NYWW has not yet submitted an application to the Weehawken Planning Board, according to Mayor Richard Turner. Turner, who also sits on the board, has cast doubt on any approval, calling it a "tough sell" for both council members and residents.
However, without any official plans before the planning board, the township will have to wait to see what NYWW will seek to do with the facility. In the meantime, Weehawken residents are continuing to organize against the plans, seeking assistance from elected officials at the local, county and state levels.
Regardless of the plans, NYWW will have its work cut out for it, with memories of the battle in Hoboken fresh in residents' minds as well as the ferry operator having recently been accused of dumping sewage into the Hudson River.
For updates on this and other stories, check www.hudsonreporter.com and follow us on Twitter @hudson_reporter. Daniel Israel can be reached at disrael@hudsonreporter.com.