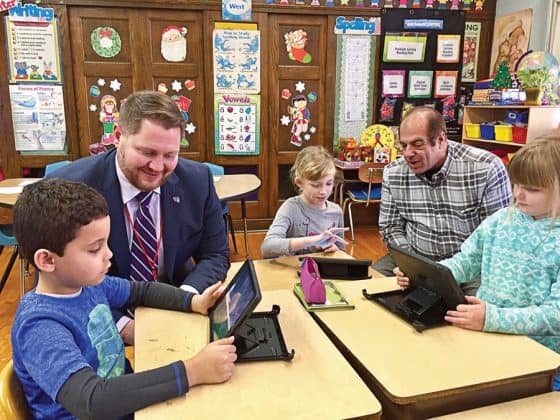 As the COVID-19 pandemic intensifies across Hudson County, the death toll continues to rise. In Weehawken, three residents have passed away from the virus as of April 7, including Richard Barsa, the township's school board president and finance director.
Mayor Richard Turner confirmed Barsa's passing in a joint statement with Superintendent of Schools Eric Crispo and Township Manager Giovanni Ahmad.
Barsa, 65, passed away at an area hospital due to complications of COVID-19 the morning of April 4.
Mayor Turner recalled how Barsa entered the public eye in Weehawken in 1991, after retiring from the corporate world. He sought to put his previous experience to use on the school system by running for the Board of Education.
Since being elected, Barsa was an active board member for 30 years and has been the board president for 25 years.
"Under Mr. Barsa's leadership, the school district flourished, as course offerings were expanded, technology was infused and students were accepted to top-notch colleges and universities," Superintendent Crispo stated in a heartfelt address to the Weehawken school district on April 5. "But more importantly, when students needed financial, emotional or academic help, he always found a way."
Barsa was adored by the faculty, support staff, administration, fellow board trustees and the students, according to Superintendent Crispo, who said in addition to his family, Barsa's legacy is and always has been the students. During his tenure on the Board of Eduction, he said Barsa has positively impacted the education and lives of thousands of students.
"He was relentless in his pursuits and made sure every student received what he or she needed, whether someone needed a prom dress, funding for a summer program, or tutoring. He always found a way," Crispo continued.
In 1994, Barsa also became the finance director for the township and has overseen the finances of Weehawken ever since. Barsa was also a long-standing member of the planning board, chairman of the Waterfront Park Design Committee and was instrumental in the creation of the Weehawken Education Foundation.
Lifelong Weehawkenite
Outside of his work within the township, Barsa continued to dedicate his life to Weehawken.
"Rich was a lifelong resident of Weehawken," Mayor Turner stated. "Even at a young age, he gave back to his community by serving as a football and little league coach."
After graduating from Weehawken High School, Barsa studied locally, earning his B.S. in accounting and business administration at New Jersey City University (NJCU). With his degree, he began his career on Wall Street working for the ITT Corporation until his retirement.
According to Mayor Turner, Barsa was a beloved husband, father, brother, uncle, mentor and friend. Barsa is survived by his wife of 41 years, Diane Barsa, his son Richard Jr., and soon-to-be daughter-in-law Jaimie, as well as his brothers George, Robert and Paul, his sister Adele, and his nieces and nephews.
"Rich dedicated his life to the Weehawken Community. We will miss him greatly, as will all of those who came in contact with him," Mayor Turner lamented.
Barsa is the first Hudson County elected official to pass away as a result of COVID-19. On April 6, Jersey City councilman Michael Yun became the second Hudson County elected official to die from the virus.
As of April 7, there were 108 cases of COVID-19 in the Township of Weehawken. Of the 101 infected residents, 69 residents are considered active cases while 36 residents have recovered per CDC guidelines.
In total, three residents have passed away in Weehawken during the COVID-19 pandemic.
For updates on this and other stories, check www.hudsonreporter.com and follow us on Twitter @hudson_reporter. Daniel Israel can be reached at disrael@hudsonreporter.com.