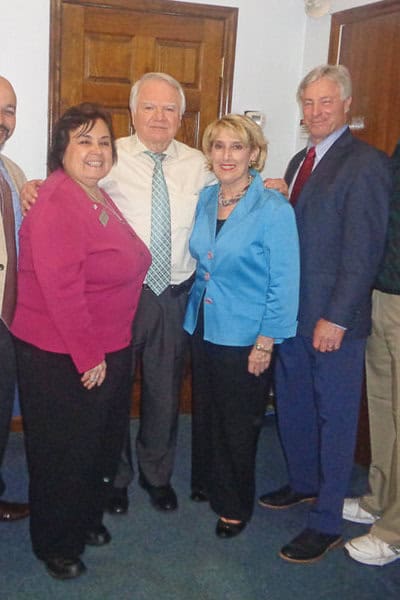 Weehawken has kicked off Inaugural Week with an array of activities.
Mayor Richard Turner and his incumbent council slate won re-election in the May 10 nonpartisan municipal election unopposed. Now he will be sworn in for a ninth term, with new terms for Deputy Mayor and Second Ward Councilwoman Rosemary Lavagnino, First Ward Councilwoman Carmela Silvestri-Ehret, Third Ward Councilman Robert Sosa, and Councilman At-Large David Curtis.
"This week is Inauguration Week for your Township Council," they to wrote to Weehawken residents in a statement. "We thank you for your continual support as we move forward to improve Weehawken."
On June 26, the local Classic Rock band Finish This performed a free concert at Hamilton Park on Boulevard East at 5 p.m.
The next event considered part of Inaugural Week by the township is the first of the Hudson River Performing Arts Center's Concerts on the Hudson 2022 at the outdoor concert area at Lincoln Harbor Park on Harbor Boulevard. The free concert will take place on Wednesday, June 29 at 7 p.m.
The concert will feature performances about Grammy award-winning C4 Trio. One of the top groups in the Latin American music scene, C4 Trio has a unique sound rooted in Venezuelan popular music but with touches of jazz, world music, and pop. The group dazzles with the Cuatro, Venezuela's national instrument.
The festivities continue on June 30 from 4 to 8 p.m. at the Tower Plaza Mall, where the Lidl Supermarket is located. There will be a dedication and open house for the new Weehawken Police Department Annex. The public is invited to tour the state-of-the-art facility and interact with police officers.
The events will culminate with the inauguration of Turner and the rest of the council at noon on July 1 in the Council Chambers in Town Hall at 400 Park Avenue. Due to limited capacity, the swearing in ceremonies will be livestreamed on Weehawken Township's Facebook page.
For updates on this and other stories, check www.hudsonreporter.com and follow us on Twitter @hudson_reporter. Daniel Israel can be reached at disrael@hudsonreporter.com.