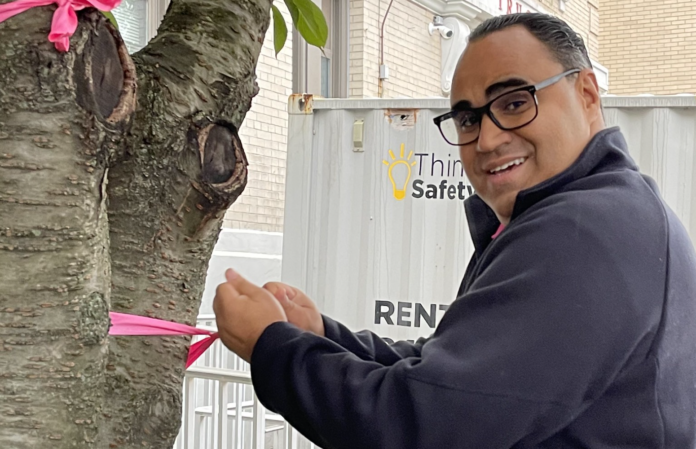 West New York Mayor Gabriel Rodriguez is urging residents to apply for the NJ Division of Taxation's Affordable New Jersey Communities for Homeowners and Renters (ANCHOR) property tax relief program.
Governor Phil Murphy and the State of NJ recently extended the application deadline to February 28. The town along with the township of North Bergen and Mayor and State Senator Nicholas Sacco, a proponent of the program when it worked its way through the state legislature, have been promoting the program to residents since its inception in 2022.
"We want residents to know that the application deadline has been extended and we urge all of those who qualify to apply immediately," Rodriguez said. "The ANCHOR program is eligible not only for homeowners but also our residents who rent their homes, so be sure to check whether you are newly eligible for these direct payments. My hope is that this larger investment in tax relief will help put more money into the pockets of the people and families of West New York in a year that has been fiscally stressful for so many of us."
The ANCHOR program replaces the Homestead Benefit program and expands the amount of property tax relief while also boosting eligibility to twice as many homeowners, and also includes tenants renting their homes.
The Division will be emailing ANCHOR program filing information to homeowners who had requested their application be sent through email when they filed their 2018 Homestead Benefit application at the same time the physical mailers are sent out.
To be eligible, homeowners must have been a New Jersey resident; and
owned and occupied a home in New Jersey that was their principal residence on October 1, 2019; and paid the 2019 property taxes on their main home; and had 2019 New Jersey gross income of not more than $250,000.
Tenants must have been a New Jersey resident; rented and occupied an apartment or residence in New Jersey that was their principal residence on October 1, 2019; lived in a unit with its own separate kitchen and bath facilities (if the building had more than one dwelling uni); paid rent on their main home, which was subject to local property taxes; and had 2019 New Jersey gross income of not more than $150,000.
Applicants can choose to receive their benefits either as a check or direct deposit and must file their application by Tuesday, February 28.
The online application, eligibility requirements, filing instructions, and paper applications can also be accessed at nj.gov/treasury/taxation/anchor. The automated telephone filing system, which will be available 24 hours a day, seven days a week, during the filing period, can be reached at 1-877-658-2972. Text Telephone Service (TTY/TDD) for hearing-impaired users is at 1 800-286-6613 or 609-984-7300.
Rodriguez' office is offering assistance to residents and renters who are attempting to complete their applications for the property tax relief program. Homeowners and tenants can bring their applications to the Mayor's Office at 428 60th Street from Tuesday through Thursday between the hours of 10 a.m. and 1 p.m.
For updates on this and other stories, check www.hudsonreporter.com and follow us on Twitter @hudson_reporter. Daniel Israel can be reached at disrael@hudsonreporter.com.