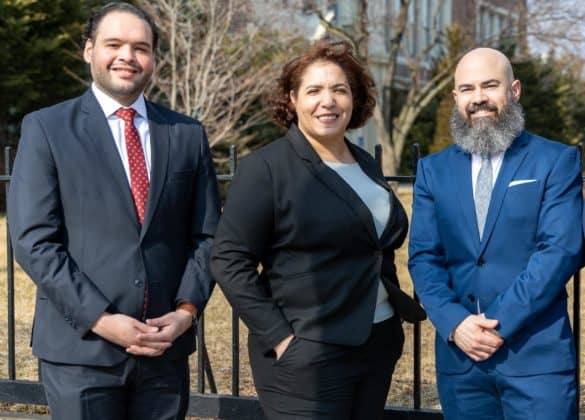 The "Your Children's Future" slate has announced its support for a zero percent change to the school tax levy in the West New York School District.
The three candidates, Jonathan Castaneda, Ana Sanchez, and Douglas Velasquez, running under the vision and slogan of "Your Children's Future", all voted in favor of this budget at the public hearing of the Board of Education on March 29.
The nearly $171 million budget proposal will add no additional burden to the town's taxpayers while still funding educational programs, staffing needs, and building upgrades, according to the slate. And both the budget and the slate of incumbent trustees will be on the ballot in the April election.
"I am very proud of the budget that we have adopted, as it ensures that West New York taxpayers do not have to face an additional burden during these difficult economic times," said Castaneda. "As Chair of the Finance Committee, our team worked tirelessly to craft a budget that limits the burden to taxpayers while providing the necessary funding to ensure that our educational programs are funded, to secure the necessary investments that will remove the barriers caused by aging facilities, and to continue providing our children with the best opportunities for continued success in their future."
"This budget has an additional $1.1 million allocated towards special education – a major priority for our team. It also includes investments in educational programs and instructional resources for teachers," said Sanchez. "I couldn't be prouder to have supported this plan for our students in West New York."
"The $4 million increase that we allocated towards facilities will go towards enhancing our school buildings," said Velasquez. "With health and safety at the forefront of our agenda, this budget will truly benefit every child in this district and address many of the challenges West New York faces."
'Today's Children, Tomorrow's Future'
In addition to the three incumbent trustees running for re-election, another slate running under the slogan "Today's Children, Tomorrow's Future," are grouped under Column B. Running on that slate are Dorinne Auriemma, Vipul Parekh, and Jose Valdez. While there are Board of Education elections in North Bergen and Weehawken as well, they are only for the proposed budgets.
"We are the only district that is running contested elections," Parekh said in a recent statement "while North Bergen and Weehawken school districts incumbents are unopposed. Voters will also be asked to approve a $171,100,853 budget that comes with no increase in the local tax levy. The budget is $40 million less that last year, when spending and federal relief increased because of the coronavirus. My team and I 'Today's Children, Tomorrow's Future' will fight for your children's future each and every step of the way. Vote Column B!"
Board of Education election will take place on April 19. Polls will be open from 2 to 8 p.m. at all regular polling sites throughout town. To check voter registration, go to https://bit.ly/3Ix6vEr for the most up to date information. To find a voting location, visit https://bit.ly/3spw84C.
For updates on this and other stories, check www.hudsonreporter.com and follow us on Twitter @hudson_reporter. Daniel Israel can be reached at disrael@hudsonreporter.com.