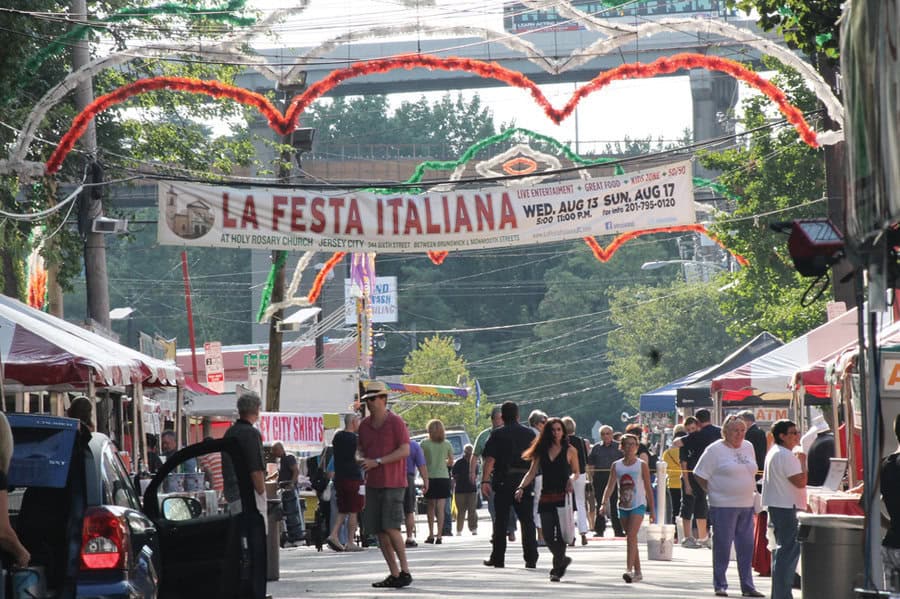 La Festa Italiana 2017, Holy Rosary Church's 114th annual "Old World" Italian street festival, will be held in downtown Jersey City for five consecutive days and nights from Wednesday Aug. 9 through Sunday August 13 at 6th and Brunswick streets.
The whole block will be rockin' with live bands, singing soloists, fabulous foods, thirst-quenching drinks and frolicking fun for the kids.
The entertainment roster includes The B-Street Band, The Cameos and Total Soul. Callahan's Hot Dogs, Delenio's pizza, Gia's Gelato and Pure & Simple Flatbreads' brick oven pizzas are just a few of the vendors offering food and libations.
As the countdown to Aug. 9 begins, Holy Rosary parishioners are preparing their special La Festa treats, like home-made Rice Balls (Arancini) and lemony Limoncello made by The Assunta Wine Girls who, this year, will also be serving Lemon-Limecello and Grapefruitcello. On the fifth and final day of La Festa, Pastor Jurek Zaslona will pick the winner of the "Super 50/50" Raffle.
Tickets for the Super 50/50 can be purchased throughout La Festa. Last year's winning ticket-holder won $9,079!
Religious traditions are an integral aspect of La Festa Italiana, which honors the veneration of Maria SS. Dell'Assunta & San Rocco. A Triduum from Saturday, Aug. 12 through Tuesday, Aug. 15 will be celebrated in veneration of Our Lady of the Assumption and in honor of St. Rocco.
On Tuesday, Aug. 15 at 11 a.m. the Feast Day Mass in veneration of Maria SS. Dell'Assunta, a holy day of obligation, will be celebrated by Joseph W. Cardinal Tobin, Archbishop of Newark. A traditional street procession will follow.
On Wednesday, Aug. 16 at 11 a.m., a Feast of Saint Rocco Healing Mass with the Anointing of the Sick will be celebrated followed by a traditional street procession.
Founded in 1885, Holy Rosary Church is the first Italian Roman Catholic Parish in New Jersey. Pastor of Holy Rosary Church, the Rev. Jerzy (Jurek) Zaslona, says La Festa Italiana pays tribute to the Church's 132-year history and strengthens community ties. 
"Traditions and customs define us as a community and La Festa gives us the opportunity to become a more integrated community," Rev. Zaslona says. "When people come to La Festa, they come for the music and the food, but they also come for the fellowship, to see friends and create happy memories for their children. As a church, we are here to serve the people of Jersey City."
For more information, please call (201) 795-0120, or visit their website, http://www.holyrosaryfeast.com, or their Facebook page, www.Facebook.com/lafestaitalianajc.