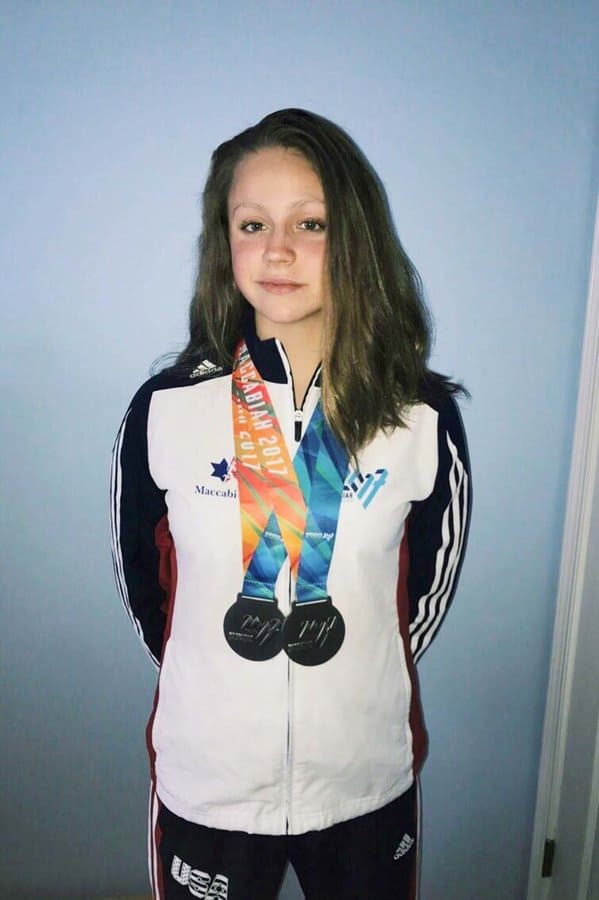 If Danielle Prekop is asked by her teachers at St. Dominic Academy what she did for her summer vacation, the junior would have a very interesting answer, maybe good enough to write an essay about.
The 16-year-old Prekop just returned from Israel where she competed with Team USA at the prestigious Maccabiah Games and where Prekop was able to secure two silver medals for her efforts.
Prekop has been a competitive swimmer for about nine years, starting off with Scarlet Aquatics in Bayonne, a club team on which she is still a member, as well as the SDA varsity.
"I liked swimming when I first started," Prekop said. "I wasn't very good, but it wasn't that hard. I didn't have swim lessons. I just got in the pool and swam."
Prekop found herself to become proficient in the freestyle and backstroke.
"I couldn't do the breaststroke or the butterfly," Prekop said. "I had to learn those. But I learned pretty quickly."
Prekop managed to earn a medal at the Junior Olympics when she was 10 years old in the 500-meter freestyle.
"That's what kept me going," Prekop said. "It kept me interested."
Last year, Prekop saw a jacket that advertised the swimming portion of the Maccabiah Games.
"The jacket was on the wall at my Mom's work," Prekop said. "I knew that I was eligible to go."
Prekop's father, Jerry Joseph, is Jewish, so that enabled Prekop to try out for Team USA.
"I thought I had a pretty good shot," Prekop said. "I thought I was a pretty good swimmer. I had the time standards to go. I looked up the times on USA Swimming and figured I had a shot. This was the first year I actually thought about it, so I decided I should give it a try."
Prekop went to the Arena Pro Series swim meet in Indianapolis in March with the idea of getting the qualifying times for the Maccabiah Games, participating in seven different events, ranging from the backstroke, freestyle, the individual medley and the butterfly.
Sure enough, Prekop got the necessary times in five different events, punching her ticket to compete in the Maccabiah Games in Jerusalem. At the Games, Prekop earned silver medals in the 400-meter individual medley and the 4×200-meter freestyle relay.
"The opening ceremonies were something special, with more than 1,000 athletes from all these different countries," Prekop said. "I said, 'I'm just 16 years old and getting a chance to do this.' I got to experience all of Israel. I got to meet athletes from all over the world. I made friends with people I never would have met before, people from all over the world. It was incredible."
Prekop returned home last weekend, but had no rest for the weary. After flying for more than 16 hours, she was back in the pool in Bayonne just a few hours after landing, practicing and preparing for her next meet with two different club teams.
"This really inspired me a lot," Prekop said. "I think I can go further now and take it to another level. I never thought I'd get a chance like this."…
A little more than a month ago, Tony Romano found himself in grave danger. While working at a summer basketball camp at Hunter College, the former St. Aloysius and Marist head boys' basketball coach collapsed on the court.
"I was just walking down the court and then I don't have any recollection of how it happened," Romano said. "I don't remember anything. I didn't feel dizzy or anything. I just went down and that's all I remember."
Romano was rushed to the hospital in critical condition after suffering a near-fatal heart attack.
"I don't remember anything for two days," Romano said. "I just know that they induced a coma on me to help me get better."
Romano remained in intensive care for days at New York Presbyterian Hospital. Stents were inserted to clear up the blockages in Romano's arteries.
After a few days, Romano opened his eyes and began to come out of the coma.
"It took a while for me to get my bearings straight," Romano said. "I had to collect my thoughts a little. It was a true miracle. I do pray a lot and I always pray for good health for me, my family and friends."
This time, the prayer patrol was for Romano. Hundreds of people – former players, fellow coaches, colleagues – all hit Facebook for updates on Romano's condition and offering prayers for his recovery.
"It's truly an incredible feeling, knowing so many people were praying for me and thinking about me," Romano said. "I guess I must have touched a lot of kid's lives. The comments on Facebook pretty much floored me."
Romano has been going to physical therapy at Bayonne Hospital three times a week since getting clearance to try to get back to full strength.
"I've been doing a lot of walking on the treadmill, being monitored on the heart machine," Romano said. "I'm lucky I was in pretty good shape before. My cardiologist said that he can't see any reason why I can't return to work at the start of school."
Romano remains the Dean of Students at Marist. Incredibly, he was in his office last week doing a little bit of work. Slowly, but surely, Romano is getting his life back, truly a basketball miracle. Three years ago, it was the incredible recovery of former Hudson Catholic and St. Peter's Prep head coach Bob Ryan after a near-fatal car accident in Myrtle Beach, S.C. Now, Romano's incredible tale and his remarkable recovery. There's something about basketball coaches and their tough will…
Sad to report the passing of former Hoboken High School Principal Frank Spano, who also had a remarkable career as a high school and collegiate football referee and baseball umpire. Frank also was the 24-second clock operator for the New Jersey Nets for more than 20 years and was a clock operator at both Giants Stadium and MetLife Stadium. More importantly, Frank was a wonderful man who was highly respected by everyone he ever worked with. He will be sorely missed…
With only a week left in the regular season portion of the Jersey City Recreation High School Basketball Summer League at Hamilton Park in downtown Jersey City, Lincoln has a 16-2 record and trails only the state's defending No. 1 team The Patrick School in the standings. The Lions are ahead of Hudson Catholic (17-4), Dickinson (16-5) and St. Peter's Prep (12-7). That's a remarkable bit of news coming from coach Bill Zasowski's team as the league heads toward the playoffs…
The national team of the Dominican Republic will face the Hamilton Park All-Stars Monday night at 7 p.m. at Hamilton Park. It should be a great contest. St. Peter's Prep head coach Alex Mirabel is one of the assistant coaches for the DR squad…–Jim Hague
Jim Hague can be reached via e-mail at OGSMAR@aol.com