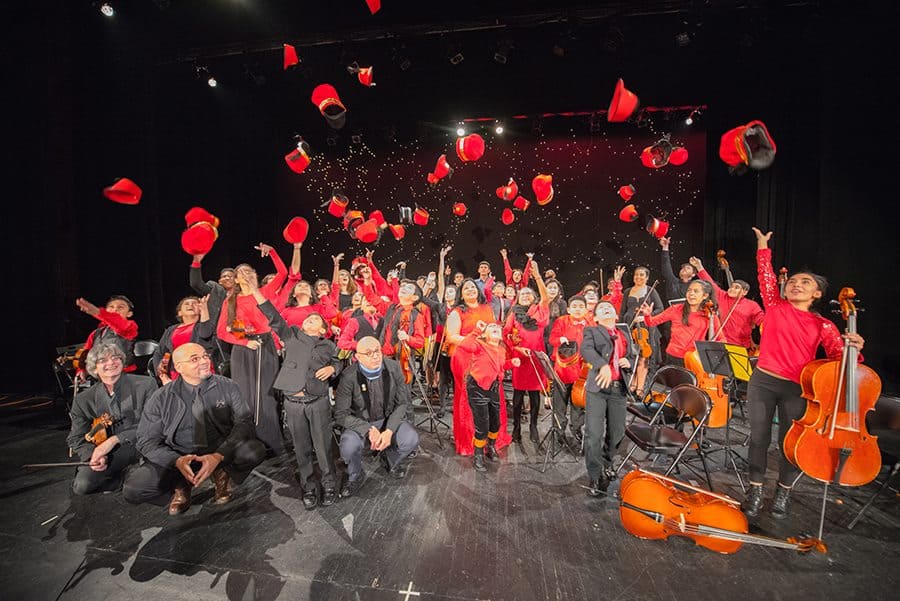 Union City Music Project students to play Princeton 
Kids and teens from Hudson County's only El Sistema-inspired music organization, Union City Music Project (UCMP), will meet and work with internationally-acclaimed conductor Gustavo Dudamel at an April 28 'seminario' at Princeton University.
More than 50 UCMP students will join 300 other young New Jersey musicians from Camden, Newark, East Orange, Paterson, and Trenton, as well as from New York City, Philadelphia, and Baltimore.
After a day of students rehearsing, singing, and drumming together, the seminario will culminate in a free joint concert dedicated to Maestro Dudamel at the university's Richardson Auditorium in Alexander Hall at 3 p.m.
Dudamel is completing his Princeton residency, and is known for conducting the Los Angeles Philharmonic. He is a product of El Sistema, the children's orchestral music program created in Venezuela in 1975.
"Our young musicians are truly inspired by this wonderful opportunity to work with a world- class conductor after seven years of continued hard work and dedication," UCMP's founding executive director Melina Garcia said.
UCMP began in Union City in 2012. It is the first El Sistema inspired, low-cost music program providing 24 hours of music education monthly, free instruments, choral instruction, and a full range of cultural, social experiences to children 3-18 years old. Since its inception, UCMP has taught more than 300 Hudson County children to play strings, woodwinds, brass, and percussion. Parents pay $1.25 per hour for classes. The program site is at 526 Monastery Place.
Free anti-rabies clinic
All Union City dog owners are invited to take advantage of the city's annual anti-rabies clinic. The clinics will be held in the beginning of May:
On May 1, from 4-6 p.m., rabies vaccines will be available at the North Hudson Regional Fire and Rescue house at 1600 New York Avenue.
On May 8, from 4-6 p.m., rabies vaccines will be available at the firehouse, at 4300-4301 Kennedy Boulevard.
All dogs brought to the clinic must be on a leash and accompanied by an adult who will be able to place the animal on an examining table. Rabies can be prevented through the use of vaccines. Vaccines are available in either a one-year or three-year option. The clinic is conducted by a licensed veterinarian.
Safety awareness seminar in Union City
Union City will host a safety awareness seminar for residents and the broader public. The seminar will provide information on what to do in emergencies in crowded areas, to promote emergency preparedness.
The seminar will take place on May 8 at 7 p.m. at Roosevelt school, and will be hosted by the Union City Police Department's Emergency Service Unit. Surviving an emergency often comes down to being prepared and knowing what to do.
Roosevelt School is at 4507 Hudson Avenue.
Letter Carriers' Food Drive
Letter carriers in Union City will be taking part in the Stamp Out Hunger food drive on Saturday, May 11.
To contribute place a bag of nonperishable food by a mailbox, and letter carriers will deliver donations to local food banks throughout the city. All donations are delivered locally, and will benefit those in need throughout Union City.
The food drive is run annually, on the second Saturday in May. All donations are tax-deductible.
Free skin cancer screenings; Spring Fest at Palisades Medical Center
Local residents can receive free skin cancer screenings on April 27 form 9 a.m. to 1 p.m. at Hackensack Meridian Health Palisades Medical Center.
All health screenings and evaluations are open to the public and are free of charge. Information will also be provided to attendees about free mammography exams, health insurance enrollment, and nutrition education. Free shuttle bus transportation is also available from 60th Street and Boulevard East, 60th Street and Bergenline Avenue, and 60th Street and Kennedy Boulevard.
Palisades Medical Center is at 7600 River Road. For more information, call Suleima Rosario-Diaz at 201-854-5793.
On May 18, Palisades Medical Center will host a Spring Fest on its waterfront campus from 11:30 a.m. to 4 p.m.
Admission and parking are free, and the campus can be accessed along the Hudson River Walkway. The celebration will include former professional athletes, inflatable rides, a caricature artist, face painting, health screenings, wellness information, food, and a DJ.
Pre-registration is suggested but not required. All who pre-register will be entered into a raffle for four tickets to see a New York Red Bulls soccer game. To pre-register, or for more information, call 201-854-5008 or visit palisadesmedical.org.
North Hudson Lawyer's Club taking scholarship applications
Applications for the North Hudson Lawyer's Club Foundation Scholarship are now being accepted. The purpose of the scholarship is to encourage and advance the next generation of leaders in North Hudson County by providing financial assistance to motivated high school seniors pursuing a college degree.
Applicants must submit a high school transcript, demonstrate financial need through FAFSA and College Award letters, and be bona fide residents of either Guttenberg, North Bergen, Union City, Weehawken, or West New York.
Applications are being accepted from students in Hudson County Schools of Technology, Memorial High School, North Bergen High School, Union City High School, or Weehawken High School.
Applicants must plan to attend college during the September 2019 semester and provide two letters of recommendation.
For a copy of the application, email northhudsonlawyersfoundation@gmail.com. Students can also seek a copy from their high school counselors. All applicants must scan and email applications on or before June 1.
For questions, email the foundation, or contact Eloisa V. Castillo, Esq. at 2006 Kennedy Boulevard, Suite 201, Union City. Her phone number is 201-866-1001.