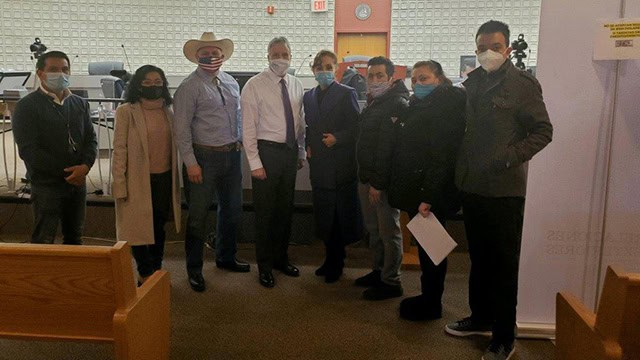 Mobile Mexican Consulate comes to town
The Consulate General of Mexico in New York came to Bayonne in March to offer passport and ID card services to Mexican citizens who live in several cities throughout the tri-state area.
In Bayonne, the Mexican government issued its citizens new Mexican passports and ID cards with chips. Mexican diplomat Rosa Maria Betancourt Moreno and her colleagues brought mobile consular services to Bayonne for the sixth consecutive year.
Ruben Arana of Bayonne, a Mexican-American contractor, worked with Council Member At-Large Juan Perez to bring the mobile consular program to Bayonne.
State trooper indicted after allegedly following woman home following traffic stop
Attorney General Gurbir Grewal announced that a New Jersey state trooper has been indicted by a grand jury for allegedly stalking a female motorist in his patrol vehicle while on duty. Trooper Michael Patterson, 29, of Bayonne, with charged with official misconduct, stalking, and tampering with public records.
Woman who went on racist tirade charged with Bias Intimidation
The woman who went on a racist tirade after a car accident in Bayonne has been arrested and charged with Bias Intimidation, according to the Bayonne Police Department.
Krystal Ballance, a 34-year-old Bayonne woman, was taken into custody from her residence on a warrant issued for her arrest stemming from an incident that occurred on March 16. On that date, she was involved in a motor vehicle crash which led to her arrest for disorderly conduct after she refused to comply with the officer's commands to cease her "alarming and tumultuous behavior."
The interaction, posted to Facebook, has gone viral.
Bayonne announces virtual Holocaust Remembrance program
Bayonne's annual Holocaust Remembrance program will air Thursday, April 8, at 8 p.m., on the Bayonne Educational Network (BEN-TV), which is on Channel 77 on Optimum and Channel 40 on Verizon Fios in Bayonne.
Bayonne honors COVID-19 vaccination volunteer
Bayonne is honoring local registered nurse Emilia Cruz for her efforts volunteering to help the city administer the COVID-19 vaccine to eligible residents. Cruz is a long-time Bayonne resident who has been a nurse at Bayonne Medical Center for over twenty years.
Cruz will be featured in a video with other honorees from around Hudson County.
Outdoor dining resumes
Food and beverage establishments can resume outdoor dining starting on April 1. If an establishment received approval in 2020 for temporary outdoor dining, a new application for a permit is not required if the proposed use remains the same. However, proof of 2021 insurance must be provided.
Any establishment that did not apply previously or receive approval for outdoor dining must submit a new application packet along with proof of insurance coverage. For questions, contact Tracey Tuohy in the Zoning Office at 201-858- 6110 or Michele O'Reilly at the Bayonne Health Department at 201-858-6355.