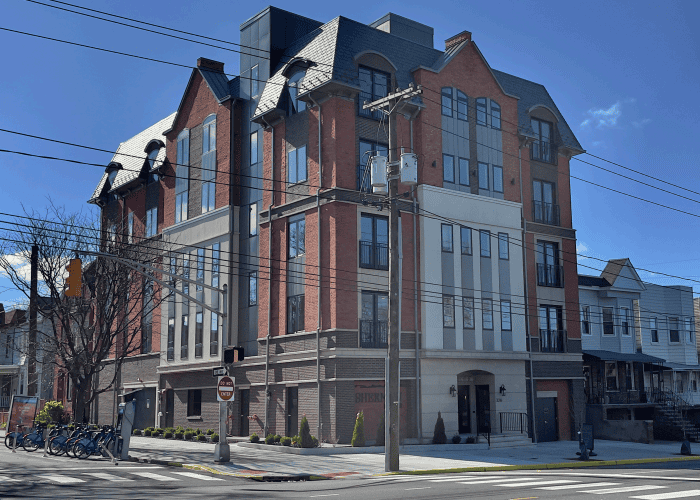 Bayonne has moved forward with plans to construct a new senior and supportive housing building. The Planning Board first advanced plans for the site at 7 Oak Street and West Oak Court at its June 14 meeting. City Planner Suzanne Mack presented the necessary amendments to the 8th Street Rehabilitation Plan that would allow the project. 
The site is approximately half an acre of fenced-in vacant grassy area that is not open to the public. The rear of the site abuts Route 440.  
"It's a big open area, which is nice, but at this point in time it would exciting for the public to be able to repurpose it and actually have multi-family housing," Mack said.
The plan, which encompasses a mile radius around the 8th Street Station of the Hudson-Bergen Light Rail, has been amended several times since its passage in 2015. According to Mack, the past 12 amendments to the plan often have offered specifics for various sites in the redevelopment area. 
"There have been many times we've appeared before the board to try to get some area plans for specific sites," Mack said. "This is a site that is a really unique opportunity for us. It is a venture that we have been working on with the Bayonne Housing Authority on this for seven months. The project is to create senior and supportive housing."  
Much-needed senior, supportive, and affordable housing
Mack noted this was in accordance with the Master Plan, but is the first of such project to come before the board since she has been City Planner.  
In 2005, the property was part of a then scattered site plan for properties across Bayonne. Then, in 2015 it was included in the 8th Street Rehabilitation Plan. 
Formerly owned by Public Service, Electric and Gas (PSEG), the site the housing building will be constructed on had been remediated enough for the land to be sold to the Bayonne Housing Authority. Meanwhile, other land adjacent to the site is still not ready to be remediated and are still owned by PSEG. The site is historically contaminated, being the Hobart Classification Plant from the 1800s through the 1900s, according to Mack. 
According to Mack, the vision for the area is multi-family housing and a community park on both this site and the other PSEG-owned site across the street. She implied the park may occur in the future once PSEG cleans up the site on the other side of the road. 
Lowering the height and unit count?
The amendments to the plan dictate that the building be anywhere from six stories to ten stories. However, Mack said she had recently been informed it was only cost effective to go with six stories. 
"We have had further discussions that there would be a maximum of six stories with two stories of parking and four stories of residential," Mack said.
Instead of 40 to 60 units, there will only be 40 units. Of the 40 units, 20 would be for seniors and the other 20 would be for supportive housing. There are no studio units proposed. There will be 700 square one bedroom units, 900 square feet two bedroom units. All units must have a window, the exact number of each unit type in this regard is not clear yet. 
The building would have permission to have pharmacies, medical offices and other services available in the building, as well as a community room, exercise room, and other civic uses. There is a 1:1 parking ratio required. However, Mack said that parking is usually very low at this buildings given the nature of the residents and that could be reduced. And there will be a .5 bike parking ratio required, although that could be changed too. 
Mack also reviewed other criteria necessary regarding green roofs on the facility, landscaping, and traffic in the area. She concluded by reiterating this was a rare project that does not usually come before the board. 
Commissioner concerns over unit count
Commissioner and Secretary Sharon Ashe-Nadrowski praised Mack over the parking ratio. She acknowledged that residents may not drive, but some units allow for family or caretakers to live in the senior or supportive housing and they may need the parking. 
"They would be more for the supportive housing, so those people may not drive but those who are caring for them at certainly going to need a car to get back and forth," Ashe-Nadrowski said. "So I think the parking 1:1 is great. Because you have visitors, therapists, and caregivers…" 
Ashe-Nadrowksi also asked about if the city's Affordable Housing Trust Fund was chipping in toward the project. She said the city "should have a lot from all of the developments and PILOTs we gave out." 
Mack replied: "At this time, the only thing the city is doing until there is some agreement between the city and the Housing Authority, we have a firm that handles our affordable housing and they've been participating in the pre-development calls. But there's no agreement between the city to do that at this point. I imagine there will have to be as they move forward."
Lastly, Ashe-Nadrowski criticized the project for being small. 
"I'm a little disappointed that it's only 40 units," Ashe-Nadrowski said. "The number of people on the backlist for housing is tremendous. They're 10 years behind, I think…"
Taller building means more senior and supportive units
Ashe-Nadrowski continued: "It's great we're doing something. We haven't done something in years. But it would be great if it could be ten stories… Maybe the city can contribute Affordable Housing Trust Fund money to provide more units… The possibility of satisfying more affordable housing would be great. " 
Mack agreed that it was "an awful lot of work for 40 units" and that it was a "financing thing, but that planning redevelopment plans are not supposed to be based on finances." She suggested to perhaps leave the plan as is with the possibility of having up to a 10-story building with 60 units, if the board so felt that way. 
"Perhaps after the plan is adopted they can look into again," Mack said. "There was some discussion about the costs of going stick versus steel but why not? The plans are good for 20 years." 
Ashe-Nadrowski noted there is a lot of money coming from the federal government and that there could be something that could apply to this. She added: "I recommend we leave it open. If we can't do it, we can't. But if for somehow, we got windfall of money and it can be done, it would be great to add a little bit more to senior housing." 
The commissioners present then voted unanimously to adopt the amendment to the redevelopment plan as-is allowing 10 stories and 60 units. 
City council adopts resolution 
At the June meeting of the City Council, a resolution was up for adoption by the council that "finding and determining that the Supportive Housing and Senior Affordable Housing building commonly known as the Oak Court West Property Project proposed by the Bayonne Housing Authority meets or will meet an existing housing need." However, the resolution only said it was for six stories and 40 units. Ashe-Nadrowski, who is also outgoing City Council President, corrected it at the June 15 meeting, with Bayonne Housing Authority Executive Director John Mahon noting the maximum number of units was actually 70.
For Ashe-Nadrowski it marked something of a final win on an issue that she raised previously during the municipal election. She thanked those who worked to make the project continue to move forward. 
"This is something that is in dire need in Bayonne, affordable housing, senior housing, and supportive housing for those who live on their own," Ashe-Nadrowski said. "It's much needed." 
On the vote, City Councilman At-Large Juan Perez echoed Ashe-Nadrowski thanked Mahon for working to make the project a reality: "We've been talking about this for the past six years, getting senior affordable housing here. We need this desperately because we have a lot of seniors. We need affordable housing for seniors here. And I'm glad that's for people with disabilities too. The 70 units will be just great."
The council voted unanimously to approve the resolution. Going forward, the project will likely need final site plan approval from the planning board before shovels hit the ground.
For updates on this and other stories, check www.hudsonreporter.com and follow us on Twitter @hudson_reporter. Daniel Israel can be reached at disrael@hudsonreporter.com.