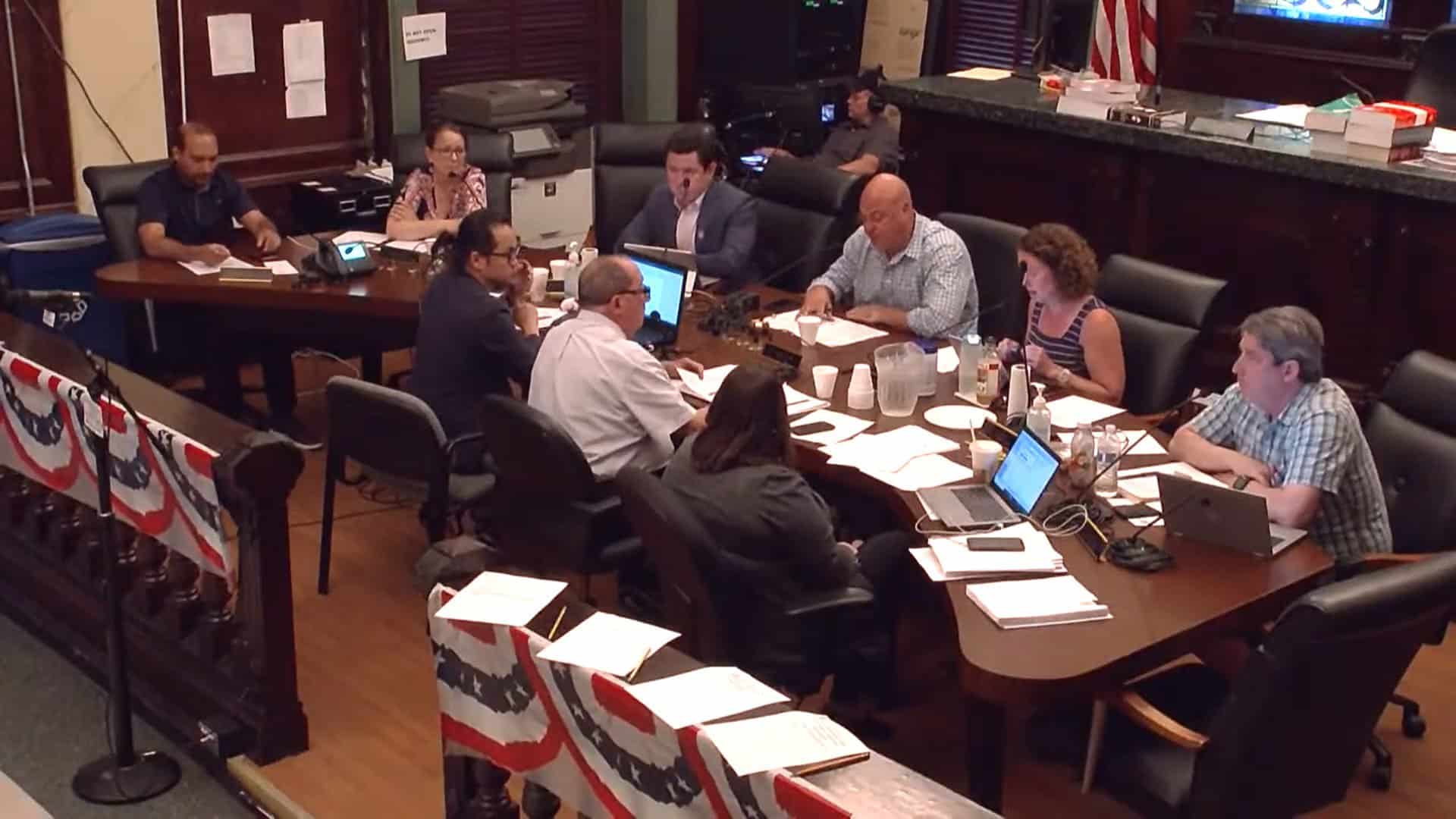 The Hoboken City Council has approved an agreement for the Yards Redevelopment plan, implemented a 20 mph city-wide speed limit, and voted on the new budget and a resolution related to the municipal complex proposal.
Yards Redevelopment agreement approved
The council unanimously voted (with Council member Jen Giattino absent) to approve a redevelopment agreement between the city and developer LCOR on the Yards Redevelopment plan called Hoboken Connect.
The agreement, which was signed by Mayor Ravi Bhalla this morning, will pave the way for renovations to the historic Ferry Terminal, Warrington Plaza and Hudson Place, as well as the construction of two new buildings that will be commercial and residential respectively. Amendments for the plan were previously adopted back in May.
The Ferry Terminal will be renovated to create retail space on the first floor, which could include either a public market or food hall, along with up to 150 spaces of bicycle storage. The second floor will have programmable commercial space, which if not used by NJ Transit for transportation functions, can be used for indoor and outdoor markets, a food hall, and cultural spaces such as a museum, galleries and performance space.
A new bus depot will be built at Hudson Place (subject to NJ Transit governmental approval) along with other improvements, overseen by a Design Task Force to review concepts and public comments and submit any plans. The initial concepts will include green infrastructure components and other aspects for it.
Warrington Plaza also will be renovated with movable seating and tables and pop up structures for public use.
The commercial building, located on 5 and 23 Hudson Place, will be up to 20 stories high, while the residential building, located alongside Observer Hwy, will be 28 stories with 389 residential units, 20 percent of which will be affordable housing.
All of the sitting council members spoke positively about the project before voting on it.
"I think it's something that we can all be excited about," said Councilman Phil Cohen over the phone. "The old terminal building that a lot of us have toured has extraordinary potential for our community."
Officials also said that Gov. Phil Murphy has set aside $176 million in the recently signed state budget for the public improvement phase of the project.
"[Murphy] and I are proud of this redevelopment in Hoboken and the economic benefits it brings," said Lieutenant and currently Acting Governor Sheila Oliver in a statement. "The Murphy Administration is focused on strengthening our state from the inside out. We look forward to all the benefits the redevelopment project will bring to the Hoboken community and broader region."
Officials stated that the project will "directly and indirectly" support 15,290 permanent jobs and generate $234 million in tax revenue annually, and will create more than 9,800 construction jobs.
Slow down, please
The council unanimously adopted an ordinance that will create a 20 mph speed limit throughout the entire city as part of the city's Vision Zero plan to eliminate all traffic-related deaths and injuries by 2030. The new speed limits will not go into effect until signage is installed throughout the city.
The new speed limit came from a recommendation by a city-hired consulting traffic engineer, Michael Baker International, to conduct a speed limit city, to which they recommended 20 mph as the safe speed threshold for all streets in the city.
"Just reducing that speed limit by 5 mph [and] reducing the speed of the collision by 5 mph to 20 mph, that decreases that severity of having a severe injury or death to 25 percent," said Transportation Director Ryan Sharp.
Sharp also said that in regards to eliminating the crash altogether, the new speed limit would reduce the stopping distance of a vehicle and may reduce crashes from happening.
He and Public Safety Director Ken Ferrante continued that there will be an education campaign done about the new speed limits, and that the eight signs approved by the council will help reinforce the speed limit.
"When you think about the eight entry points in the city, there are people coming in from the New Jersey Turnpike, the Lincoln Tunnel, the Holland Tunnel, Route 3 [and] 495, and when they come over the Willow Ave. bridge or Jersey Ave., they're still used to driving 45, 50, 55 [mph]" said Ferrante. "These signs are going to be the first inception of 'you need to slow in this city'."
He also said that the areas where speed can be enforced with radars are on the straightaways of Willow Ave. and Observer Hwy., and that the county sheriff's department is planning to do a collaborative enforcement plan with the city's traffic bureau.
Other legislation
The council voted to amend and adopt the city's $132 million budget for fiscal year 2022, which was amended to lower the local tax increase to just 2.5 percent instead of 5.6 percent. It was approved 6-2, with Council President Michael Russo and Councilwoman Tiffanie Fisher voting no.
They also voted to pass a resolution asking the Hudson County Improvement Authority, which handles bonds and financing, to acquire the Poggi Press property at 1501 Adams St. for their municipal complex proposal. It was approved 5-3, with Fisher and Councilmen Michael DeFusco and Ruben Ramos voting no.
For updates on this and other stories, check hudsonreporter.com and follow us on Twitter @hudson_reporter. Mark Koosau can be reached at mkoosau@hudsonreporter.com or his Twitter @snivyTsutarja.