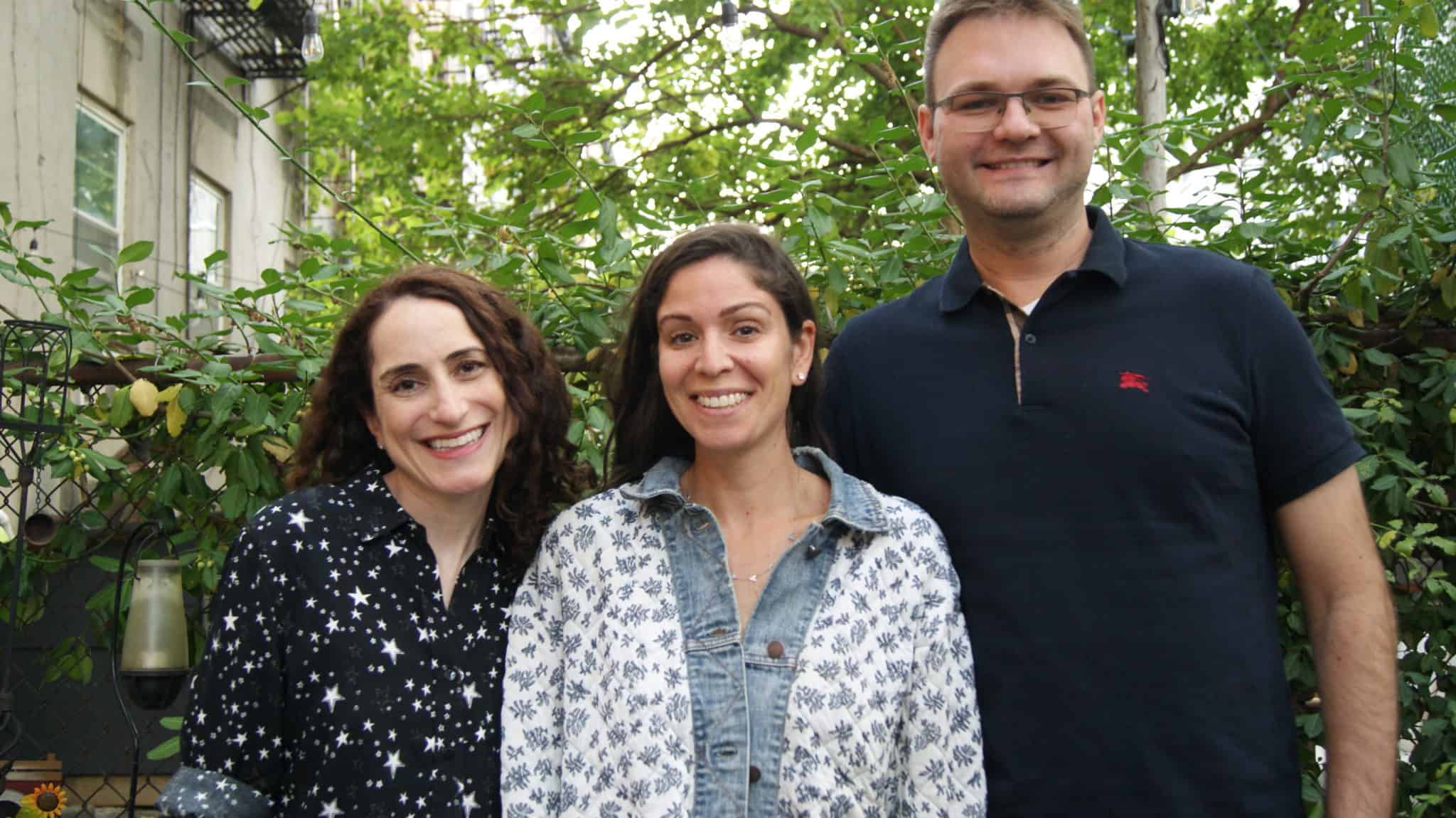 The top political event taking place this year in the Mile Square City is the November 8 election for the Board of Education, where three seats are up for grabs and two of them are open after two incumbents declined to run for reelection.
The election comes after the failed January referendum to build a $241 million high school, where a sufficient number of people successfully organized to oppose it. One of those leaders in the opposition movement is now leading a slate alongside a former City Council candidate and a newcomer to politics.
Pavel Sokolov, Cindy Wiegand and Donna Magen are the three that make up the "Kids First" slate for this year's elections, and spoke to the Hudson Reporter on what their top priorities would be if they get elected in November.
Meet the candidates
Pavel Sokolov is the secretary of the Hoboken Republican Party, and is a licensed certified public accountant who does tax strategy work. He was also one of the leaders in the opposition movement against the high school referendum.
"From there, the issues that were raised and what we discovered through the process, kind of got us involved to follow up on our success there and organize a slate to run for the Board of Education," he said.
Cindy Wiegand is a former City Council candidate who ran as an independent in last year's city elections, and is a market researcher.
"I got involved in this because I saw there was a deficit of trust after the referendum," she said. "I really just want to give back; I've benefited a lot from a great education, and I want to pass on gifts that I was given to the generations to come in Hoboken."
Donna Magen is a political newcomer making her first run for public office, and currently works for a hospitality corporation on their business-to-business strategy for e-commerce.
"I was energized to join this slate because I, like Cindy, feel like there needs to be new voices, more discourse happening on the board and with the community," she said. "I also want to stay in Hoboken and be able to give back and be able to be a part of the solution."
Their top priorities
For their top priorities if they get elected, Sokolov said that it would be learning "clearly what the issues are, what steps have been taken to address them, what decisions have been made already."
He then added that he wants to address the talent division in the academic system, arguing that there's a "huge" division between the public, charter and independent schools.
"At the end of the day, we're all taxpayers, indirect taxpayers and renters, and what we want to do is we want to break down that division," he said. "So kids who live all over Hoboken, no matter where they live, no matter which school they go to, are built to interact with each other, play sports together, musical activities, theater arts, visual arts together."
Wiegand also said that her top priority would be to "seek to understand before being sought to be understood," addressing that they have different types of learners in the district, and having programs in place for "whatever their future might be."
"Whether it's four-year college, vocational school, two-year college, some other future paths that we have programs in place that are learner centered and meet the learner where they are, so that they can reach their potential and be independent once they leave and graduate, and also just to focus on all our grades of education," she said.
Magen said that she's never been involved with politics, but that it's something that she wants to learn more about, such as with facilities and conversations between parents and parent-teacher organizations, and also says that another important issue is the student learning loss due to the COVID-19 pandemic.
"Figuring out how we can leverage this community, Stevens' University, retirees, the library, how can we get kids caught up," she said. "Academics and giving these kids every tool possible to be able to catch up and thrive."
The ghosts of the high school referendum
Although it's been nine months since the high school referendum failed, the aftermath of the vote has lingered, and in one way or another, that's the reason why the slate is running for the school board.
"The whole point of it was the two-to-one vote, and the town was like 'this is horrible, Pavel. We need you to run because otherwise this might not ever end'," said Sokolov. "We need people who listen to the voters, who respect the financial realities of the city."
In regards to what he would do if a new school facility project comes up in the future, Sokolov said he wants to see more infrastructure, but have it done in a way "that it's not surprising to anyone."
"The whole point was that you begin from the ground, you figure out what the issues are, you come up with some kind of way to include the community," he said.
Wiegand added that she agreed with Sokolov, and said that she felt a lack of trust and transparency in regards to the referendum. She also said it was important to "explain the process by which the final proposal you're presenting was arrived at."
"That goes a long way in gaining support," she said. "To talk about your thought process, and to answer those questions from the community of 'why this, why that, why not this?'"
She also said that they should focus on Demarest Middle School as the "fulcrum" for their infrastructure needs in the city and use it as a starting point, and then look to the elementary schools and the high school.
Magen also said she felt similar to what the other two said, and that the referendum also lacked academics.
"When I think about an ice skating rink and an Olympic size pool, those are all nice things," she said. "But for me, it's really about academics, it's about supporting teachers, the community and the school."
"After speaking with [Superintendent] Dr. [Christine] Johnson, I do feel like there are other infrastructural challenges that should be addressed before the high school," she continued.
A Republican on a school board?
Hoboken's school board races are non-partisan, meaning that candidates don't run as a Democrat or a Republican. But Sokolov is notable in this election for being an active Republican running for a school board, as well as running in Hudson County overall, which is considered to be a Democratic stronghold.
It comes as Republicans across the country have made moves to limit the teachings of race, gender and LGBT issues in schools, especially in the wake of conservative attacks on school boards that began sometime after the COVID-19 pandemic.
Some examples include Republican Gov. Greg Abbott of Texas signing bills last year to ban "critical race theory" in schools, and Republican Gov. Ron DeSantis of Florida signing a bill in March of this year that prohibits teaching LGBT issues from kindergarten to third grade.
When pressed on whether or not he supports what Republicans are doing nationwide to public education, Sokolov said that he opposes them, and touted that he's "one of the biggest advocates" for the LGBT community.
"This is the United States of America, where all people are treated equally," he said. "I honestly find it very weird that they're trying to politicize national issues. We live in New Jersey; we are literally one of the most welcoming progressive states. That's why we live here, because we love that here."
Sokolov also alleges that the "Leadership That Listens" slate got advice from someone at City Hall to attack his slate on national issues since he's a Republican, which he says has "nothing to do with Hoboken or anything with character," and assumed that it was a "targeted smear campaign because they don't actually have an actual platform."
When later inquired on what his sources were from those allegations, he answered that it was "other journalists[…]who I will not disclose due to ethical grounds."
As for what the other two slate members said on what nationwide Republicans are doing, Wiegand dodged the question and said that "curriculum should be transparent, should be age appropriate, and parents should have a voice." Magen also said she wouldn't say if she supports or opposes it, and made similar comments to what Wiegand said.
"National politics, these kinds of buzzwords, I really don't want to play that game," said Magen. "So I'd rather not respond yes or no. I just think there's more to it than that."
The lead up to November
As Election Day approaches, the candidates were asked if they're running for the school board for public service or as a stepping stone for other political opportunities such as city council or mayor.
Wiegand answered that she's focused on local issues, and that she's running because "I care, because this is the town I live in, and I want it to be the best that can be." Magen said that it's "definitely not a stepping stone," and that she cares "about what's going on in our education system."
Sokolov answered that if the referendum didn't happen, he would've continued organizing, but that after the referendum, he said that "hundreds of people told me 'We need someone to run, we need to have a slate'."
"There was such a systematic failure of leadership at all levels that insulted me on a personal level, a professional level and a political level that you got to be the change you got to see in this world," he said. "If it wasn't for us here, the same people who try to defraud our town would be added again. We got to send a message: 'This has to stop'."
In a letter on October 12 to The Hudson Reporter, members who claimed they were from the original "Kids First" slate distanced themselves from the current slate running under the same name and endorsed their opponents running on the "Leadership That Listens" slate.
For updates on this and other stories, check hudsonreporter.com and follow us on Twitter @hudson_reporter. Mark Koosau can be reached at mkoosau@hudsonreporter.com or his Twitter @snivyTsutarja.