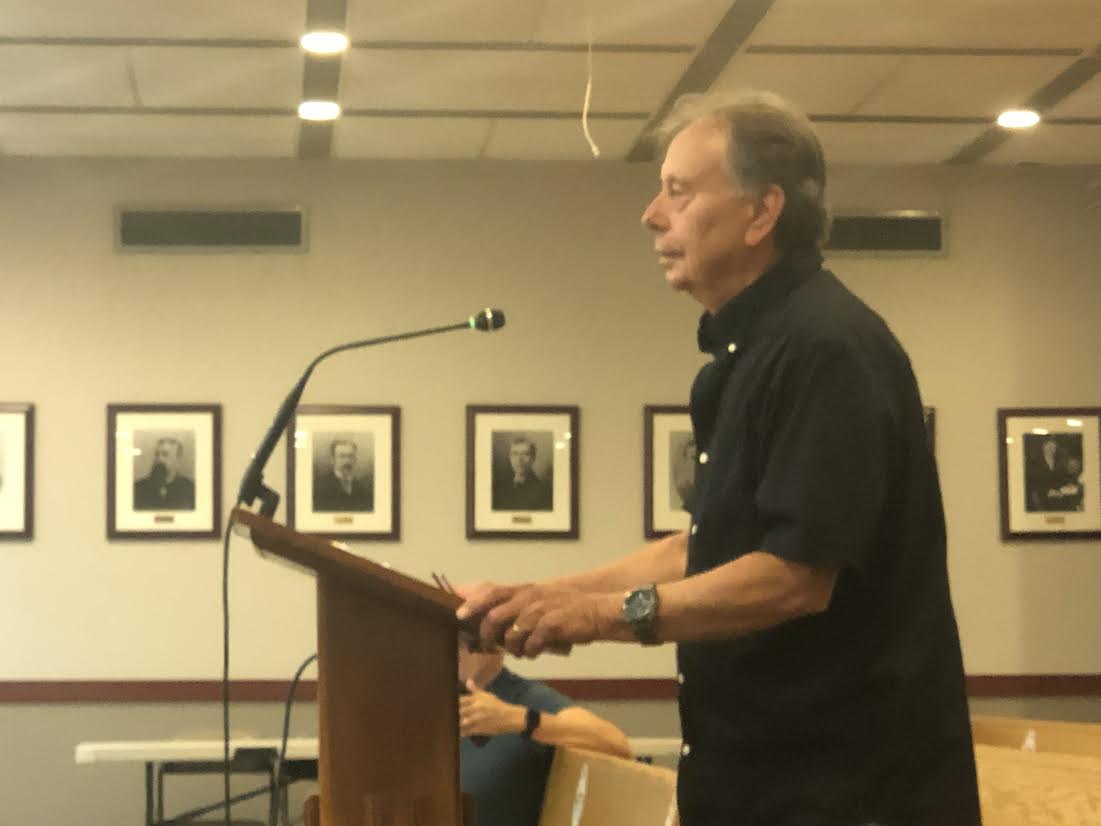 The amount of federal funds that Bayonne receives from the U.S. Department of Housing and Urban Development through Community Development Block Grants (CDBG) has decreased in 2022.
This translated to funding cuts for the non-profits that utilize the funding, including the Bayonne Police Athletic League (PAL). Things came to a head at the September meeting of the Bayonne City Council, when PAL Executive Director "KT" Kim Torello took issue with the funding cuts.
Torello questioned why the council had not yet passed a resolution approving the allotment of the CDBG for the PAL. He had previously addressed the council in months prior about how the PAL desperately needs funds to stay open amid lawsuits.
"I was looking at the agenda tonight… and CR-8 through CR-15 is Community Development Block Grant money," Torello said, referring to resolutions on the council's September agenda. "We have an agreement with the city, I don't see our name listed here for an allotment. Is there a reason why? The clock's running."
According to Torello, the PAL already has a confirmation letter from CDBG Program Monitor Ashley Lambert. As he was explaining his concern, City Council President Gary La Pelusa interjected that the public comment section of the meeting was not a question and answer period.
"If you want to come after the meeting, we can discuss that, but not right now," La Pelusa said.
Torello replied "Alright," before returning to explaining his point.
"The reason I bring this up is because I OPRA'd a bunch of things and I couldn't find out the total amount that was given this year as compared to last year," Torello said. "Mr. Coffey you have those figures, do you know the difference?"
Law Director Jay Coffey went to reply, but La Pelusa again reiterated that Torello should speak with the council privately after the meeting, presumably without the public and press present.
Torello said "Okay," then continued to take issue with the CDBG funding for the PAL.
"We all agree that we provide a valuable service to the city and to the youth of Bayonne," Torello said. "We all agree upon that. Obviously, I've seen your faces down there numerous times. Mr. Booker, you've been on the board. So I'm a little mystified here as I go through the figures that the PAL was cut the most money out of the 19 organizations that put in."
CDBG funds cut for PAL
According to Torello, the PAL was on the losing end of the most funds out of all the non-profits that utilize CDBG funding. He alleged that this year's allotment for the PAL was cut by a third.
"It was cut so severely, that if you add up all the rest that were cut, it's a difference of $2,000," Torello said.
Torello criticized City Councilman At-Large Loyad Booker, First Ward City Councilman Neil Caroll, and Mayor James Davis for allowing the funding cut.
"I think personally, and this is just me, that what we have going on here is, the respect of the mayor and how he feels about me, that's entirely on him," Torello said. "But there's no justification to taking away one third of our money when we have the most children in the city. There's another day care center that does a fantastic job, fantastic leadership, they got an increase of $6,000. They have 25 children, but it just so happens that the person is being backed to the school board by the mayor."
Torello alleged this was retaliation against him and the PAL, considering he ran against Davis on former City Council President Sharon Ashe-Nadrowski's council ticket during her mayoral campaign in the May municipal election.
"This is nothing more than political retribution," Torello said. "And as you people sit up there, who have been my friends, that passed by you Mr. Booker. And you had the audacity to slice that knowing what we need there. What we go through there. The amount of people we help with feeding their children, bussing their children. Then you just let it go through like that. Mr. Carroll, same thing. You sponsor teams. That didn't strike a nerve with you, seeing something like that? You didn't pick that up right away?"
Carroll went to respond, but La Pelusa interjected again that the public comment was just that.
"This is not a question and answer period," La Pelusa said. "Please come up afterwards because I'd like to talk to you about it."
Regardless, Torello continued to try to drive home his point.
"I don't see it on here," Torello said. "I don't know why the rest of them are on here and having figures. I don't agree with them. I'd like to know how we come up with these kinds of numbers, money numbers versus children. They don't match up. It's not fair."
Going over the actual numbers
Coffey then told Torello he would go over everything with him the day after the meeting with CDBG Executive Director Samantha Howard. Torello said he hadn't spoken to her yet, as he normally deals with Lambert.
"Whatever's necessary," Torello said. "I just want some answers about this here. I find it odd that it's not on here. I find it's very strange. Maybe it's just my nature. Nobody here will pick on these kids as long as I could breathe and stand here in front of you people. I'm very disappointed in you, very disappointed in you. You can smile all you want, but you are one of us. I expected more from you."
After the meeting, Coffey told the Bayonne Community News that he and Torello spoke on the topic the next day, alongside Howard. Coffey said they explained to Torello how the overall federal funding was calculated via a formula, and that it had taken cut.
According to Coffey, that translated to the CDBG cuts for the PAL and other non-profits. He also noted that the resolution approving the PAL's funds had been passed by the council in August.
In an interview with BCN, Howard described how the CDBG funding was affected in the city as it continues to improve economically. They better the city does, the less money it gets.
"This is a formula utilized by HUD," Howard said. "They determine the need based on formulas within their office."
Howard said that the number of funds has decreased by nearly $159,000. In 2022, the city was awarded approximately $1,374,343, down from approximately $1,511,913 in 2021.
"The city of Bayonne sustained $159,000 cut because things are going well in Bayonne," Howard said.
Howard does not make the decision to make cuts, but rather as the coordinator for the program, she administers the funding on behalf of the city. The city administration ultimately decides how the money is dispersed after it receives it from HUD.
"There's copious amounts of regulations, guidelines, oversight, compliance, and all that," Howard said. "Need is important, they definitely want to see the demonstration of new providers in the community. When new providers come in, they have to be weighed and then all of those factors are put into what is referred to as an action plan."
Funding decreased across the board
According to Howard, the CDBG Action Plan largely dictates how the city disperses the money.
"Typically, we start it way before we know the dollar amount we're going to get," Howard said. "It's an anticipated dollar amount until we actually have our allocation amount. That dollar amount is given, and then when we do get the actual amount, there is a continuation of making sure that all the dollars are dealt out accordingly. That information has to be passed on and discussed in detail with the mayor. Then he makes necessary changes and adjustments accordingly."
Many Bayonne non-profits, not just the PAL, were affected by the federal funding decrease.
"A lot of them did have decreases," Howard said. "It depends on what's going on in the community. A lot of things are trending now, mental illness is trending. It seems to be more pressing. Childcare seems to be more pressing. Basically what's trending tends to get another dollar or whatever the case may be. But for the most part, agencies did receive a decrease."
Howard confirmed the PAL was one of the non-profits that were hit with a decrease.
"Yes they did get a decrease," Howard said. "Every five years we revisit how the city uses this funding. Every year, all these non-profits are being told that the City of Bayonne is demonstrating decreases. It used to be that we used to get a couple of million each year. That is no longer the case. To supplement and start doing some in-house grant writing like our organization has been doing has always been encouraged. But decreases are happening, drastically so."
According to Howard, the decreases in the CDBG funding are expected to continue next year as the city grows in a positive direction.
"That is the sole premise of the formula," Howard said. "It's how is the city performing. And Bayonne demonstrates, based on the how they view this, they're performing well. They're performing well under those standards, therefore less is needed."
Mayor defends CDBG funding for PAL
In response to Torello, Davis confirmed to BCN that the CDBG funds were awarded to the PAL via the council's approval of the resolution authorizing it in August.
"Mr. Torello's initial accusation at the September council meeting was that the Bayonne PAL had not been awarded any CDBG grant funds in connection with the PAL's 2022 grant request because there was nothing on the Council's agenda regarding the PAL," Davis told BCN.
"In fact, as Mr. Torello learned the next day in a conversation with the CDBG Administrator and the City's Law Director, the PAL had been awarded its CDBG grant at the Council's August meeting. If Mr. Torello was so concerned about the grant funding, you'd think he would have made a call to the CDBG Administrator before showing up at a public meeting and making unsubstantiated allegations and political accusations. So, let's be clear here: contrary to what Mr. Torello, the PAL's Executive Director, said at the September meeting, the PAL's grant had been approved the month before by the Municipal Council."
Davis echoed Howard that the total CDBG funding for the city decreased in 2022 as the city improves economically.
"As to the amount that was ultimately granted to the PAL, the City of Bayonne's overall CDBG Grant funding was reduced this year by a little over $159,000 because of Bayonne's improved economic standing as an impoverished community," Davis said. "This reduction resulted in less money being available to this year's applicants."
According to Davis, the PAL routinely requests $75,000 in CDBG grant funding each year. The PAL was awarded $25,000 in 2019, 2020 and 2021, but was awarded $16,650 in 2022 due to the reduced overall available funding. Davis added that in 2020, the PAL was awarded additional COVID-19 related funding in the amount of $15,000 and an additional sum of $6,214.28 in residual funds in 2021.
Davis said that the Community Development Office still has COVID-19 related funds available for 2022. He noted the PAL was made aware of this earlier this month and had not yet applied.
"On October 4, 2022, the Bayonne PAL was advised that these additional funds were available and could be funded upon request," Davis said. "To date, no request for additional funding has been submitted by the Bayonne PAL to the Community Development Office."
Davis calls 'political retribution' allegations 'laughable'
In addition, Davis then directly addressed Torello's claims of retaliation.
"I grew up in Bayonne and, like many people my age, I played basketball at the old PAL building on Avenue A," Davis said. "That Mr. Torello would suggest that I would hurt the PAL because of a political gripe with him is laughable. There was nothing political about the reduction in grant funding. Nothing. The reduction in grant awards was across the board and other entities also had their grant awards reduced."
Davis also reminded that he and Coffey had worked to ensure the PAL regained its non-profit status when it lost it, helped it out of debt, and secured its home at William Shemin Midtown Community School at 550 Avenue A.
"In fact, it should be noted that five or so years ago the Bayonne PAL was in dire financial straits because it had lost its 501(c)(3) charity designation, owed a tremendous amount of money to creditors and was being threatened with eviction by the Bayonne Board of Education," Davis said.
"When this was brought to my attention, I got together with attorneys, accountants and other individuals in Bayonne, all of whom volunteered their time and energy, to resolve the PAL's debt, restore its charitable organization status and ensure that the PAL still had a home. We worked tirelessly to get the PAL back on its feet and on firm financial footing. Jay Coffey and I were inducted into the PAL Hall of Fame in 2019 because of what we did, along with a whole lot of other equally deserving people, to help save the PAL. Trust me, we're not in the PAL Hall of Fame because of our PAL basketball careers or athletic ability."
In addition, Davis reiterated that there is other funding available for the PAL. He said they have to apply for the money, though.
"Grant funding doesn't just show up at your door," Davis said. "There is money out there for childcare, extending learning opportunities and positive youth development, but entities like the Bayonne PAL have to pursue these funding sources aggressively and should ensure that they are making applications to more than one source."
Davis concluded by vocalizing his support for the PAL. He also noted the PAL was separate from the city and needed to be able to secure its own funding.
"The Bayonne PAL is a part of the fabric of Bayonne and is an integral part of our community," Davis said. "I will do everything in my power to ensure that it remains a Bayonne staple, but the Bayonne PAL is a separate and distinct entity from the City of Bayonne and, given today's financial climate, it must take the necessary steps to maximize the grant funding opportunities available to it."
For updates on this and other stories, check www.hudsonreporter.com and follow us on Twitter @hudson_reporter. Daniel Israel can be reached at disrael@hudsonreporter.com.