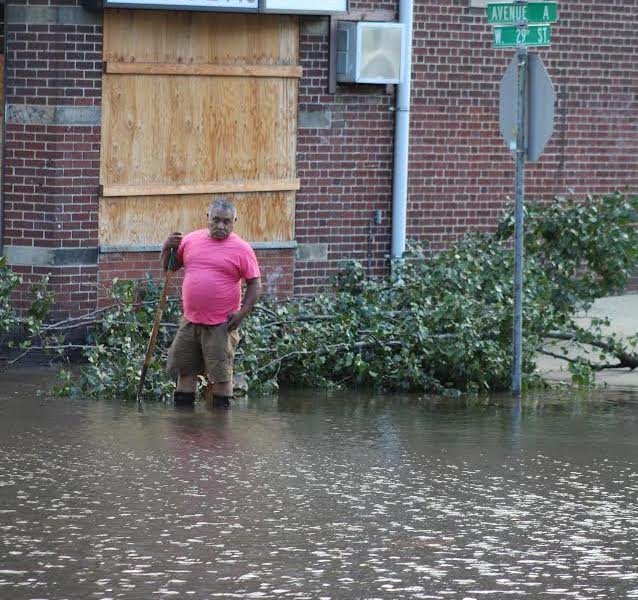 Bayonne officials have been hitting the books recently, with the city now looking to do a study on flood mitigation following the recent completion of its absorption study of recent redevelopments.
At its November meeting, the City Council approved a resolution authorizing a Request for Proposals (RFQ) for professional engineering services, specifically utility engineering and compliance. The city is looking for engineering firms with experience in Combined Sewer System compliance with Long Term Control Plan requirements under the Clean Water Act, New Jersey Department of Environmental Protection (NJDEP) pollution discharge permits, and water and sewer permitting, approval, and design.
Law Director Jay Coffey explained that the purpose of the RFP is to find an engineering firm to conduct a study on flooding in the city to determine the best way to prevent the problem.
"This is the city looking for engineering studies in order to determine how we can best mitigate flooding," Coffey said. "Right now we need to get institutional data. Like where is the water coming from, where is it pooling, what can we do to alleviate that."
Just a little past the 10 year anniversary of Hurricane Sandy, with other mitigation actions already taken, the city is looking at the problem this way for the first time. Coffey continued: "This is also designed to provide us with essentially an analysis that we've never done before to figure out why it's happening, where it's happening."
Following the completion of the study, professionals will take the data and analyze it, look at the problem areas, and propose solutions.
"Once we have this data, Veolia will be included, our engineers internally and externally will all be involved trying to figure out what we have to do in order to alleviate," Coffey said. "Something has to be done, but we need the underlying data to know how much water we're talking about, where it's coming from, and why it's going there."
Leaves and garbage to blame for flooding?
Before the resolution was approved, Resident Gail Godesky suggested a lot of the sewer drainage is clogged by leaves that some people sweep into the catch basins.
"Instead of some people picking up the leaves, they're sweeping them into the sewers," Godesky said. "There are county people doing that and Veolia is bringing these big buckets or hiring somebody to pick up everything that's in the sewer and what it is, mostly, is leaves and garbage."
Coffey said the study will determine if that is the case. The city wants empirical data before taking any further action.
"That will be something that's picked up by this study," Coffey said. "This study will say, you've got a X amount flow coming from Point A to Point B. At some point, this flow slows down. Why is that? If there's a broken drain or if there's a clog because there are leaves, garbage, debris, or whatever, this will bring that to light."
When it comes to cost, that has not yet been determined. Coffey said the city will find out when the bids come back in.
"It's a complicated process," he said. "So we're looking for Requests for Proposals."
City Council President Gary La Pelusa urged residents to report anyone sweeping leaves into the catch basins to the police. As manager of Hudson County Parks and Grounds, he said he has never seen county workers sweep leaves into catch basins.
The council also approved a resolution authorizing a RFQ for professional engineering services, specifically hydraulic modeling. In this resolution, the city is looking for engineering firms with experience in "Hydraulic Modeling of CSO, Storm A Topographic Related Floodwater Management."
'Hydraulic Modeling of CSO'
CSO stands for Combined Sewer Overflows, which happens in Bayonne's antiquated Combined Sewer System when rain water causes the flooding and spilling of untreated sewage into waterways. This in part contributes to flooding in the city during heavy storms, something the study seeks to confirm and mitigate.
Coffey explained there are two parts to this study. The second RFP particularly pertains to the hydrating modeling of the Combined Sewer System.
"At first we were going to do it in one resolution," Coffey said. "But the second one is a really specialized thing that involves different applications or different skills."
In comparison to the first RFP, he said the second was more technical. When asked if the two studies will work together, Coffey said at some point they would.
"They'll have to work with each other," Coffey said of the engineering firms that would be contracted through each of the two RFPs. "Eventually the work will be combined. But they'll be working on parallel pads for a while."
Bayonne's Long Term Control Plan, to be implemented over 30 years, is estimated to cost about $321 million. The Regional Long Term Control Plan for Bayonne and other municipalities in the Passaic Valley Sewerage Commission is estimated to cost in excess of $2 billion.
The council has passed resolutions calling for help financing both plans from the state. While the city moves forward with studying the flooding problem further, one thing is clear: it's going to cost a lot of money.
For updates on this and other stories, check www.hudsonreporter.com and follow us on Twitter @hudson_reporter. Daniel Israel can be reached at disrael@hudsonreporter.com.