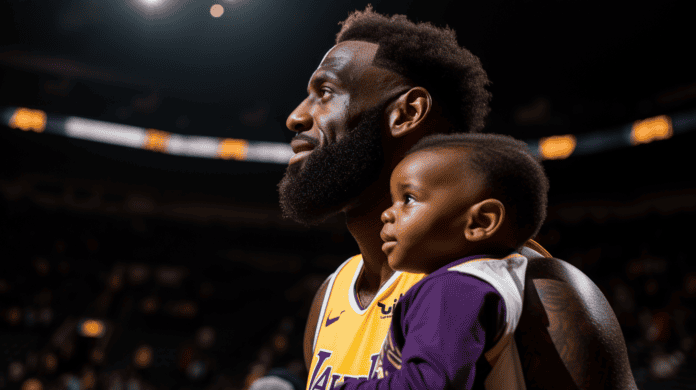 LeBron's son, Bryce James, transfers from Campbell Hall to Notre Dame for his junior year, escalating his NIL value to a staggering $1.2 million.
Key Takeaways
Bryce James, son of NBA legend LeBron James, is transferring from Campbell Hall to Sherman Oaks' Notre Dame, expected to boost his NIL value to $1.2 million.

Bryce James, a four-star 2025 recruit, now holds the highest NIL valuation among high school athletes, paralleling his brother Bronny's top college athlete NIL valuation.

The move to Notre Dame is strategic, aligning Bryce with a successful program and influential peers, while allowing him to maintain a close relationship with his brother, Bronny, at USC.
Another Chapter in Bryce James' High School Basketball Journey
In a new twist to the high school basketball saga, Bryce James, son of NBA superstar LeBron James, is preparing for a significant change. After a previous move from Sierra Canyon to Campbell Hall, the young talent has now set his sights on Sherman Oaks' Notre Dame for his upcoming junior year. This calculated shift is not only about basketball; it's expected to further increase Bryce's Name, Image, and Likeness (NIL) value, which is already estimated at a remarkable $1.2 million.
Bryce James tells me he will transfer to Notre Dame High School in Sherman Oaks, CA.
Was previously expected to play for Campbell Hall. Spent the last two seasons at Sierra Canyon, with his older brother Bronny James.
The 2025 guard is the youngest son of LeBron James.… pic.twitter.com/ATzmf8E3UH
— Joe Tipton (@TiptonEdits) August 10, 2023
Ranking High with a $1.2 Million NIL Valuation
At 6 feet 4 inches, this shooting guard is not just making waves due to his familial connection; Bryce is already heralded as a four-star 2025 recruit. Esteemed outlets like ESPN, Rivals, and On3 have positioned him as the No. 80 recruit in his class. But the young James is not only guided by his athletic potential. His name carries a significant On3 NIL valuation of $1.2 million, placing him at the top among high school athletes—a title mirrored by his elder brother, Bronny James, in the college sports scene with a jaw-dropping $6.4 million NIL valuation.
Notre Dame: A Calculated and Promising Move for Bryce
Notre Dame was not selected by chance. Historically, it's a program that has cultivated stars like Caleb Foster and Dusty Stromer, who are poised for success in elite colleges. Entering Notre Dame, Bryce James will share the court with Mercy Miller, son of entertainment icon Percy "Master P" Miller. This synergy extends to Bryce's rapport with Notre Dame guard Angelino Mark, solidifying his decision to transfer further.
Not long ago, Campbell Hall was in the spotlight due to reports of the James family's financial support for its athletic facility, igniting speculation when Bryce was seen practicing with the team earlier in the summer. The unexpected switch to Notre Dame took some by surprise, but the reasoning is apparent. Notre Dame's recent CIF State Division 1 title and the influential company that Bryce will keep suggests a setting where he can flourish. Additionally, with USC just a 40-minute drive from Sherman Oaks, Bryce and Bronny will likely continue nurturing their strong fraternal relationship.