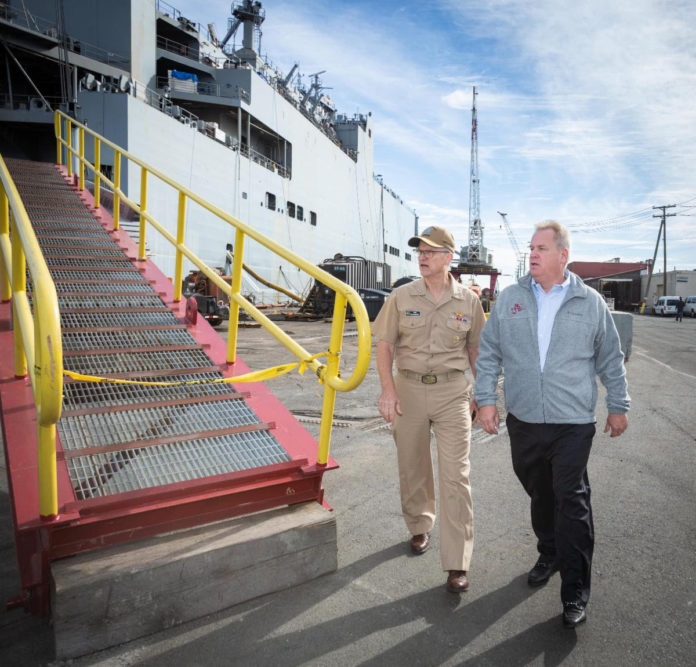 Rear Admiral Michael Wettlaufer visited the Bayonne Dry-Dock on Friday, October 28, inspecting the USNS Pomeroy.
The Pomeroy is part of the U.S. Navy's Military Sealift Command, which is nearing completion of a $27 Million overhaul before returning to sea duty.
Rear Admiral Wettlaufer, who has led the Military Sealift Command since 2019, was escorted by Bayonne Dry-Dock President Michael Cranston as he toured the ship and visited with both the ship's crew and dockworkers.
Rear Admiral Wettlaufer also took time to facilitate a small-group discussion with the leadership teams from Bayonne Dry-Dock and the Port Authority of New York and New Jersey.
Throughout his visit, Wettlaufer stressed the importance of the facility's work to National Defense and the U.S. Navy's overall mission. Bayonne Dry-Dock has completed twenty similar overhauls for the Navy since 2015.
"We were honored to host Rear Admiral Wettlaufer to inspect the USNS Pomeroy, which is now ready to return to its active-duty status serving the U.S. military in its combat and humanitarian missions," said Cranston in a statement on Monday, November 1. "We are proud of our employees, our work and our service to the United States military."
The Bayonne Dry-Dock facility is New York harbor's largest dry-dock facility, serving both the military and the commercial shipping industry with a full range of services.
The 951-foot-long Pomeroy, part of the Watson Class Large Medium-Speed Roll-on/Roll-off Ships (LMSRs), is designed to carry an entire U.S. Army Task Force including 58 tanks, 48 other tracked vehicles, including more than 900 trucks and other wheeled vehicles.
With a cargo-carrying capacity of 380,000 square feet (the equivalent of almost eight football fields), the USNS Pomeroy can accommodate up to 45 civilians, and up to 50 active-duty personnel.
Bayonne Dry-Dock's personnel and subcontractors performed a wide array of upgrades and maintenance to the ship, including cargo gear and fan venting system overhauls, saltwater piping system replacement, tail shaft and main strut bearing service, and blasting and repainting the hull and topside weather decks, freeboard and superstructure.
There were approximately 225 employees that are contributing to the project's completion, including both direct employees of Bayonne Dry-Dock and 30 subcontractors.
The Pomeroy was brought to Bayonne Dry-Dock on August 16, 2022, and the project is scheduled for an on-time delivery in mid-February of 2023.
For updates on this and other stories, check www.hudsonreporter.com and follow us on Twitter @hudson_reporter. Daniel Israel can be reached at disrael@hudsonreporter.com.