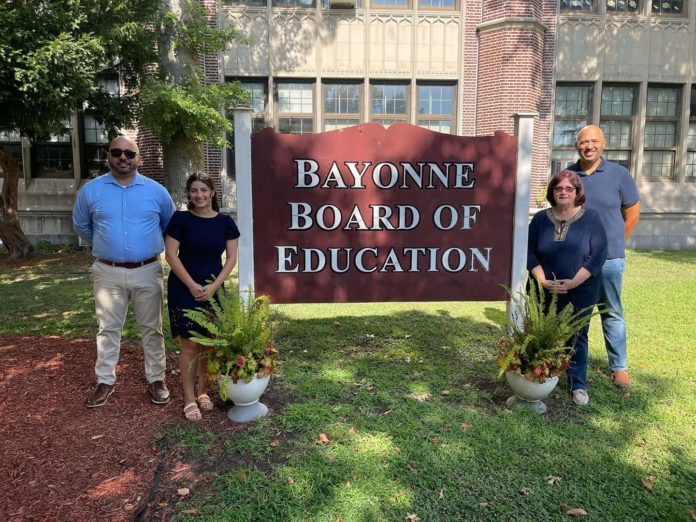 Once upon a time in Bayonne, an endorsement from the mayor used to help a ticket for the Board of Education go far in an election, but now it appears it didn't mean as much in the Tuesday, November 8 election.
Mayor James Davis and the current City Council members among other administration officials endorsed and supported the "Voices for Progress" slate, as well as the Bayonne Education Association, Assemblyman William Sampson, and outgoing Trustee Denis Wilbeck, among others.
Meanwhile, former City Council President Sharon Ashe-Nadrowski, who failed to unseat Davis in last May's municipal election, her former council slate running mate Executive Director of the Bayonne Police Athletic League "KT" Kim Torello, and most of the current Board of Education including Trustee Jodi Casais, Board President Maria Valado, Vice President Christopher Munoz, Trustee Melissa Godesky-Rodriguez, and others supported the "Together We Can" slate, resulting in something of a proxy war between the two forces.
Running as "Together We Can" with teacher and incumbent Trustee Hector Gonzalez were: former Trustee and former City Councilwoman Mary Jane Desmond; Financial Services and Registered Representative with the New York Life Insurance Company William "Bill" Young; and New Jersey Institute of Technology Biomedical Engineering student Miriam Bechay.
They faced off against the "Voices for Progress" slate featuring: President of the Board of Trustees at the Bayonne Community Day Nursery and the Bayonne School Employees Credit Union, and a retired public school teacher Saverio "Sam" Maggio; businesswoman, community activist, and President of the Bayonne Youth Center Angelique Jackson-Belle; previous candidate and teacher at Jersey City's P.S. 17 Gina Irizarry; and businessman in the financial sector and major proponent of the mosque in Bayonne, Ali Hassan.
Running as an independent was Jahnbaz Almas, a Trustee of the Bayonne Education Foundation and former educator at Saint Peter's University, Saint Peter's Preparatory School, and New Jersey City University, under the banner "Education is Freedom."
Winner, winner, chicken dinner
The "Together We Can" slate won three out of four seats up for grabs on the Board of Education. Gonzalez, Desmond, and Bechay were elected, while Maggio was the only candidate from the Davis-backed "Voices for Progress" ticket to be elected.
According to unofficial election results on Wednesday from the Hudson County Clerk, the top three highest vote getters for the three seats with three-year terms were Desmond with 4,043 votes, Gonzalez with 3,822 votes, and Maggio with 3,812 votes.
In a close fourth place was Irizarry with 3,568 votes followed by Jackson-Belle in fifth with 3,524 votes. Trailing in sixth was Young with 3,420 votes.
Almas came in a distant seventh with 551 votes, and there were 61 write-in votes. In total, 22,807 votes were cast by voters from 10,544 ballots.
For the seat with the one-year unexpired term previously held by Gonzalez, Bechay beat out Hassan with 2,745 votes to his 2,452 votes. There were 14 write-in votes with 1,457 votes cast by voters from those 10,544 ballots.
Bechay won a seat despite being the only candidate to not attend the candidate forum as well as the only candidate who was unavailable for a feature interview with the Bayonne Community News.
Did Davis endorsement matter?
The "Voices for Progress" ticket issued a joint statement after the polls closed: "Thank you Bayonne! Polls are closed and now we wait for the final results. We are so grateful for the love, support and hard work everyone gave this campaign! Together we are Bayonne Voices for Progress!"
Also before the results came in, the "Together We Can" slate issued a similar message thanking voters for their support this election cycle. Neither slate has issued any statements since the most recent official results have been posted.
"Thank you to every supporter, family member, friend, and neighbor that came out to vote for us," the ticket wrote in a joint statement on social media. "No matter the outcome, it has been an amazing journey. Nothing would have been possible without YOU. Thank you from the bottom of our hearts."
The election was largely sleepy this cycle. In typical fashion, candidates knocked on doors, appeared at community events like the Bergen Point Fall Festival, and held meet-and-greets all in attempts to convince voters to pick their side. One interesting development, however, was who ended up backing who, and ultimately how much the endorsements mattered to the outcome.
Despite Davis not endorsing anyone in 2021 and the "Voices for Progress" slate in 2022, the results show the "Together We Can" slate continues to largely dominate Bayonne school board elections as it did when it had his endorsement in 2018 and 2019. While voters chose Maggio over Young, "Together We Can" is still 9 for 10 in successfully electing candidates in the past three elections.
Candidates clash at forum, followed by online drama
In addition to the endorsements, the candidates and their slates did clash somewhat at the candidate forum, largely over tax abatements for redevelopers. While "Together We Can" members like Gonzalez said that they were against those financial agreements that don't produce tax revenue for the school district, members of the "Voices for Progress" slate like Jackson-Belle argued that the agreements ultimately benefited the community.
The candidate forum also sparked some online chatter about Irizarry regarding her stance on inclusivity and social justice in the curriculum, which many applied to the topic of sex education in the health curriculum. She said that while parents should be involved in their children's education, the curriculum standards are determined by experts and should remain that way, drawing ire from parents who have sought to remove sex education from the curriculum entirely.
When it comes to turnout, this election appears to have had higher turnout than the May municipal election. With 42,626 registered voters, there were 10,544 ballots cast in this compared to the then-42,374 registered voters and 10,023 ballots cast in the municipal election.
Those numbers equate to an approximately 24.7 percent turnout for this election compared to the approximately 23.6 percent turnout overall for the municipal election. When looking at the mayoral contest alone, there was an approximately 23.4 percent turnout with only 9,909 votes cast despite 42,374 registered voters at the time.
For updates on this and other stories, check www.hudsonreporter.com and follow us on Twitter @hudson_reporter. Daniel Israel can be reached at disrael@hudsonreporter.com.