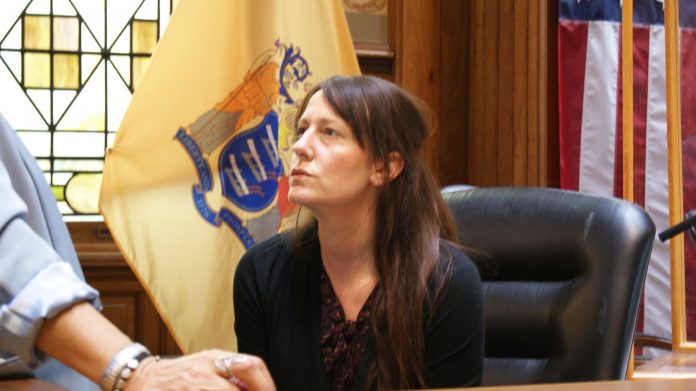 Jersey City Council member Amy DeGise has filed a police report about harassment and death threats she's received following her involvement in a hit-and-run last month when she struck a cyclist without stopping.
According to her spokesman, Phil Swibinski, DeGise had received a number of threats via email and social media, including comments attacking her position as a woman and a Democrat, as well as "numerous vulgar telephone calls" to her employer, a public school.
"It is reprehensible for anyone to make these kinds of direct threats of violence and we hope that the perpetrators are prosecuted to the full extent of the law," he said in a press release.
Swibinksi said that DeGise reported the threats on Monday to the Jersey City Police Department, and that an investigation has begun to find the source of the messages and "whether criminal charges are appropriate."
He also added that depending on the results of the investigation, DeGise may be entitled to police monitoring "or other standard procedures to ensure her safety."
DeGise has been charged with leaving the scene of the accident and failing to report it to police for six hours.
The majority of the threats shared by Swibinski with the media were obscenely-phrased wishes that DeGise should be injured, or killed, and seem driven by anger that as a public official she is, in the minds of her attackers, somehow evading justice.
"Guess lawmakers can avoid the law after a hit and run," said Cooper Alterio. According to Eduardo Garcia, "U need a bullet in your head." At least one appeared to come from a conservative poster called 'Hitch' who weighed in with, "You f**king Devilcrats think you can get away with anything," while 'Dr. Keith' warned, "You actually think your (sic) not going to receive retaliation?"
Other posts were too strong for publication, but The Hudson Reporter has also received a few comments from people angry that we published letters to the editor pointing out that the bicyclist ran a red light just before being struck.
"This situation has created strong feelings in many people, but no one should condone these kinds of violent threats and this should be a reminder to everyone to tone down the rhetoric and refrain from inflammatory actions that could have real world consequences," Swibinski continued.
A Jersey City spokesperson did not respond for comments on additional details about the police investigation at the time of publication.
Since last month, the councilwoman has become embattled after hitting Andrew Black, a cyclist who ran a red light, on the intersection of MLK Drive and Forrest St. on July 19 without stopping, and had not reported it until six hours later.
DeGise has faced calls to resign, with a rally being hosted in downtown Jersey City last Saturday calling for her to step down, although Swibinski said last week that she does not plan to.
Recently, a report by the Jersey Journal revealed that DeGise had at least nine overdue, outstanding tickets, including eight in Jersey City, on Monday morning, but were apparently all paid for later in the afternoon.
Gov. Phil Murphy also said on Monday that DeGise's incident "is behavior that's unacceptable," but stopped short of saying that she should step down, adding that he'll "leave the actual politics to the local realities."
DeGise was elected to an at-large seat on the City Council last November on Mayor Steven Fulop's slate. She was also the former chairwoman of the Hudson County Democratic Organization, and is also the daughter of Hudson County Executive Tom DeGise.
For updates on this and other stories, check hudsonreporter.com and follow us on Twitter @hudson_reporter. Mark Koosau can be reached at mkoosau@hudsonreporter.com or his Twitter @snivyTsutarja.