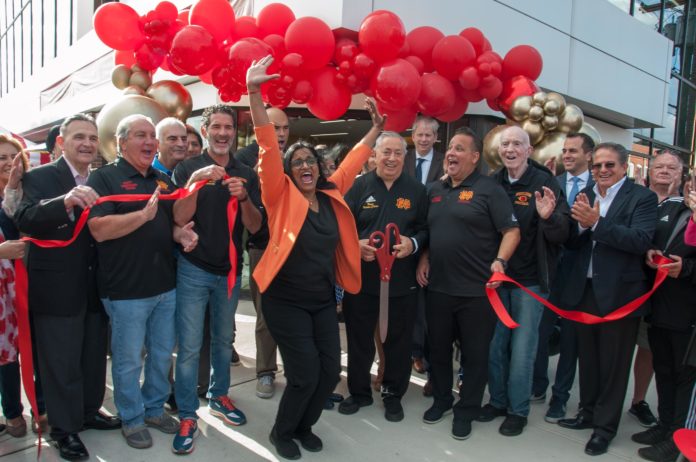 North Bergen's new, highly anticipated Downtown Recreation Center and Library is now officially open.
Mayor Nick Sacco, Parks and Public Property Commissioner Hugo Cabrera, Commissioner Frank Gargiulo, Commissioner Allen Pascual, Commissioner Julio Marenco, County Commission Chair Anthony Vainieri, Assembly members Angelica Jimenez and Pedro Mejia, Sheriff Frank Schillari, Library Director Sai Rao, NJ State Librarian Jennifer Nelson, and many other officials held a ribbon cutting for the grand opening on Saturday, November 5.
Hundreds of local residents and business owners attended the event. Offerings included tours of the new site, music, food, carnival games, bounce houses and much more.
"Residents will be delighted when they see the abundance of new technology, athletic equipment, and other learning facilities at their disposal," said Sacco. "I am very proud to see this happen for the community and residents of downtown North Bergen, whose children and families will be utilizing this center for decades to come."
The site was formerly home to a furniture store until a massive fire destroyed the building in 2016. The township bought the property and utilized a combination of municipal ordinance bonds, Green Acres funding, as well as federal, state, and county grants to fund the new $19.5 million, state-of-the-art facility.
"When a devastating fire destroyed this building we didn't cry over spilled milk, we viewed it as a catalyst and tremendous opportunity for positive change," said Cabrera. "I want to thank Mayor Sacco for being the driving force behind this project and keeping a promise of academic, athletic, and social equity to our downtown residents and their children."
The new Downtown Recreation Center and Library consists of five floors including a full library space with study rooms and the latest available technology, an indoor basketball court with six hoops and running track, outdoor fitness area, a rooftop turf practice field, and more. It evolved from being purely a recreation and community center to also include a library as well.
The new library will offer reading materials and other support. It also provides more space for community events and programs such as citizenship classes and other helpful initiatives.
"Our progressive leaders know that libraries are the hub of the community, which is why North Bergen has three!" said Rao. "Thank you to all the people who made this possible including the Mayor, Commissioners, and many others behind the scenes, who worked tirelessly to construct a beautiful facility that will empower our youth to advance confidently in their dreams."
The North Bergen Downtown Recreation Center and Library is another step forward in Sacco's vision of revitalizing Downtown North Bergen. It will offer downtown families excellent access to township services without needing to travel a long distance.
The facility comes on the heels of other major advances in the area. This has included the new downtown park on Paterson Plank Road, significant improvements to 10th Street Park, the former Downtown Library Branch, major residential developments, the new Wyndham Hotel, and more.
For updates on this and other stories, check www.hudsonreporter.com and follow us on Twitter @hudson_reporter. Daniel Israel can be reached at disrael@hudsonreporter.com.