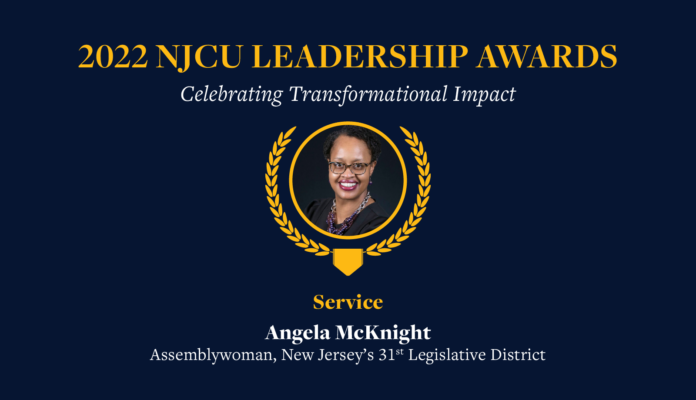 New Jersey City University (NJCU) has announced that the 2022 NJCU Leadership Awards— the institution's annual celebration of those who have made a lasting impact on society in the Jersey City and the greater Hudson County area — will be held on Tuesday, May 31, at 6 p.m. at the Liberty House, located at 76 Audrey Zapp Drive in Jersey City.
Presented by the NJCU Foundation, this year's theme will be Celebrating Transformational Impact, and the university will honor four individuals in the categories of Service, Arts, Innovation, and Legacy.
Beginning the week of March 28, NJCU will unveil one honoree per week. For more information on the 2022 NJCU Leadership Awards and to purchase tickets, visit, njcu.edu/gala.
The first honoree this year will be New Jersey Assemblywoman Angela V. McKnight, recognized in the Service category. Originally elected in 2015 as the first African-American Assemblywoman for the 31st District for the State of New Jersey, McKnight is currently serving her fourth term in the State Legislature where she was appointed Assembly Deputy Majority Leader this session.
In the legislature, McKnight serves as Chairwoman of the Assembly Aging & Senior Services Committee and Vice Chairwoman of Assembly Women & Children Committee, while also sitting as a member of the Assembly Homeland Security & State Preparedness. This month, she was named the new chair of the New Jersey Legislative Black Caucus Foundation.
"On a daily basis, I am given the opportunity to make an impact," McKnight said when asked what inspires her to be a leader. "I decided to live a life of service to others. Whether I am helping one person or many people, I choose to help and support as I can. I am a firm believer that people make time to do what they want to do. Your legacy is created by your actions!"
Outside of Trenton, McKnight is also a Certified Senior Advisor (CSA). Additionally, she is the founder & CEO of the 501(c)3 nonprofit organization AngelaCARES, Inc. AngelaCARES, Inc. headquartered in Jersey City — whose mission it is to serve as an advocate and support system for senior citizens, their caregivers, and a mentor to the youth by educating and empowering them to volunteer, thus strengthening communities by enhancing the quality of life through these generations.
McKnight has a demonstrated history of service to her community. Certified in the New Jersey State Health Insurance Assistance Program (SHIP), she has served as Vice-chair of the Greenville Community Partnership, Chair of the Hudson County Long Term Recovery Committee, Advisor for PURE I.M.A.G.E.S., Inc., Chair of the Hudson County Long Term Recovery Committee, Advisor of Forever Girls Inc., committee member on Lutheran Senior LIFE Advisory Committee, Board President of Member of Alliance Community Healthcare, Advisory Council for the RSVP Center of Essex & Hudson Counties, Board Member of the Jersey City Community Charter School, Board Member of United Way of Hudson County, Advisory Board Member of Jersey City Public Schools Community Schools, Vice Board Chair of Jersey City Community Charter School, Advisory Board Member of NJCU Health Sciences, Honorary Member of the Jersey City Golden Door Rotary Club, Treasurer of Black Wall Street Jersey City and an Advisory Board Member of Jersey City Write on Sport.
"Leadership is when a person inspires, educates, and empowers others to do their best individually and with a team, as well as provides support along the way," McKnight said in defining leadership. "To me, being a leader gives me the opportunity daily to nurture others. A leader encourages a person to capitalize on their strengths and identify their weaknesses to grow. As a leader, I have the ability to listen, to communicate with transparency, promote creativity, support, gain further knowledge to apply and the ability to promote self-accountability."
Her passion and drive to help others and her community and her belief in helping, mentoring, empowering, and supporting as key factors in making a positive impact in peoples' lives,  has been celebrated as the recipient of numerous awards throughout her life.
McKnight is a mother of two and grandmother, resides in her hometown of Jersey City with her high school sweetheart.
About the NJCU Leadership Awards
Launched in 2018, the NJCU Leadership Awards were conceived to honor, promote, and encourage exemplary efforts by individuals and organizations who have made and continue to make exemplary contributions to our society. NJCU last held the leadership event in 2019, before the 2020 and 2021 events were canceled due to the impacts of the COVID-19 pandemic.
Past honorees include 2018 honorees Jersey City Mayor Steven M. Fulop (Service), Angelo J. Genova, Esq., Senior Partner, Co-Founder and Chairman, Genova Burns, Attorneys-At-Law (Innovation), Stefania Panepinto, Founder, Panepinto Galleries (Arts), and the late Thomas Stanton, Jr., a Jersey City banker, visionary and prime mover committed to the renaissance of his hometown (Legacy, awarded posthumously); and 2019 honorees Hon. Frank J. Guarini (Service), Meredith Burns, Executive Director, Art House Productions (Arts), Joseph F. Scott, FACHE, Executive Vice President, Health Care Transformation, RWJ Barnabas Health (Innovation) and the late Glenn D. Cunningham, Former Mayor of Jersey City, 2001-2004 (Legacy, awarded posthumously).
About the NJCU Foundation
NJCU is wholly dedicated to offering the best, most affordable education to its students, as well as state-of-the-art facilities and campus amenities that augment learning and support personal development. Philanthropic giving is key in making this happen. The NJCU Foundation Board of Directors empowers this work by guiding philanthropic endeavors and serving as ambassadors for NJCU.
NJCU Foundation's mission is to support New Jersey City University as it transforms itself into a nationally recognized leader in urban public education while maintaining its commitment to transforming the lives and livelihoods of its diverse student body.