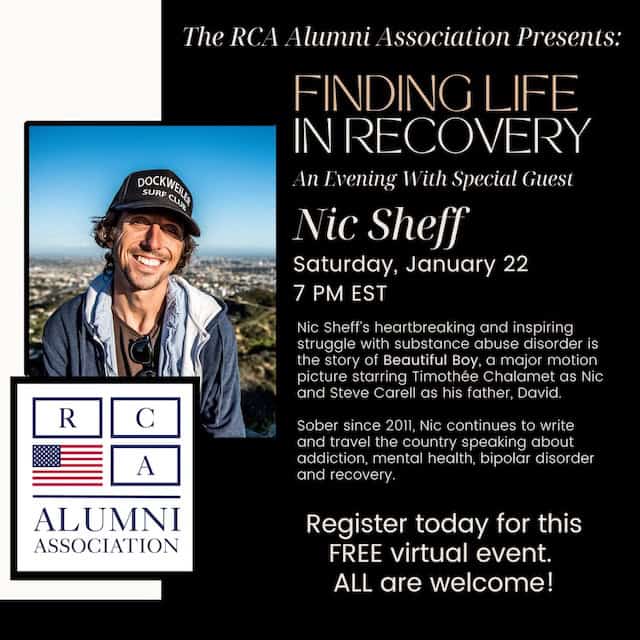 The Alumni Association of Recovery Centers of America (RCA) is proud to host a special evening with Nic Sheff, who will discuss addiction, mental health, and finding life in recovery. Nic Sheff authored the bestselling New York Times memoir "Tweak: Growing Up on Methamphetamines" that was adapted into the critically acclaimed film "Beautiful Boy" starring Timothée Chalamet as Nic and Steve Carrell playing Nic's father, David.
Sober since 2011, Nic Sheff has been recognized as a life-changing speaker, and shares his unglamorized, authentic story of substance use disorder and recovery in order to help those struggling with addiction to find the strength to change.
Register today for this free, virtual event. All are welcome and no prior affiliation to Recovery Centers of America is necessary to attend.
To register, click here: https://help.recoverycentersofamerica.com/WEBINARDC2021-01-22NicSheff_registration.html
Recovery Centers of America is dedicated to helping patients achieve a life of recovery through evidence-based alcohol and drug addiction treatment. RCA has 10 inpatient facilities in the United States in South Amboy and Mays Landing, N.J.; Earleville and Waldorf (near Washington D.C.), Maryland, Danvers and Westminster, Massachusetts; Devon (near Philadelphia), and Monroeville (near Pittsburgh), Pennsylvania; St. Charles, Illinois (outside of Chicago), and Indianapolis, Indiana. A full spectrum of outpatient treatment is also provided at many of these facilities and in Voorhees, N.J., South Elgin, IL, and Malvern, PA. RCA also provides Medication-Assisted-Treatment (MAT) at its treatment centers and at standalone facilities in Trenton, Woodbridge, and Somerdale, N.J. and in Lansdowne, PA.
Contact: The Alumni Team at alumni@recoverycoa.com or at (800) 732-6837