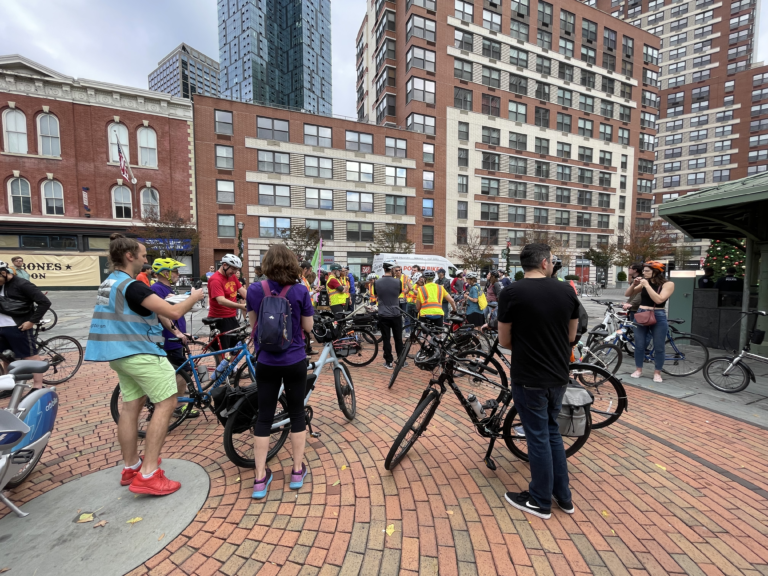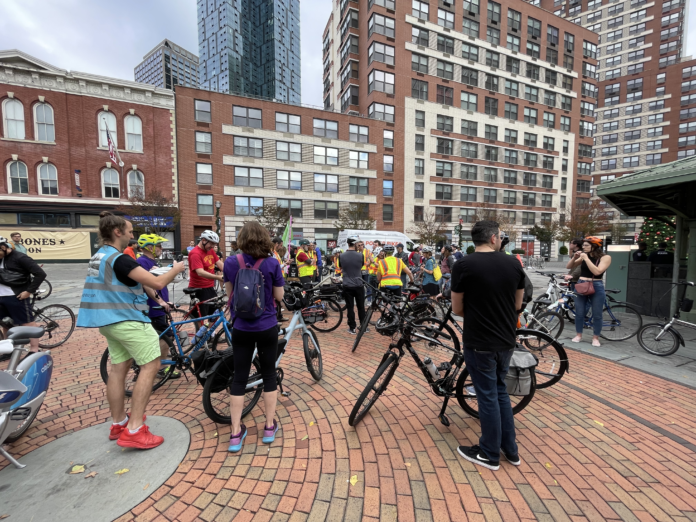 Bicyclists were out in force on Saturday, as Hudson County residents came together to denounce the proposed Turnpike Expansion project which not only would derail the city from a path of environmental equity, but would increase traffic volume and carbon emissions.
The $4.7 billion dollar proposed project by the New Jersey Turnpike Authority and NJ Department of Treasury would affect Newark, Bayonne and Jersey City.
The project would be divided into three phases, widening the extension to four lanes in both directions, and also replacing exit 14 in Newark and 14A in Bayonne, according to the Newark Bay Hudson County Extension Needs Assessment and Alternatives Study.
According to the summary of the project it would "provide sufficient travel lanes to reduce congestion and safely and efficiently accommodate existing and future vehicular demand," establishing the highway road structure for the next century.
Last year Gov. Phil Murphy launched a New Interim Greenhouse Reduction Goal which would invest $33 million in transportation projects meant to secure Jersey's clean energy future and protect residents quality of life. 
On the other hand, the governor has also been a proponent of the controversial Turnpike highway expansion to and from Holland Tunnel, as reported by NJ.com. 
But residents such as Emanuelle Morgan who came out today, said "nonsensical projects such as these hurt our communities rather than serve them."
Morgan, who is a resident in Hudson County, brought her bike out to encourage residents to advocate for more public transportation options instead of expanding I-78 highway, which would be "squeezing more cars into a tunnel," she said.
Historically interstate highways expanded America's roadways and infrastructure bringing 90 percent of all American cities together with populations of over 50,000 people. Congress approved the Federal-Aid Highway Act of 1956, intended to eliminate unsafe roads and inept road structures, and it also detrimentally impacted urban communities of color. 
Over 475,000 households and more than a million people were displaced nationwide due to the federal roadway construction, according to data collected by the U.S. Department of Transportation.
Tyler Newcomb, who is the organizer of NJ Turnpike Trap, a coalition against the city's Turnpike widening said that "not only does this not achieve the goal that they are claiming of reducing traffic…it's also going to make our streets more dangerous."
Hudson County has the highest population density in the state, according to the 2020 census, growing from 634,266 in 2010 to 724,854 in 2020 as reported by the Hudson Reporter.
In a tweet made earlier this year, Jersey City Mayor Steven Fulop, who opposes the NJTA's Turnpike expansion project said, "This proposal would bring more traffic and more pollution to Jersey City. Instead,the investment here for NJ should be in mass transit as we have plenty of needs on that front."
City officials and city workers also stepped up alongside residents to reject this project. 
"This project is on the wrong side of history," said Barkha Patel, Jersey City's director of infrastructure. She said if the state sees this project through it would result in not only an increase in traffic but would be "creating a vicious cycle of traffic that we cannot build our way out of."
Jersey City City Council members James Solomon and Frank Gilmore echoed Patel's frustration, saying they believed the highway expansion would degrade the community rather than improve it.
Phil Cohen, Hoboken's Fifth Ward city councilman also attended the rally. He said Hoboken had unanimously passed the first resolution against the expansion of the highway.
"We breathe the air with you," said Cohen. "We are not looking for it, we don't want it."
Dana Patton, who came out today to protest the expansion of the bridge in support of her son who attends P.S.5 as a fourth grader, a school adjacent to the highway, said the actions taken by the state are simply "unconscionable" and of "great concern."
She said the surrounding neighborhoods near Mary Benson Park, where the bicycle rally concluded, are historically low-income communities and would be severely impacted by the highway expansion.
"We literally spend hours every day at this park with our son, with this approved expansion it would just remove it entirely," said Patton.

For updates on this and other stories, check www.hudsonreporter.com and follow us on Twitter @hudson_reporter. Jordan Coll can be reached at jcoll@hudsonreporter.com.