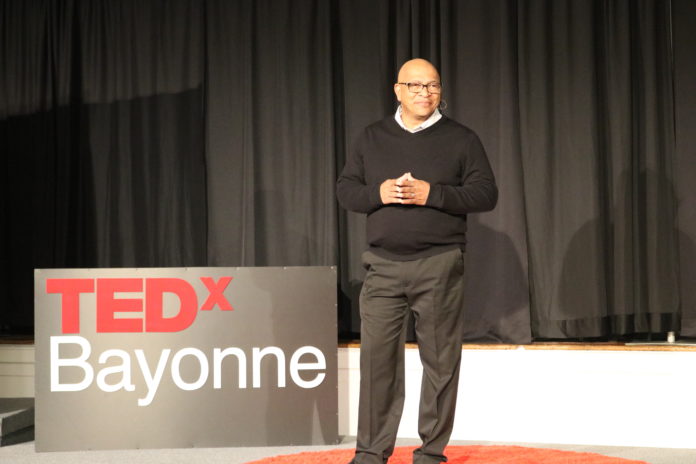 After an outstanding series at TEDxBayonne 2022, the search is now on for speakers for the next iteration of the conference.
The annual independently organized TED Talks conference in the city were co-founded by Bayonne residents Carissa Lintao and Maxim Sokolov. The duo had a vision in 2021 to bring the talks to Bayonne and made that a reality in April of this year. The goal of the conference is to bring together local thought leaders to share world-changing ideas, with its motto being "to uplift, challenge, and inspire."
From vision to reality
TED, a non-profit organization which aims to promote "the idea of spreading ideas," began in 1984 as a conference about "Technology, Entertainment and Design" before becoming an established non-profit. Since then, the conferences and their approximately 18 minutes or less TED Talks have been hosted worldwide by the organization.
TED Talks feature a lineup of short, informative, and motivational speeches given in front of live audiences that are recorded and shared online on YouTube and social media as well as other platforms. The TEDx Talks are the localized version of the wider reaching TED conference.
Since its founding, the TEDxBayonne team has expanded. In addition to Lintao as Operations Head and Sokolov as Marketing Head, the TEDxBayonne team also features Advisor Allan Escobar, Media Manager Sofia Marino, Advisor and Ex-Speaker Nicos Marcou, Advisor Rob Napoli, Communications Coach Lisa Patti, Acting Coach and Stage Specialist Bobby Allan, Stage Manager Hannah Lauren, and Photographer Cat Lee.
TEDxBayonne aims to be a catalyst for progress in the Bayonne community and beyond. The conference seeks to inspire people to change their lives and ultimately make the world a better place.
'Future? Future!'
After 2022's theme of "re.think," the theme for 2023 is "Future? Future!" According to TEDxBayonne, "Future is not something to hope for. It's something to create.
"Future has become such a loaded word. For some it carries so much promise and excitement, for others it's an opportunity to talk about unrealistic and wishy washy agendas and ideas, but for the majority it's simply a word that incites endless anxiety and stress. It may seem that everything around us — politics, news and social media — are all slowly defeating our optimism and presenting this bleak picture for our future lives. This spring, we want to change that," according to TEDxBayonne.
In 2023, the local TED Talks are going explore stories and ideas that will restore optimism in "tomorrow," help return people to the things that matter most in life, and present solutions and paradigms that will guide in building a future "worth getting excited about." Next year's talks aim to be more ambitious after this year's success.
In 2022, there have been over 115,000 total views of TEDxBayonne talks on the official TEDx channel, over 300 active newsletter subscribers, over 3,000 total website traffic over the past year. In addition, the conference tickets sold out in under 36 hours, featuring six speakers including Nicos Marcou, Ilknur Eren, Nathan Lugo, Michelle Arpin Begina, Mike Stanlaw, and Loyad Booker, Jr.
Apply to be a speaker now
In 2023, TEDxBayonne aims for one to two more speakers, better networking opportunities, wider audience reach, and improved event experience, as well as community initiatives and impact. Projections for 2023 include over 500,000 total views of TEDxBayonne talks on the official TEDx channel, over 600 active newsletter subscribers, and over 6,000 total website traffic over the year.
To apply to be a speaker before the submission deadline of January 8, 2023, go online to: https://docs.google.com/forms/d/e/1FAIpQLSd5DW1gVNHNBDP9J0fGSuNZ4ZE0yCsEYLcslVDrfDXMAgQ2rQ/viewform. Tickets are not yet available for purchase.
The non-profit and volunteer-run organization is also accepting donations to spend on equipment and set up, outsourced professional video production, and venue rental. For more information, to donate, or to watch last year's talks, go to tedxbayonne.com.
For updates on this and other stories, check www.hudsonreporter.com and follow us on Twitter @hudson_reporter. Daniel Israel can be reached at disrael@hudsonreporter.com.