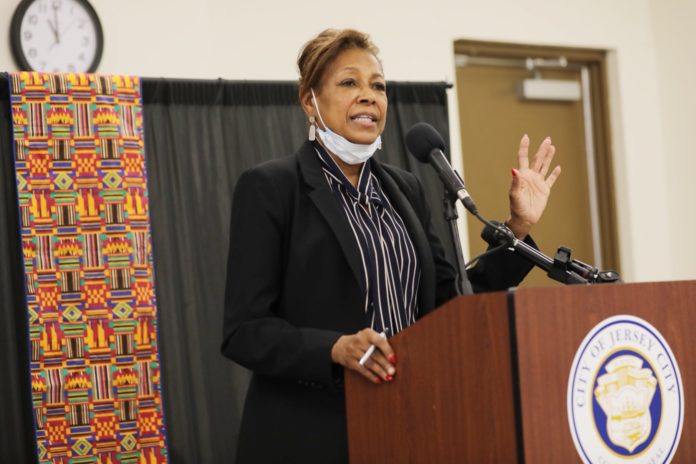 State Senator for the 31st Legislative District Sandra Cunningham is expected to resign, according to reports. Cunningham is a five-time state Senator who was first elected in 2007, and is the widow of former Jersey City Mayor and state Senator Glenn Cunningham who died in office in 2004.
The 72-year-old Senate President Pro-Tempore is facing a severe cognitive decline iand is unlikely to return to Trenton, according to a report citing anonymous sources by the New Jersey Globe published on Tuesday, December 29.
Cunningham was hospitalized at Jersey City Medical Center on October 4, with what was described as a non-life threatening health emergency. She has been at the hospital for the past 56 days.
Prior to that, Cunningham had been laying low in the wake of being charged with Driving While Intoxicated after hitting two parked vehicles in March. Due to a lack of evidence, the charges were later dropped, although she previously pleaded guilty to DWI in 2005.
Cunningham had not been present in the Senate since the legislature's passage of the state budget in June. Cunningham had attempted to participate remotely when the Senate confirmed Attorney General Matthew Platkin in September, but to no avail.
Since her hospitalization, a Superior Court judge placed Jersey City attorney Matthew Burns in charge of Cunningham's personal affairs as she can no longer handle them on her own. Burns was appointed after a close friend of Cunningham's, former Governor James McGreevey, asked for someone else to take control of her finances and other private matters. 
The legal proceedings are still ongoing, and court records are sealed. It is not clear if she will be able to sign a resignation letter or if Burns can resign on her behalf.
Meanwhile, the state Senate does have the ability to expel a member or potential declare a vacancy of the seat if the incumbent is no longer fit to serve. Regardless, it remains unclear if and when Cunningham will resign.
Replacement talk already?
While Cunningham has yet to do anything, discussion is already ongoing about her replacement as she is not expected to run for re-election either in 2023. Rumored candidates to take her spot if she resigns include John Minella, Jersey City Mayor Steven Fulop's Chief of Staff and recent campaign manager for Bayonne Mayor James Davis in the recent May municipal election.
If elected by committee members, Minella would apparently act as a caretaker for Cunningham's seat, which term ends on January 11, 2024. He would not run for a full-year term in 2023.
Other names being mentioned as possible replacements are Assemblywoman for the 31st Legislative District Angela McKnight, as well as Hudson County Commissioners from Jersey City Bill O'Dea and Jerry Walker. While a replacement candidate has not yet been determined, that decision will largely be in the hands of Jersey City politicos. 
The Jersey City and Bayonne Democratic committees will first vote on candidates for her replacement in a special election convention. The two municipalities that make up the 31st Legislative District, under the current map prior to the new map drawn up after redistricting, are Wards A and F and parts of Wards B, C, and D, and all of Bayonne.
The Hudson County View recently reported that includes 326 voting members, if all seats are filled, with 224 votes from Jersey City and 102 from Bayonne. Ultimately, it seems the decision would likely belong to Fulop and get backing from the Hudson County Democratic Organization. 
Following the news of Cunningham's declining health, activists are calling for her replacement to be a Black woman. The United Black Agenda said in a statement on Thursday, December 1, that "her resignation from the Senate will leave a huge void in leadership that represents the interests of Black people and other communities of color in New Jersey."
"She is also one of the most powerful, longest serving Black legislators in the State," the United Black Agenda said in a statement. "We must be intentional about who we are replacing a Black legislator with, given how hard-fought Black representation has been in this country and this state. Whoever is picked to replace Senator Cunningham—whether temporary or permanent—must be a Black woman."
The district is currently fairly diverse, and is set to grow more diverse when the new map post-redistricting kicks in in 2024. Under that map approved by the Legislative Apportionment Commission, which will grow to include Kearny, the district will be 34 percent Black, 33 percent Hispanic, 32 percent white, and 12 percent Asian.
"This is one of the most diverse legislative districts in one of the most diverse states in the nation, and the district's delegation in Trenton must reflect that, particularly given that the state legislature already fails to represent the rich diversity of the state. It is time to put action behind our words when it comes to ensuring Black representation."
Cunningham's office did not respond to The Hudson Reporter's requests for comment.
For updates on this and other stories, check www.hudsonreporter.com and follow us on Twitter @hudson_reporter. Daniel Israel can be reached at disrael@hudsonreporter.com.