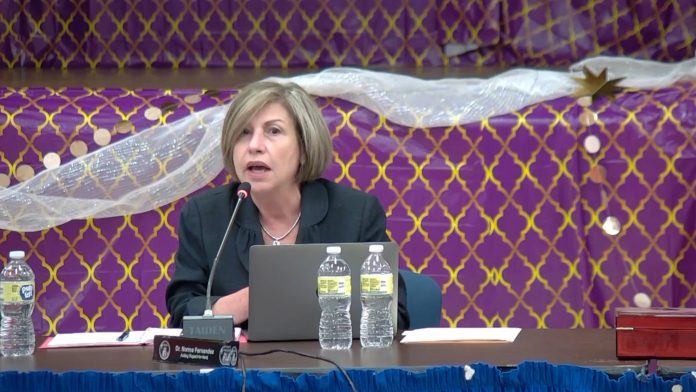 Jersey City Interim Superintendent Dr. Norma Fernandez was appointed by the Board of Education on Thursday night to serve as permanent superintendent of the Jersey City Public School district, capping off a six month interim role that will elevate her to oversee the second largest school district in New Jersey.
"I'm speechless," she said after the board appointed her to applause. "I thought I would not be, but I am. I thank the board trustees for believing in me, and I believe that our schools can be a joyful place and an exciting place where our administrative team can work together to continue to bring progress to our students and continue to do what's best for children."
Dr. Fernandez has been with the school district for nearly 40 years, having worked her way from a bilingual teacher up to being Deputy Superintendent by the end of 2021. In January, she became the interim superintendent following the retirement of former Superintendent Frank Walker at the end of last year.
During the six months of her interim tenure, Dr. Fernandez notably oversaw the passage of the school district's $973 million school budget, and will now look to lead the school district as they head into the next school year.
The school board had approved a resolution around the same time of her interim appointment to conduct a national search for a new superintendent, but the district has decided to settle for their current leader in a permanent role.
Dr. Fernandez also had the support of Ron Greco, the president of the Jersey City Education Association teacher's union. Greco had supported her to become an interim back in December, as well as for a permanent role in March.
"You don't have to have all the degrees in the world to have common sense, and many people that do have a lot of book knowledge are as dense as this podium," he said.
"But Dr. Fernandez is worldly, she's streetwise, she has street cred as our children say in Jersey City," he continued. "She knows these schools, she knows the children, she knows the community, and common sense is something you can wish for in a superintendent, and someone that will work with people."
The board voted 8-0-1 to approve a three year contract starting today and will last until June 30, 2025, with Trustee Paula Jones-Watson being the only abstain as she has family members that work in the school district.
Jersey City spokeswoman Kimberly Wallace-Scalcione said that Dr. Fernandez's "final-hour appointment made the night before the July 1 deadline leaves little room for residents and parents of Jersey City students to weigh in on a decision that drastically affects the leadership of our entire school system."
"With that, Mayor [Steven] Fulop remains committed to maintaining a working relationship with school leadership to ensure the students and their educations remain top priority," she continued.
For updates on this and other stories, check hudsonreporter.com and follow us on Twitter @hudson_reporter. Mark Koosau can be reached at mkoosau@hudsonreporter.com or his Twitter @snivyTsutarja.