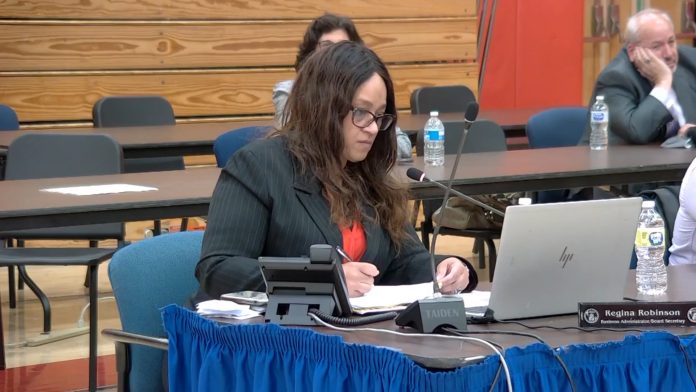 The Jersey City school business administrator is suing the top leadership in the Jersey City school district, alleging that she was discriminated against because of her sex and race during her tenure and that the leadership broke state law while doing so.
School Business Administrator Regina Robinson filed a lawsuit alongside her husband Charles Harris in Hudson County Superior Court yesterday, listing now-permanent Superintendent Dr. Norma Fernandez, Human Resources Director Edwin Rivera, and all of the Board of Education minus Board President Gerald Lyons as defendants.
The lawsuit alleges that Robinson was the victim of an "unlawful employment culture" that returned after the state of New Jersey returned local control of the Board of Education, and that Robinson, who is Black, was discriminated against racially and sexually compared to her predecessor, Luigi Campana, who is Latino.
Among the number of occasions that Robinson alleges she was retaliated against includes filing an internal Human Resources/Affirmative Action complaint based on her inequitable pay, and multiple occasions when she complained that she was unable to fill or post positions required for the Business Office.
Other alleged retaliations were for when she wrote about "improper, board and administration sanctioned practice" of selling sick days to non-retiring employees, and that she was excluded from discussions regarding staffing her own department as retaliation.
It also alleges that Rivera had intentionally interfered and undermined her with the leadership of the Jersey City Education Association teacher's union via discriminatory motives, "improperly preferring Latino candidates and employees over Black candidates and employees," and that Fernandez had "consistently" displayed hostility towards her.
The lawsuit accuses the defendants of violating the New Jersey Law Against Discrimination, including by discriminating based on her race and sex, retaliating for protected activity and creating and maintaining "a severe and pervasive" hostile work environment.
It also states alleged retaliation against constitutionally protected whistle blowing activity for which the defendants violated the New Jersey Conscientious Employee Protection Act, and that the relation caused Harris to suffer from "loss of consortium, society, affection assistance, and conjugal following, all the determinant of their marital relationship."
Robinson notably saw her contract not renewed after the Board of Education voted it down back in April, while also at the same time approving salary raises for Dr. Fernandez and other top staff members. Her contract was set to expire today on July 1.
"[Robinson] has never been formally reviewed by the district, so she has never been criticized and her performance has never been criticized," said Stephen J. Edelstein of Weiner Law Group, who's representing Robinson and Harris in the lawsuit.
"But she has been harassed repeatedly, discriminated against repeatedly, retaliated against repeatedly, because she is a Black female," he continued. "I believe we will be able to prove something that was done to her and probably to other Black females as well, by this particular administration and board."
The Jersey Journal also reported that a number of female African American employees such as Human Resources Assistant Director Sabrina Harrold had alleged discrimination. Harrold also had her contract not renewed in April.
Dr. Fernandez and Lyons did not respond for comment on the lawsuit.
For updates on this and other stories, check hudsonreporter.com and follow us on Twitter @hudson_reporter. Mark Koosau can be reached at mkoosau@hudsonreporter.com or his Twitter @snivyTsutarja.