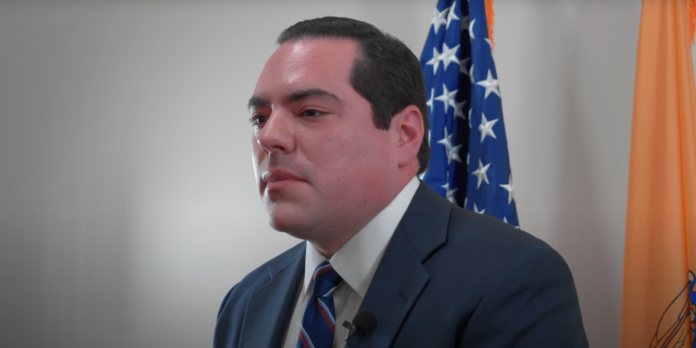 West New York Commissioner of Public Affairs Cosmo Cirillo has declared his candidacy for mayor in 2023. This sets up a showdown with outgoing Rep. Albio Sires, a Democrat currently representing the 8th Congressional District of New Jersey and former three-time mayor of the town, who has also announced his candidacy for mayor.
Sires decided to retire, and was replaced by Congressman-elect Robert Menendez, Jr. after the November midterm elections. Sires decided to retire and said he would run for mayor of West New York instead of running for re-election for Congress because Mayor Gabriel Rodriguez is going to run for the state Assembly for a seat after the new map takes affect post-redistricting.
Now Cirillo has thrown a wrench in Sires' plan. He announced his candidacy in a video message on social media on Thursday, December 1, touting his accomplishments from expanding recreational opportunities, to maintaining rent control among other things.
"For the past eight years, I've had the honor of serving as your Commissioner of Public Affairs," Cirillo said. "As someone who has grown up here, went to school here, and spent my entire life in town, I am extremely proud of the work I have been able to accomplish, such as expanding and improving recreational activities for our residents, starting a brand new tutoring program at the library, maintaining strong rent control regulations, having my office assist a countless amount of residents with rental assistance during the pandemic and feeding thousands of families every summer through our Recreation Food Program."
According to Cirillo, in addition to those activities in town, he has also been key in the ongoing plans to renovate parks and construct parking garages. He said that he plans to continue the work that the "New Beginnings" slate ran on and won in 2019 leading to the election of Rodriguez, indirectly calling out Sires.
"I am also happy to have assisted in the implementation of upgraded parks and fields, a plan for three brand new and much needed parking decks throughout town, the first of which is scheduled for completion within the next months, and other improvements around West New York," Cirillo said.
"When our current team of Commissioners ran four years ago we ran on a slogan of 'New Beginnings' for our town, yet here we are at a critical crossroads where we can choose to move backwards or stand together and move West New York in a positive and promising direction forward."
Cirillo ran with Rodriguez, who is also Sires' godson, as well as Commissioners Victor Barrera, Yoleisy Yanez, and Margarita Guzman in 2019. In a sweep of the election, they defeated incumbent Mayor Dr. Felix Roque and his slate of commissioners.
Sires has confirmed that the two didn't see eye to eye and that he stands by his track record in town, according to the Hudson County View. Apparently, Barerra and Yanez are expected to run with Sires and Guzman is expected to run with Cirillo.
"I believe actions speak louder than words," Cirillo said. " West New York needs and deserves a mayor that is willing to put in the hard work, effort and time, that will be available and accessible to listen to and address the concerns of our community and understand the issues our residents face on a daily basis and also work day and night to be a true servant for our community. It is for these reasons, after careful consideration and listening to the words of encouragement of my family and supporters, that I am officially declaring my candidacy to be the next Mayor of the Town of West New York."
Prior to being a commissioner, Cirillo was a president of the West New York Board of Education and a staffer for former Assembly Speaker Vincent Prieto and Assemblywoman Angelica Jimenez. Now he is tossing his hat in the ring to be mayor, in what may be a three-way race if Roque decides to run for his old post, which he has hinted at.
Regardless, Cirillo said he will announce more information about his candidacy and team in the coming weeks. Before 2022 has ended, the 2023 race for the mayor's office in West New York has already begun.
"Over the coming weeks, I look forward to introducing my dynamic team that share these same values and who I believe represent the very best of West New York," Cirillo said. "In closing, from the bottom of my heart, I want to thank all of you that have supported me in the past and continue to support me. For those of you I have not had the privilege of meeting, I look forward to meeting you on the campaign trail and working tirelessly to earn your vote and working even harder to keep your trust once elected. It is my hope that you will join my team and I on this exciting journey. By working together we can and will move West New York forward."
The Hudson Reporter has reached out to Sires and Roque and so far neither has replied.
For updates on this and other stories, check www.hudsonreporter.com and follow us on Twitter @hudson_reporter. Daniel Israel can be reached at disrael@hudsonreporter.com.