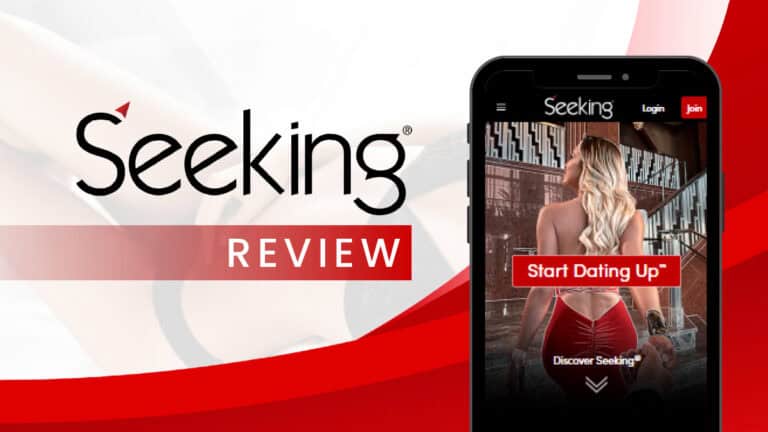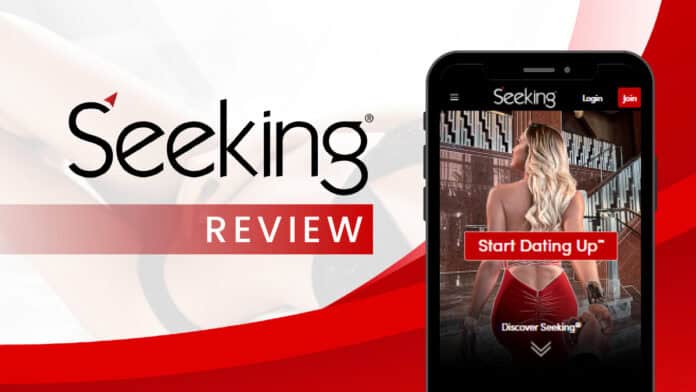 So, you've heard about the fame of Seeking.com, and you're curious about the platform, eh?
Well, you're justified. Seeking (formerly known as Seeking Arrangement) is one of the hottest dating platforms today, especially for people who want flexible online dating experiences.
But hold your horses, bud.
There's a lot more that Seeking.com has to offer outside the grapevine, and with this Seeking review, we'll take you through everything you should know before hitting sign-up.
Ready? Let's get it!
Seeking Review – First Thoughts
Pros
User-friendly Interface
Simple sign-up process
High female-to-male ratio
Solid reputation since 2006
Comprehensive verification process
Excellent advanced search filters
40+ million active members
Cons
Limited free trial
No ID verification for women
Initial Rating 8/10
Seeking.com used to have quite the reputation for its sugar and other mutually beneficial relationships.
However, The platform has overcome that fame and even transformed itself into a platform where you can seek all manner of romantic relationships, both casual and serious.
Being a luxury dating site, Seeking.com has been a hotspot for singles looking for upscale dating with high-quality singles.
One of the best things about Seeking app is the reach as well.
With successful and attractive singles from 130+ countries, you get a lot of options to choose from, and even the chance to explore travel dating while at it.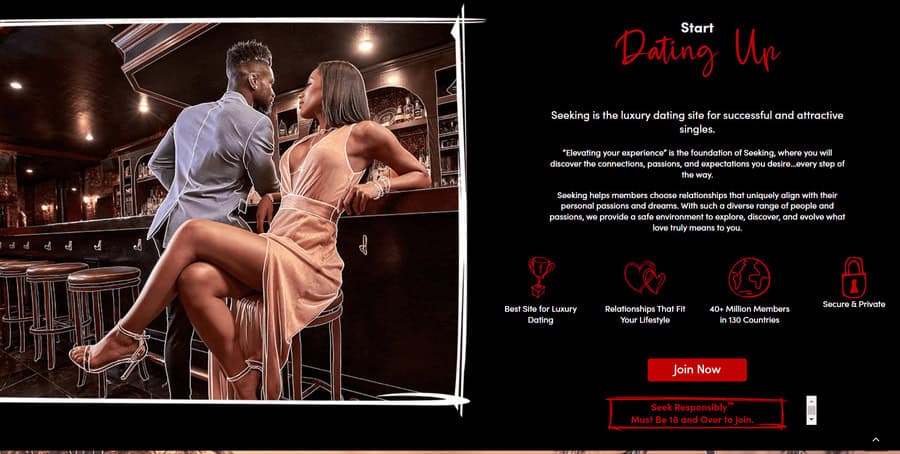 Packing 40M+ users, the platform gives you a wide room to find someone whose goals align with your passions and dreams.
Only, Seeking Arrangement has quite a limited free trial. However, it's just enough to help you use some premium services and get a good feel of how the platform works.
Other than this, the app lets you form relationships based on mutually agreed-upon terms and conditions, including financial support, companionship, or physical relationships.
Suffice it to say, Seeking lets you be your own boss when online dating.
A Deep Dive into Seeking.com
Signing Up at Seeking.com
The Seeking.com account creation process is quite fast and painless.
Registration is free and can be done in less than 5 minutes… or maybe 7 if you're a little slow.
You'll have to provide basic information, such as your:
Username
Gender
Account type
Valid email address
If you are signing up as a successful man or woman, you must specify the amount you can spend on your dates.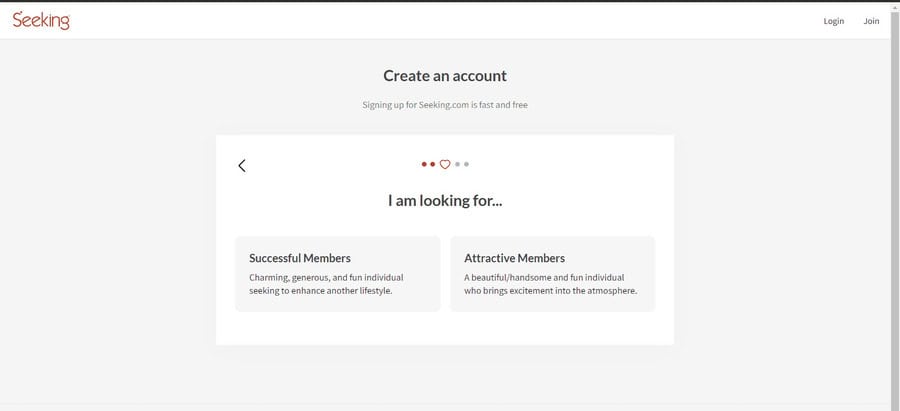 Depending on your preferences, you can opt to upload your photos or sign up for Seeking.com without uploading a photo. However, you are encouraged to upload a photo to seem genuine and increase your chances of finding someone.
Who Will You Find on Seeking Dating Site?
Boasting 40+ million users, Seeking.com is a diverse platform that caters to a wide range of people. Yes, plenty of fish in the sea for you.
Furthermore, the dating site is inclusive, welcoming users of all orientations and backgrounds seeking mutually beneficial relationships.
Because of the diversity in people, Seeking also allows for an array of relationship types.
Depending on your preferences, you can get:
Casual hookups
Luxury dating
Elite dating
Mutually beneficial arrangements
The user profiles on Seeking.com are typically straightforward, providing essential information to help you decide if someone might be a good match for you and avoid wasting your time.
Like on other luxury dating sites, profiles on Seeking usually include the user's:
Age
Gender
Location
Type of relationship they're seeking
While profiles might not have the most detailed profile information, it has enough to give you a basic understanding of if someone has what you're looking for.
Find Successful or Attractive Singles
When getting started, you can sign up either as a Successful Member or Attractive member.
So who's an attractive member?
An "Attractive Member" is anyone looking to connect with successful members.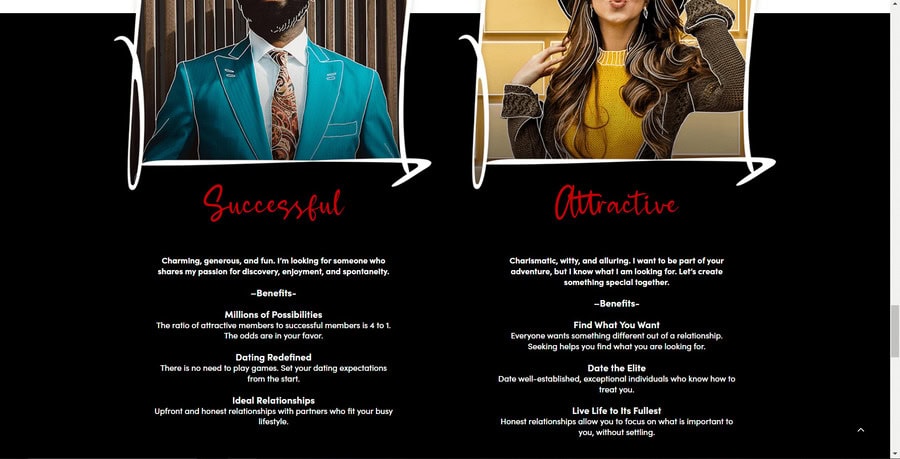 Attractive members, usually women, provide their dates with companionship as a way of "thanking" or "giving back" to their respective partners for all the "gifts" they've received.
An Attractive Member can send messages for free on their basic account. And with this, Seeking is basically free for women.
In the other corner are "Successful Members", who are eligible singles who are kind of well-to-do and are looking for someone to share their life with.
Successful members are often wealthy and established men with the means to pamper their dates.
Nevertheless, you can find wealthy ladies as well who want to explore the youth of younger men.
Seeking Review: Special Features
Free profile browsing
One of the great features of Seeking Arrangement is that you can browse complete profiles and photos for free.
Profile browsing allows you to explore the user base and see if there are hotties that catch your interest before deciding to upgrade to a paid membership.
Private photo albums
Moreover, Seeking.com values user privacy.
When you're not comfortable with everyone seeing your photos or when you want to share specific photos with others, you can create a private photo album.
To make it even more secure for you, you get a private album key to share with specific individuals.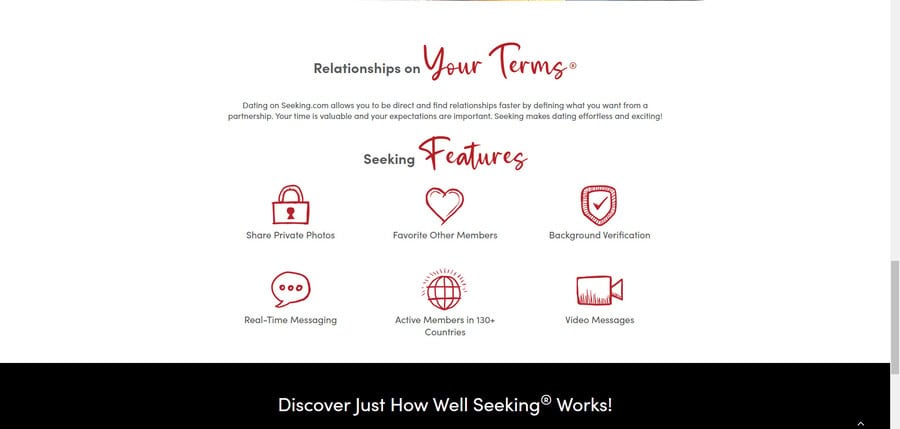 Contact Features
Fancy someone? Seeking has a ton of options for you to make a move on someone you like.
The primary communication methods are real-time chats, which is good if you want the familiar style of texting on the phone.
If you want something more engaging and interactive, then video chat would be the way to go. Video chatting can also help you connect with people from other regions of the world.
Gifts
Talk about love languages!
What's a more thoughtful way to communicate with a date or a love interest than sending gifts?
You can send virtual gifts to someone else and make a good impression.
These gifts range from flowers, books, colognes, shoes, and more.
The VIP Room
Do you wish for a more exclusive and secure environment for communication on the Seeking dating platform?
The platform has VIP rooms where Diamond members (premium users) interact with other successful and attractive singles.
As a VIP member you get to enjoy the frill of prestige and get to attract other users since you seem high quality.
However, you need to know that the app might run some sort of background checks before you join the VIP room. The blessing with this is that you can be assured that everyone in your VIP room is legit and verified.
Favorite Other Members
As you check out users, you can add them to your favorites list, so it's easy to come back to them later on.
Worldwide reach
Seeking covers 130+ countries. With such a diverse membership, your chances of getting the right partner increase significantly.
Better yet, the platform is accessible in multiple languages to make it user-friendly for people from different regions.
The available languages include:
English
French
Italian
Japanese
 Chinese
Portuguese
Spanish
High Security
On top of profile verification, Seeking has two-factor authentication as well to keep out spammers from accessing your sensitive information.
Seeking Costs
While you can do things with a free Seeking account, a premium subscription helps you get the most out of what Seeking offers.
Seeking is a subscription-based platform offering 3 different monthly premium packages and a 30-day diamond plan package.
The Seeking costs for premium member accounts are:
30-day subscription: $109.99/month
90-day subscription: $96.66/month
90-day one-time purchase: $289.99
30-day subscription: $274.99/month for the Diamond Membership
You can pay for your membership on Seeking.com through PayPal or using a major credit card.
Free features on Seeking Site
With a free account, you can:
Upload photos
Browse through other profiles and photos
For women, you can:
Send 10 complimentary messages (one time only)
Search for attractive members
View profile visitors
Add favorites
However, if you want to message anyone with no restrictions, you should purchase a premium membership.
If you signed up as an Attractive single, you can send messages without the premium subscription as long as you have met the following requirements:
Your profile has a green checkmark next to each section, meaning it is 100% complete
Your profile has been approved
You have displayed an approved public photo
Seeking.com Premium Membership
For a wholesome experience on Seeking, you will need to upgrade to a premium plan.
Premium members can:
Hide their public profile photo
See someone's online status
Check out someone's last login country
Add up to three locations on their profile
The cost of a premium membership varies depending on the membership type and duration. It gets cheaper when you commit to a longer plan.
Seeking.com Diamond Membership
Need more exclusive services?
The Diamond plan is the highest level of paid membership on Seeking.com.
It provides all the features of a premium account.
But there's more.
As a Diamond member, you will enjoy several extra perks, such as being featured on attractive member's dashboards for more matches and a diamond badge that sets you apart from others.
Something to Note
Occasionally, you might encounter errors in your subscription, such as the early expiry of your membership.
Keeping track of your Seeking.com subscription through the Help Center will help you avoid these mishaps.
Every once in a while, refer to the "Payment Info" section, and from there, you can view your account details such as trial end date, next billing date, renewal date and cost, cancellation, payment details, invoice, etc
Seeking.com offers a 24-hour grace period to re-bill your account for premium subscriptions. If payment is unsuccessful after 24 hours, your account will be downgraded to standard.
You can change your subscription package anytime through your account settings
Securing Yourself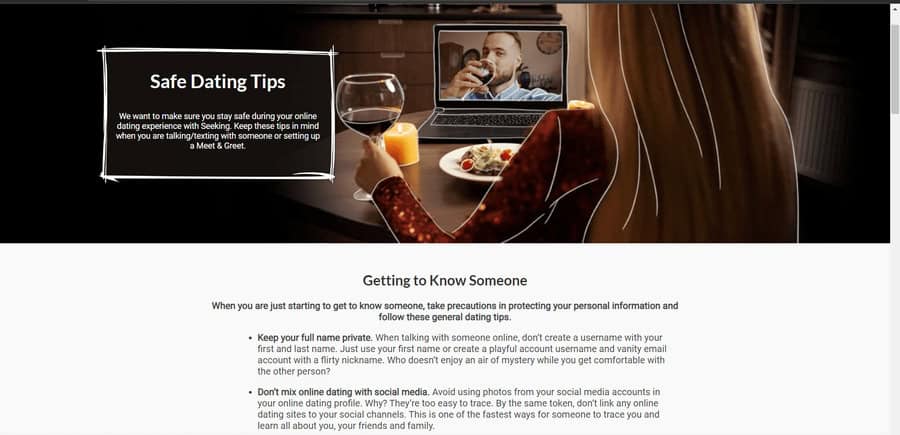 You can never be too careful when dating online. Seeking Arrangement might be one of the safest dating apps today, but here are some additional ways to keep yourself safe as you use the dating site and when you go out on dates.
Don't give personal details to your online matches immediately. Keep your full name, address, phone number, and financial information under lock and key until you've built trust.
Chat cautiously: Be wary of those who rush into personal topics or press you for information.
Have your first date in a public place, so it can deter anyone with bad motives
Share your itinerary and date's profile information, contact details, and the planned location with a trusted person before going out
Before a physical date, engage in video calls to verify the identity of your match. Video calls can also help you gauge a person's reactions and intentions.
Avoid logging into your account from shared devices to avoid identity theft.
Don't have too much personal contact information on your profile
Use a Google Voice number for added privacy
Don't place links to other social networks or websites on your Seeking profile
Don't disclose your personal banking information, such as bank account and passwords.
Always conduct a background check on your love interest before the first date.
Experience seeking.com on Different Devices
Do you have different communication devices? Seems like Seeking's got you.
You can use Seeking.com on your Microsoft PC and Android devices. It all narrows down to what you're comfortable with.
The Seeking app, however, is currently unavailable in the iOS App Store which is weird for an app considered a luxury dating site. Hopefully, it'll be on the platform soon.
However, you can still enjoy the Seeking Arrangement app experience by utilizing the Seeking Progressive Web App (PWA) for iPhone.
This web app uses the latest front-end technology to create a seamless iOS app experience that you can easily download to your phone.
Seeking Review – How Does seeking.com Compare With Other Online Dating Sites?
User Base
The Seeking community has a large user base, with over 40 million users across 130+ countries, this makes it bigger than sites like eHarmony, Dating.com, and Victoria Milan
Type of Relationships
Unlike other dating sites like eHarmony, Seeking.com is more versatile and caters to people looking for different types of relationships, including mutually beneficial relationships, hookups, affairs, and honest relationships.
Pricing
On Seeking.com, members pay for monthly premium plans. This is similar to many other online dating sites. However, the cost can be higher compared to some traditional dating sites such as Dating.com and Zoosk.
These are the Zoosk costs:
Premium membership – 1 month: $109.99
Premium membership – 3 months: $96.66/monthly
Diamond membership – 1 month: $274.99
Premium 90-day One-time payment: $289.99
Reputation
Seeking.com has been around since 2006 and has grown to have an increasing number of positive Seeking Arrangement reviews with little issue really. This makes it more reputable than many other top dating sites.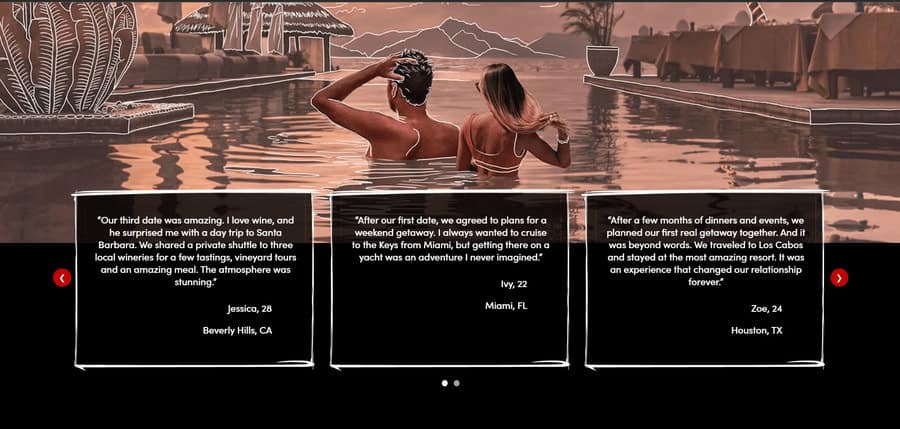 While it might have taken some flak for being a sugar dating app once, Seeking Arrangement is now a one-fits-all online dating site for people looking for dating things.
Mobile App
Seeking.com has a mobile app for Android users and a Progressive Web App (PWA) for iPhone users. This is similar to many other dating sites offering convenient mobile apps.
However, dating apps like Victoria Milan and Dating.com edge it a little for being on iOS.
Affiliates programs and Discounts
Seeking.com has an affiliate program for its loyal users that you can join through partners.reflexmedia.com.
Once you sign up, you will receive a personal affiliate link and branded media assets on your site. You will receive commissions from each successful sale, alias premium, or diamond subscription generated through your affiliate links and banners.
The minimum payout trigger for partners.reflexmedia.com is $25. You need to earn at least $25 in commissions to receive payment.
Are you looking for a way to test things out before you upgrade? You can use the Seeking.com free trial link to create your profile, upload photos, browse through members and matches, view member profiles and photos, and request access to risqué private photos.
However, you won't be able to send or read messages until you upgrade your account.
Seeking.com offers discounts for new members.
You can find the latest promo codes and coupons on affiliate programs such as Dealspotr and Knoji.
The best discount you can get is 20% off for your first month on the platform, and that is something you will get only if you sign up for the Seeking.com newsletter.
Seeking Arrangement Review – How To Get the Most Out of a Dating Site
Made a killer profile? Start adding some killer pictures, and get ready to roll.
Here are some active tips you can pick up to have more promising success rates on the dating site:
Ask Intentional Questions and Actively Listen
Be intentional; does it sound too cliche?
Meaningful connections often begin with thoughtful conversations. Ask your potential partner about their interests, aspirations, and what they want in a relationship.
Actively listen to their responses; this shows genuine interest and helps you understand their desires better.
Open Up and Share
Transparency and vulnerability are key in any relationship, including those on Seeking.com.
Share your interests, values, and what inspires you in life.
When you're open about your desires and expectations, you create a foundation of trust and mutual understanding.
Plan Activities Reflecting Your Interests
To foster a deeper connection, plan dates or activities that align with your interests.
The activities will ensure an enjoyable time and a chance to see if your partner shares your enthusiasm for these activities.
Explore Your Partner's Interests
While pursuing your passions is essential, remember to explore your partner's interests.
Trying activities they enjoy can lead to exciting experiences and strengthen their bond. It shows your willingness to invest in their happiness, too.
Prioritize Communication
Communication is the key. Cliché, huh?
Effective communication is vital in any relationship.
Keep the lines of communication open, discussing your expectations, boundaries, and concerns. This ensures that both you and your partner are on the same page.
Respect Boundaries
Mutual respect is the cornerstone of a healthy relationship. Be mindful of your partner's boundaries and limits.
Remember, consent and comfort should always be a priority, ensuring that both parties feel safe and valued.
Take Your Time
Building a meaningful connection takes time. Don't rush the process. Allow your relationship to develop naturally, and don't feel pressured to make decisions before you're ready.
Safety First
When meeting in person, prioritize safety.
Choose public locations for initial meetings, share your plans with someone you trust, and ensure you feel comfortable before progressing to more intimate settings.
Stay True to Your Goals
Remember why you joined Seeking.com in the first place.
Whether it's financial support, companionship, or a combination of factors, stay true to your goals and be clear about what you seek in a relationship.
Reflect and Evolve
As your relationship evolves, periodically reflect on your feelings and goals. Be open to adapting your expectations and boundaries as needed to ensure a mutually fulfilling experience.
Seeking.com Alternatives
There are several sites like Seeking out there connecting people. These are some of the best Seeking alternatives: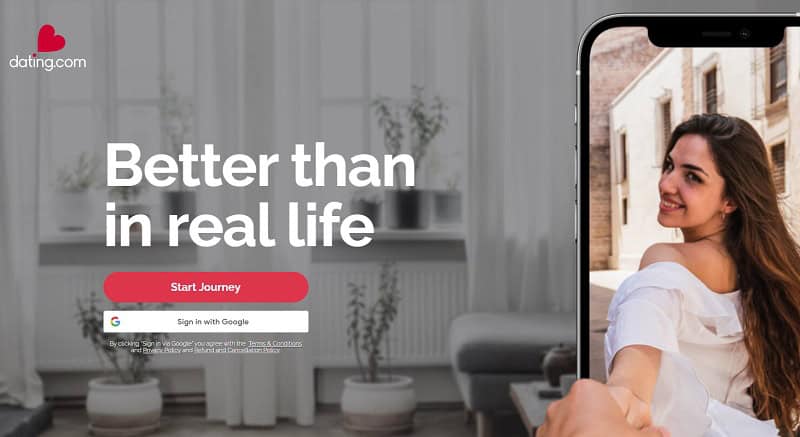 Dating.com and Seeking Arrangement are similar in a lot of ways.
To start, both dating apps give you the freedom to choose the relationship you want. Whether it's casual or serious, you can pursue it on the site.
Again, both dating websites are available as apps on iOS and Android to give you stress-free on-the-go online dating experiences.
In terms of the differences, Seeking is largely free for women while Dating.com isn't. With this, Seeking tends to give men much more options.
While Seeking has monthly plans, Dating.com adds credits that allow you to spend on the features you'd like to use. However, this means that Dating.com can get a little pricey.
Again, Seeking just beats Dating.com when it comes to site security. With income, background, and profile verification, Seeking offers more security.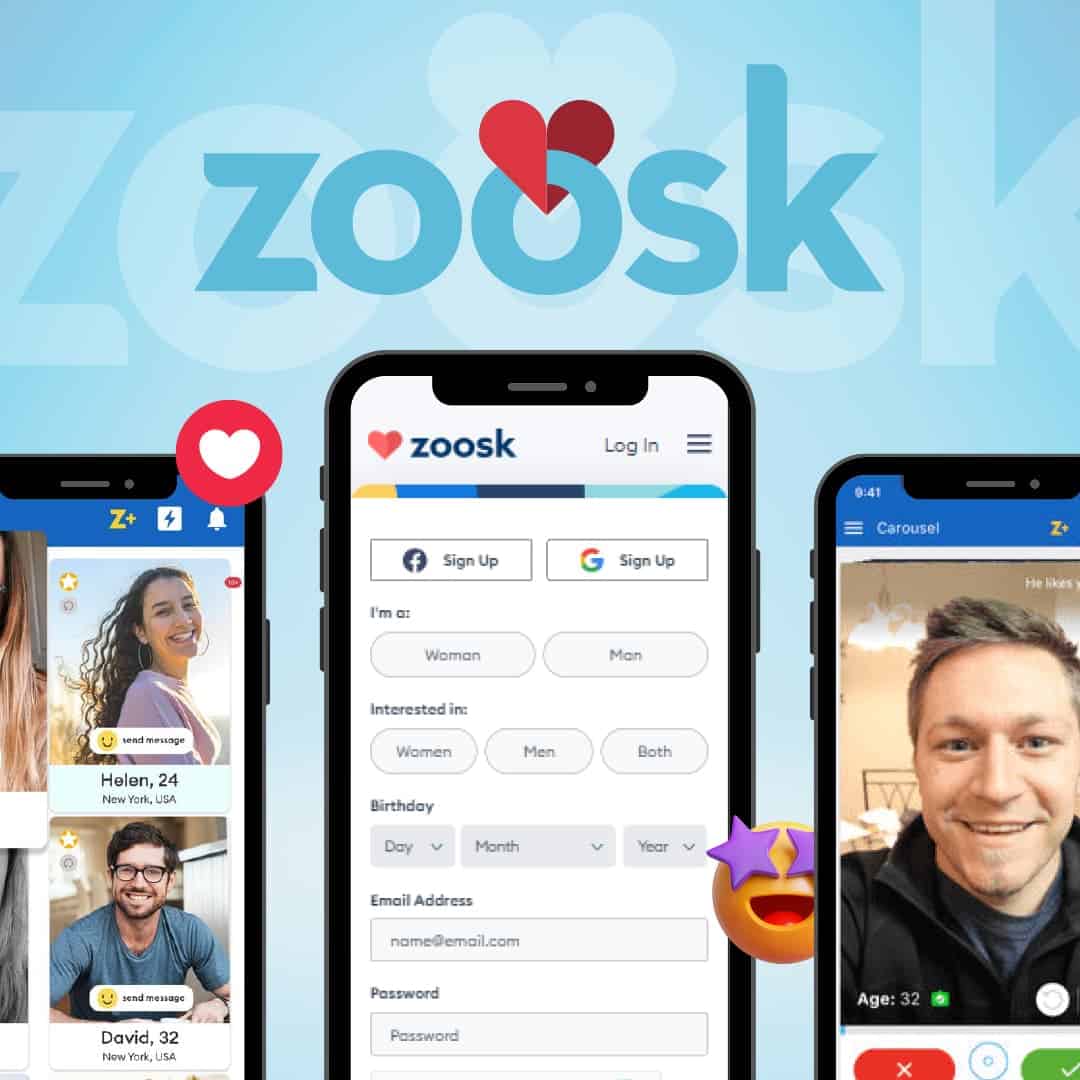 Seeking and Zoosk play to quite different user bases.
With Zoosk, you'll find younger and more open-minded users. As a result, Zoosk is a good spot to look for casual relationships like one-night-stands.
On the other side of the coin, Seeking taps into both younger and older people, often, older men. With this, you can also find a serious relationship on the platform or even use it for mature women dating.
Again, Zoosk is as close to Tinder as it can get. You can like profiles, swipe, boost your profile, and more. On the other hand, Seeking is a little more toned down but quite exclusive to people looking to date upward.
Another difference is that Zoosk uses behavioral matchmaking by studying your in-app behavior and suggesting profiles that you might like.
Read our full zoosk review.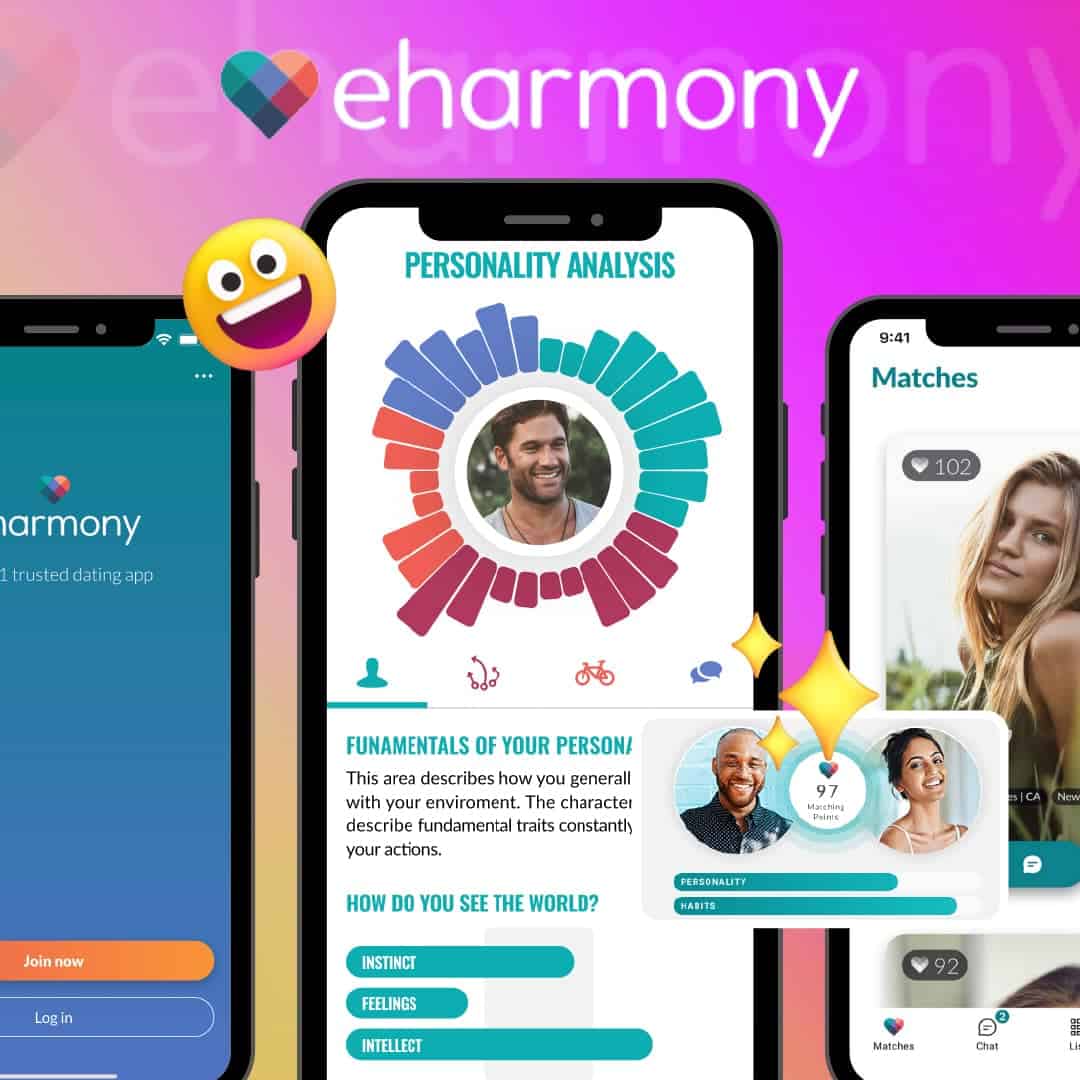 Looking for marriage? eHarmony has built its reputation for being an app for serious dating.
Seeking however gives you more flexibility to switch up your dating intentions as much as you want.
Both Seeking and eHarmony have dating advice blogs to help you have better experiences.
While most people on eHarmony will be 30+ years, those on Seeking are a mixed bunch of older and younger users.
Seeking also appears more discreet than eHarmony. You can browse profiles anonymously while you'll need to have a public profile to date on eHarmony.
Read our full eharmony review.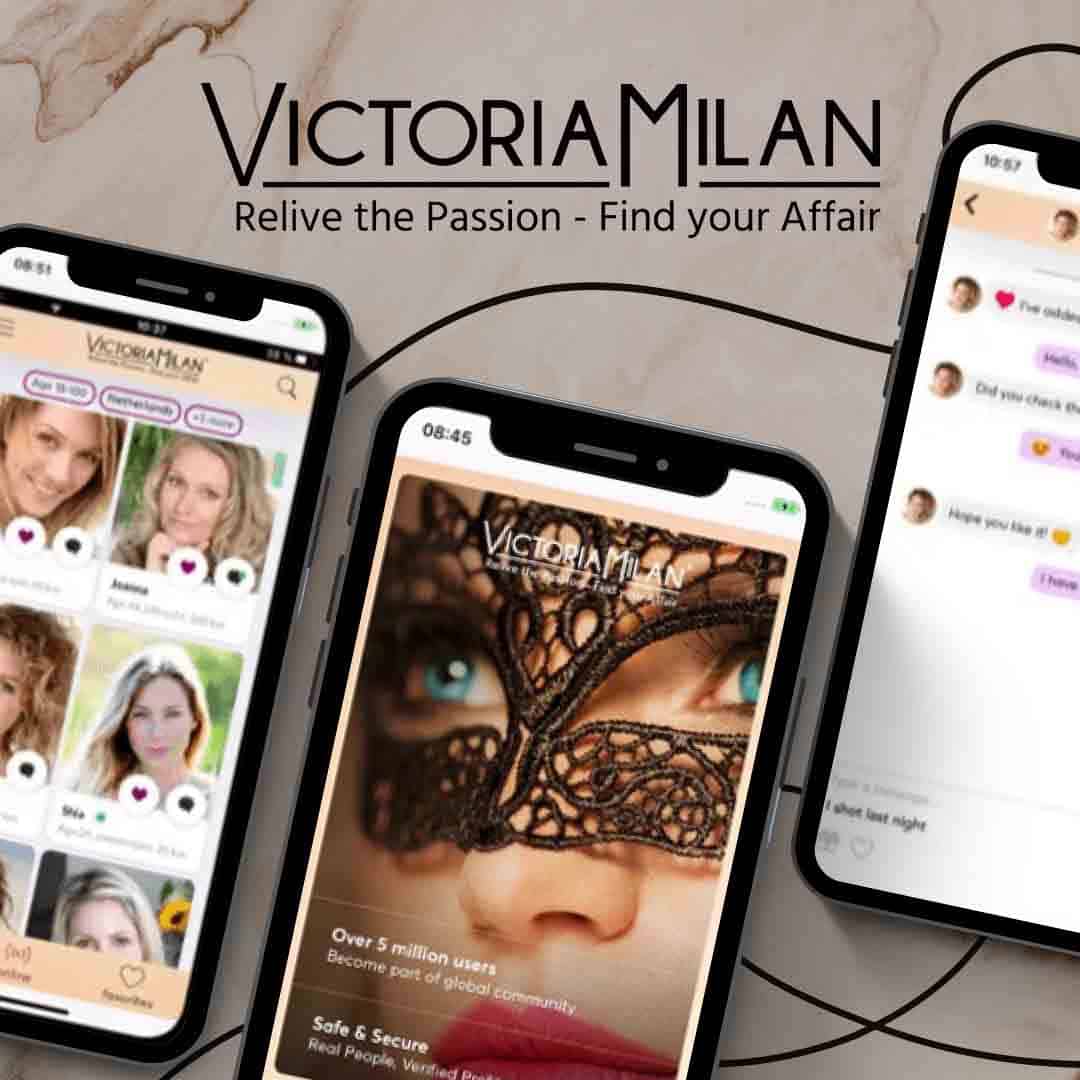 Want to stay on the down low when dating online?
Both Victoria Milan and Seeking allow users to have private profiles and private galleries.
On both apps, you can send winks, smiles, and even add people to your favorites list for easier communication.
While most people on Seeking are single, you might find married people on Victoria Milan. This is because Victoria Milan has been touted as an app for people in relationships.
Read our full Victoria Milan review.
Seeking.com Review – FAQs
Does Seeking.com have a Mobile App?
Yes, Seeking.com has a mobile app.
The dating platform is available for Android users in the Google Play Store.
For iOS users, the Seeking Arrangement App is currently unavailable in the iOS App Store. However, you can still enjoy the app experience by utilizing the Seeking Progressive Web App (PWA) for iPhone.
Other than an app, you can use the site on mobile as well since it has been optimized to look and feel smooth on mobile interfaces too.
Is Seeking.com Legitimate?
Yes, Seeking.com is legitimate.
Seeking.com has been in existence for more than 15 years and has been recognized by leading publications both online and offline for how unique it is.
The platform has also grown so big to attract more than 40 million users spread out across over 130 countries.
Moreover, the app is super serious about helping you find your ideal relationship by letting you match based on your own criteria and preferences.
There are also wide verification measures to lock out uncommitted people from the dating site and give you a secure and worthwhile experience dating online.
Can I Cancel my Seeking.com Subscription?
Yes, you can cancel your Seeking.com subscription.
Nevertheless, you have to be aware that canceling your subscription will also deactivate your account.
To cancel your Seeking.com subscription, you can follow these steps:
From the site's drop-down menu, click on settings.
Click on delete Seeking Arrangements account or deactivate account link or button.
Select what you prefer and then click.
Wait for a few moments until a prompt finally confirms the cancellation of your Seeking Arrangement membership.
If you need help to follow the steps mentioned above, your next step is to contact the customer support teams of the site. You will be appropriately guided on the process from the start to the end.
However, once a Seeking Arrangement subscription is canceled, the system will also deactivate your profile and account from the searches.
You will not be visible to some of the group's other members. The system will hide your profile from future matches, and you will no longer receive any messages from them.
How Do I Reactivate My seeking.com Account?
To reactivate your Seeking.com account, you can follow these steps:
Log in to your deactivated account with your correct login details
You will then be sent a reactivation email
Click the activation link in the email
Your account will automatically be restored
You may need to check your spam or junk folder if you do not see the reactivation email in your inbox.
If you continue to have trouble reactivating your account, contact Seeking.com's customer support for further assistance.
Does seeking.com Verify User Profiles?
Yes, Seeking.com verifies user profiles.
The dating site uses a multistep process to scrutinize profiles.
Verification on Seeking usually follows the process below:
Users tap on the "Verify Your Profile" button, which can be found at the top right-hand corner of the screen
Users are then asked to scan their Driver's License or any other form of valid ID using their device's camera
Once the ID card is confirmed, users must take a selfie as the final step to verify their Identity Verification
This process helps ensure the safety of its members and weed out fake profiles.
Can I Open a seeking.com Account Through My Facebook?
Yes, you can open a Seeking.com account using your Facebook credentials.
To do so, visit the Seeking.com login page and click the "Login with Facebook" button. This will redirect you to Facebook, where you will be prompted to log in and authorize Seeking.com to access your Facebook account details.
Once you have successfully logged in, your Seeking.com account will be linked to your Facebook account, and you can start using the platform.
Can I Use a Prepaid Credit, Debit, or Gift Card To Pay for a Premium seeking.com Membership?
Yes, you can use a prepaid credit, debit, or gift card to pay for a premium membership on Seeking.com.
Seeking accepts major credit cards, including Visa, Mastercard, Discover, Google Play, and prepaid cards. However, European-issued American Express or Diner's Club cards are not accepted.
Seeking Review Conclusion – Should I Join Seeking?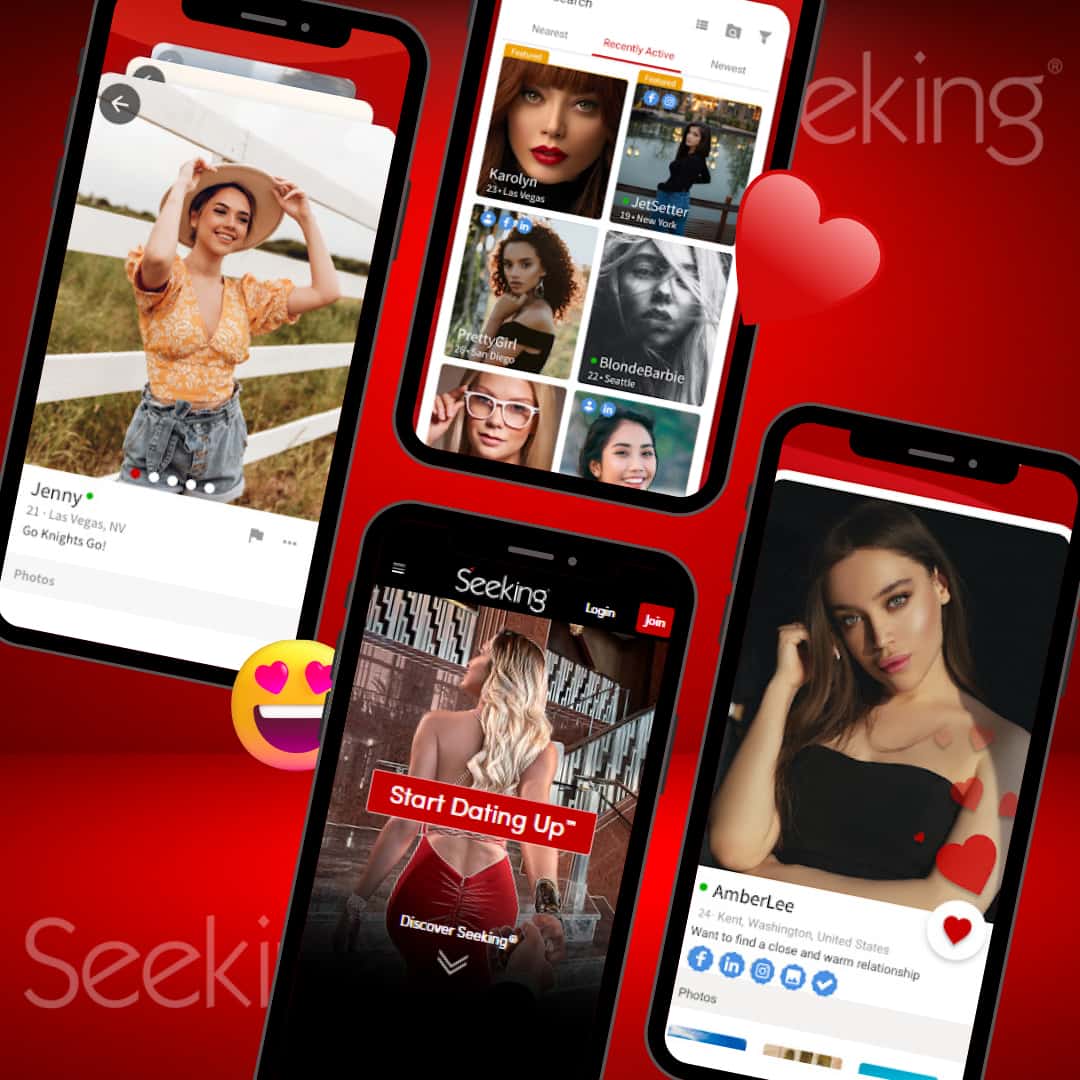 Are you ready to explore this unique adult friend finder and cater to your relationship preferences?
Are you looking for a mutually beneficial relationship?
Do you want a genuine and loving partner, even if not forever?
Seeking.com might offer you what you are looking for.
The online dating site lets you go for whatever you want. The app's users are also open-minded, thus you shouldn't be afraid to say whatever you want… no matter how weird it may seem.
Along with this, the dating site has a high commitment to personal information security, including two-factor authentication and video verification, adds an extra layer of protection for you.
But this is what we believe about the platform. It's all up to you now to make the final choice, bud.
I'd say, why not join Seeking and try out the dating website by yourself?
All the best!