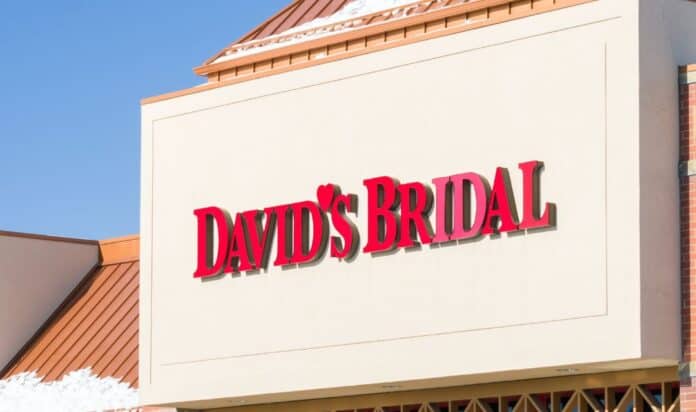 David's Bridal, the largest bridal retailer in the US, filed for Chapter 11 bankruptcy on Monday, citing a range of factors including inflation, competition from online retailers, and a shift towards more casual weddings. 
Despite the rebound in weddings following the worst of the Covid-19 pandemic, the company has struggled with financial challenges in the post-pandemic environment and changing consumer preferences.
Struggling to Adapt to Changing Market Trends
The company revealed that the demand for formal wedding dresses, bridesmaid dresses, and related accessories has decreased substantially in the current environment, with an increasing number of brides opting for less traditional attire, including secondhand dresses. This shift in consumer preferences has significantly exacerbated David's Bridal's financial crunch.
David's Bridal has already announced plans to lay off more than 9,000 workers nationwide later this year.
While the company's stores and e-commerce website will remain open during the financial restructuring process, they are looking for a buyer who can continue to operate the business going forward. If the company fails to find a buyer, it may be forced to close all stores and liquidate.
A Challenging Retail Environment
David's Bridal is not the only retailer facing difficulties. Bankruptcies are piling up in the retail sector as interest rates rise and discretionary spending slows down. Party City, Serta Simmons, and Tuesday Morning have also filed for bankruptcy this year, while Best Buy, Disney, and Walmart are laying off workers or closing locations. Bed Bath & Beyond plans to close nearly 240 stores this year as part of a larger effort to avoid bankruptcy. 
Analysts at UBS predict that retailers will close approximately 50,000 stores in the next five years due to the increasing prominence of online shopping, higher borrowing costs, and customers tightening their wallets due to inflation.
Second Bankruptcy in Five Years
This is David's Bridal's second bankruptcy in five years. The company emerged from its previous bankruptcy in 2019 after shedding $400 million in debt. 
CEO James Marcum said in a statement that the company had made progress since restructuring its business during its previous bankruptcy, but is still "suffering under severe liquidity constraints." With marriage rates in the United States steadily declining since the early 1980s, according to the CDC, the future of the bridal retailer remains uncertain.
The Impact of Post-Pandemic Weddings and a Shifting Industry
While the number of weddings has increased post-pandemic, this has not translated into success for David's Bridal. As couples face a higher cost of living, they are increasingly seeking out alternatives to traditional, expensive wedding attire. This trend is pushing them towards secondhand stores, online retailers, and less formal attire for their weddings, further challenging the business model of David's Bridal.
A Legacy at Risk
Founded in 1950, David's Bridal boasts a long history in the wedding industry, with approximately 1-in-4 US brides wearing a gown from the company at their wedding. 
The company operates 294 stores across the US, Canada, and the United Kingdom and has a strong online presence, with nearly 90% of brides visiting its website at least once during their wedding planning. Despite this legacy, the company is struggling to adapt to the rapidly changing market trends and consumer preferences.
Employee Layoffs and Restructuring Efforts
David's Bridal plans to lay off 9,236 employees in three waves between April and August, according to a notice posted on Pennsylvania's Department of Labor. 
As of April, the company had about 10,000 employees—2,000 full-time and 8,000 part-time. Some layoffs have already begun, with the company stating that the decision to reduce its corporate workforce is in line with market realities and their go-forward approach. However, store employees have not been impacted by these layoffs.
Seeking a Buyer to Preserve the Business
As David's Bridal navigates its Chapter 11 bankruptcy process, the company's executives are actively searching for a buyer who can continue operating the business. CEO James Marcum acknowledged the modernization efforts made by the company in marketing and customer interaction processes, as well as the improvements in retail service levels. 
However, Marcum admits that the post-COVID environment and uncertain economic conditions have led them to seek a buyer to secure the company's future.
The outcome of David's Bridal's restructuring and search for a buyer remains uncertain, with the company's fate hanging in the balance. As the retail industry faces numerous challenges, businesses must adapt to evolving consumer preferences and market trends to survive in a rapidly changing landscape.