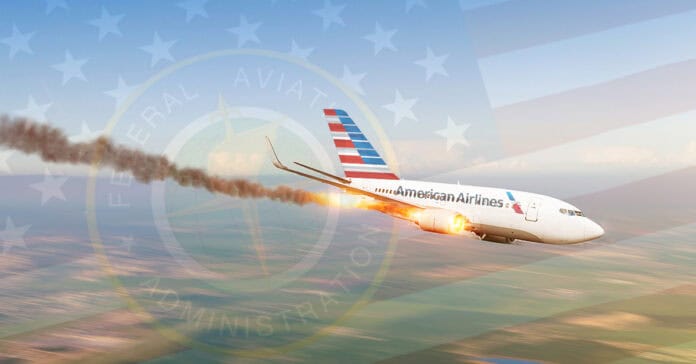 On Sunday morning, an American Airlines flight bound for Phoenix was forced to make an emergency landing back at its departure airport, John Glenn Columbus International Airport in Ohio, after a bird strike reportedly led to an engine fire.
The incident occurred just 30 minutes after takeoff, when the Boeing 737 commercial jet was flying over Upper Arlington, approximately five miles outside of Columbus.
No injuries were reported, and the plane touched down safely at the Ohio airport shortly after 8 a.m. local time. The Federal Aviation Administration (FAA) has confirmed that they are investigating the occurrence.
A passenger on the flight, Ryan Brink, captured a video through the plane's window, revealing sparks coming from the right engine. He shared the footage on Facebook, along with photos of the aircraft, which displayed what appeared to be blood spatters on one side.
In response to the incident, American Airlines did not elaborate on the cause of the emergency landing but attributed it to "a mechanical issue" in a statement. The airline assured that the aircraft had landed and taxied safely to the gate under its own power, adding that it had been taken out of service for maintenance.
Another Flight Canceled in North Carolina Due to Possible Engine Fire
The FAA is also investigating a separate incident involving another American Airlines flight. Last Thursday, Flight 2288 had to cancel its takeoff from Charlotte-Douglas International Airport in North Carolina after a possible engine fire was reported. 
The plane, which was scheduled to fly to Dallas-Fort Worth, was taken out of service for maintenance due to a mechanical issue, according to the airline.
These two incidents come at a time when American air travel has been facing increased scrutiny, with numerous runway close calls, mass flight delays, and thousands of cancellations causing frustration for both travelers and federal regulators.
Growing Issue of Bird Strikes
The FAA has acknowledged the increasing problem of bird strikes, reporting a 144% increase in such incidents between 2000 and 2017. This has prompted further research into methods to prevent these dangerous collisions.
In addition to the bird strike incident, at least six serious runway incursions—near-collisions between airplanes—have occurred at U.S. airports this year. As a result, federal regulators have been pressuring airports and airlines to address this alarming trend