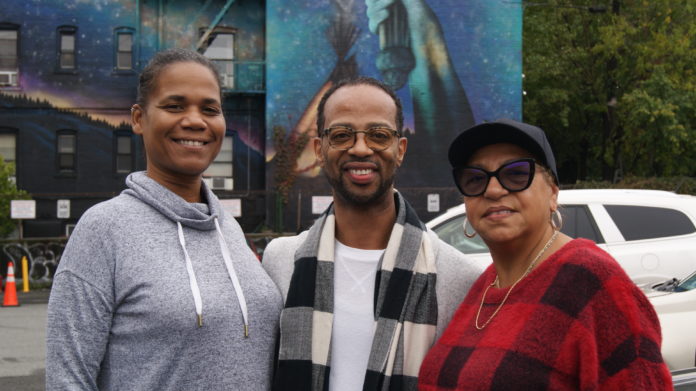 In recent years, control of Jersey City's Board of Education overseeing one of New Jersey's largest school districts has primarily become a battle between two slates, one backed by the Jersey City Education Association – the local teacher's union – and another backed by real estate developers.
Candidates on the union-backed slate, known as "Education Matters," are going for it again this year, having previously swept the last two elections since 2020. This time around they're being led by an incumbent who ran on the opposing slate for her first term, an independent candidate from last year, and a teacher who's a newcomer to politics.
The three slate members, Trustee Noemi Velazquez, Afaf Muhammad and Christopher Tisdale, talked in an interview with the Hudson Reporter over eggs and hash browns at a diner in Journal Square on what they plan to bring to the Board of Education if they get elected in November.
Meet the trio
Trustee Noemi Velaquez is seeking a second term in office, having been first elected in 2019. She taught in the Jersey City school district for over 40 years, having been a teacher for 18 years before working in administrative roles such as supervisor and special assistant to the associate superintendents.
"To be honest with you, I always feel that the first time you do something, it's a learning experience," she said when asked about why she was running for reelection.
"Through my learning experience, and as much as I have experience within the district and within the pedagogy, through my learning experience, I realized that there's still a lot to be done, and that I can come in and offer much more assistance."
Afaf Muhammad is a Hudson County Democratic committeewoman in her third term, and previously ran as an independent last year. She is a mental health first aid instructor with the city's Department of Health and Human Services, and also does volunteer work in the city.
She said that she had wanted to run on the "Education Matters" slate last year, but that there were "a lot of misunderstandings" in getting into a meeting for it, and instead ran as an independent.
"This year, running with the JCEA [backing], I think that I had a little bit of ego issues, so I had to put that stuff aside, and understand that there's a bigger meaning for what I'm doing, and a bigger calling for me being on the board," she said.
Christopher Tisdale is running for public office for the first time. He is currently an English teacher at Englewood and also teaches composition at Kean University.
"I'm not a politician at all, so that's just the truth of it," he said. "I'm just a passionate educator who believes in opportunity for all students and choice education, making sure that students have a voice, and that parents are given with options for what it is that they want for their students."
Their top priorities
When it came to what their top priorities would be if they were elected in November, Velazquez answered that she will support Superintendent Dr. Norma Fernandez and her initiatives, saying that "change is coming, and change has already begun."
"Her initiatives are focused on improving the district, improving pedagogy, improvement," she said. "Anytime that our initiative is an improvement? Yes, I will. But that doesn't mean that I sign everything. I'm not a rubber stamp. I question, I challenge, and I strongly discuss when I am not sure or I'm not contemp with something."
Muhammad said that her top priority would be the environment of the classroom and school, saying that she sees a number of places where students' behavior is "not being addressed properly."
"I always teach children 'hands to yourself, watch your language, it's only one snapshot that a person has to see you behaving in a manner to have you be known that way all through your life'," she said.
Muhammad continued that as a trustee, she would focus on parent involvement and the support of teachers in the classroom, and the way that students' behavior is addressed.
Tisdale added to Muhammad's comments by saying that the issue of the environment is predicated on "effective" leadership, and wants to ensure that they have "quality people" in positions for teachers, administrators and personnel.
"If that means that we need to look at everybody in position, and the certifications they hold, and the positions that they're in in order to ensure that they are where they're supposed to be, I'm for that," he said.
"But I want to ensure that we definitely have quality people in place to do the job that we say that we're going to do in order to move forward and strategic planning to move the district forward," he continued.
Death, taxes and less school aid
One of the biggest topics in Jersey City's school district that has made state headlines has been how the changes to the state aid funding formula in 2018 have caused Jersey City to lose millions in funding.
Since then, the way the yearly school budgets are drafted and adopted have become a major focus as the totals have climbed, with the 2022-2023 school year budget adopted in May costing $973 million and coming with a $1,611 tax increase per household.
Velaquez, who voted in favor of adopting the budget, said that she "always" votes for the budget with students in mind.
"When I got on this board three years ago, my focus was to ensure that the classrooms were fully funded," she said. "That all curricula were current and that the material to address the curriculum was meeting the needs of all of the students. That takes a lot of money."
When asked about their thoughts on the budgeting process over the past few years, Muhammad said that she hadn't "really gave it any thought prior to this time of year," and argued that there's "minor things" that don't involve a budget that needs to be addressed.
Tisdale said that money is needed "to do everything" and that education is a business. "Unfortunately, if an increase is needed because of the state's inability to fund the school districts and it's in the best interest of the students, I have to say, I'm gonna vote for it as well," he said.
When later asked whether they would have voted for the recent school budget, Muhammad answered that she would have to see "where the money was gonna be allocated in-depth" but wasn't in favor of increasing taxes. Tisdale said that he couldn't say yes or no, but said that it would've been important to look for alternatives such as grants.
Union's endorsement
The "Education Matters" slate has been endorsed by the Jersey City Education Association, the local branch of the statewide New Jersey Education Association.
Velazquez said that she was part of the union "from the very beginning" and said that the union thinks she can speak for the teachers, students and others in the district. Muhammad said she appreciates them taking her into the slate, and Tisdale said he believes in what they do as teachers.
The move of Velazquez to the union-backed slate comes as a turnaround from when was first elected in 2019, where she ran on the "Change for Children" slate that has gotten support from real estate developers, particularly a super PAC that supports them.
When asked why she decided to switch sides, Velazquez answered that the NJEA also has a super PAC (called Garden State Forward). "If that's your question, that's your answer," she said. She also claimed that she never met any developers, and that they never questioned or asked her for anything.
"They endorsed me, I respected them, somebody's gotta pay," she said. "This is a big bill; campaigning, be it for the board or whatever, is huge."
As November approaches, Velazquez said that their team matters, and that they are focused on "not just on a personal level, but totally on the entire scene, the district itself." "Not because we have children on the board, but because all of the children of the board are ours," she said. "That's what we're focusing on, and that's why we're running with the union."
The general election will take place on Nov. 8, with three three-year terms open on the Jersey City Board of Education.
For updates on this and other stories, check hudsonreporter.com and follow us on Twitter @hudson_reporter. Mark Koosau can be reached at mkoosau@hudsonreporter.com or his Twitter @snivyTsutarja.