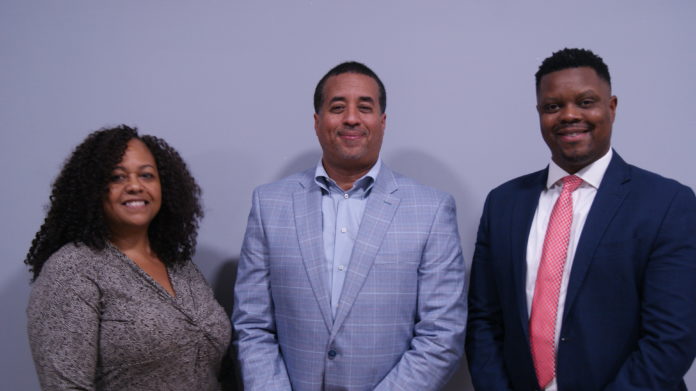 On the other side of the recent elections for the Jersey City Board of Education has been the "Change for Children" slate, who for the past few years have had financial backing from real estate developers.
After being mostly defeated in the past two elections, an incumbent who ran on the slate is running for a second term this year alongside a candidate giving it another go on the same slate, as well as a former City Council candidate running for the board.
The three of them, Trustee Alexander Hamilton, Doris "Toni" Ervin and Kenny Reyes spoke to the Hudson Reporter on what their priorities would be for the school board if they get elected in November.
Meet the candidates
Trustee Alexander Hamilton is running for a second term on the school board, having been first elected in 2019 under the same slate.
"I think that this board needs someone who understands finances, someone who gets the fact that there needs to be more review and process of how the budget is created, and really prioritizes what we're going to do," he said.
"You cannot create a budget unless you have a plan," he said. "So in other words, when you go to taxpayers and you say 'we're going to raise the budget to a billion dollars', you need to tell people exactly what it is you're going to do with that money."
Doris "Toni" Ervin is a professor of child development and education at Hudson County Community College, and the lead trainer for the resource and referral agency at the Urban League of Hudson County. She ran on the same slate last year.
"I'm running for the Jersey City Board of Education because I want to support children's learning, as well as support and protect our taxes," she said. "We have this big budget which has caused many crises within our families, within our city, putting a bigger hardship on our families, as well as not seeing the success that we need to see."
Kenny Reyes is a former City Council candidate who ran for the Ward F seat in 2013. He currently works in the recruiting business with Onward Search, and is also a business development executive there.
"The reason why I am running is because there's been a massive lack of transparency and accountability with the board with these massive tax increases that's been going on now," he said.
Budgets are on their minds
The slate members were critical of the recent budgeting process, saying that there's a lack of transparency and accountability with it, and that their top priorities if elected would be to focus on the budgets.
The school budgets increased since 2018 after lawmakers in Trenton made changes to the state aid funding formula that have caused Jersey City to lose millions in funding.
The 2022-2023 school budget adopted totaled $973 million and came with a $1,611 tax increase per household. Reyes said that the budget was "an exorbitant amount of money to educate our kids," and later called the taxes "just out of control."
"We have to understand how are we going to allocate resources for any kind of capital projects, allocate research when it comes to the teachers contracts that's going to come up next year as well, allocate resources when it comes to the laborers of the school district, and most importantly, our stakeholders, our children," he said.
Hamilton, who voted against the budget, said that the reason why he did so was not because he was against kids receiving an education, but that it has gone up "to a tremendous amount of money."
"It's cost our residents a tremendous amount of money," he said. "People are having to move/leave Jersey City; we don't want to do that. But of course, if we're also going to charge more money, we need to see better results by education."
He said that they need to "get a hold on what this budget is, to outline where the waste is" and that they should allocate a budget officer to the district. He also said that they're not able to pay their teachers "properly" and that they should make sure they get the "right" teachers that can help them expand.
Ervin said that her main priorities would be working with the budget they have and put in accountability, and creating a plan "that we know will make sure that the main outcome is that our children are successful."
"Making sure the benchmarks or even looking back at things we've done before that didn't work, and trying to find something else that we could put in place that will work," she said. "That will make them successful, that would generate the achievement that we're looking for for our children to be successful."
She said that recruitment efforts should focus internally in the school system because they have a number of teacher assistants who have the ability "to do a lot of things."
She also said that she's looking into programs such as STEAM (Science, Technology, Engineering, Arts and Mathematics) to help children become more engaged and motivated to participate in school.
Real estate money
Since 2019, the "Change for Children" slate has gotten financial backing from a number of real estate developers, either via direct contributions or indirectly via a super PAC that supports them.
One of the developers that has contributed to the slate's efforts is the LeFrak Organization, who notably played a role in redeveloping the Newport section of Downtown Jersey City.
When inquired about the past contributions from the developers, Hamilton said that he has "no issue" with it because he believes that "it would behoove everyone, especially real estate developers to have good schools."
He also mentioned that they're running against the "Education Matters" slate that is backed by the Jersey City Education Association union, and talked about what it means for contract negotiations next year.
"Would it be beneficial for Jersey City to have every single board member be supported by the union at this time, or would be beneficial to have at least three individuals who can make good points about the way things should be when it comes to negotiating with the union?" he said.
"What I care about is the fact that the real estate companies and developers want the same thing we want," he continued. "They don't want to pay high taxes. They live here. They want to continue to build for us? Great, have them build schools. They would like the schools to be better so real estate values go up and neighborhoods are safer. Who doesn't want that?"
Ervin, who also received contributions from developers last year, said that they could work with developers "to get things done as an incentive," arguing that they have the know-how for development and infrastructure.
Reyes followed up on Hamilton's comments about the union and alleged that the other slate's interest "is only for the teachers."
"The developers that you mentioned before, we're not beholden to them at all," he said. "We don't respond to them in any kind of way. Their interests and our interests are aligned."
The LeFrak Organization had also notably taken part in a lawsuit in 2018 to overturn the city's payroll tax that was created to fund the city's school district, but was upheld by the state courts all the way to the state Supreme Court.
When asked about whether the developers' opposition towards the payroll tax had anything to do with their involvement in the local school board races, both Hamilton and Reyes denied that.
To November we go
As Election Day inches closer and closer, the slate emphasized their criticism of the budget, and that they would bring accountability and transparency to the board if elected.
As he seeks a potential second term, Hamilton says that he wants to be sent back to the board so that they can get control of their fiscal budget. As for the potential first term seekers, Reyes says that they understand those who can't "really afford this increase in taxes," while Ervin said they will make sure the budget is "streamlined."
"We need to get this under control, because we want to make sure that every taxpayer, every citizen, every resident of Jersey City has the right to stay here, and their children are entitled to a quality education," said Hamilton.
The general election will take place on Nov. 8, with three three-year terms open on the Jersey City Board of Education.
For updates on this and other stories, check hudsonreporter.com and follow us on Twitter @hudson_reporter. Mark Koosau can be reached at mkoosau@hudsonreporter.com or his Twitter @snivyTsutarja.