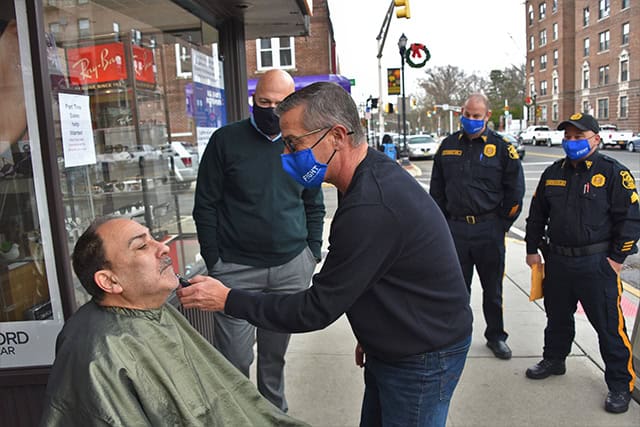 Entering December, "No Shave November" comes to an end. And with that, the facial hair grown during the month is shaved off the participants.
Raising awareness for colorectal cancer
Members of the North Bergen Police Department and PBA Local 18 raised nearly $5,000 during "No Shave November." The officers participated by growing out their beards and mustaches to support Fight CRC, an organization dedicated to research and awareness about colorectal cancer.
Officers went unshaven for the month to help raise visibility for the cause, and voluntarily contributed to the fund. Det. Constantino Apostolakos handed over the money on Tuesday, Dec. 1 at a "shave-off" event at Eye Contact Vision Center.
A barber from The Jagged Edge Spa & Salon pitched in by shaving Eye Contact Vision Center owner Robert Ceragno on the sidewalk to observe social distancing.
Ceragno survived colorectal cancer and has dedicated himself to raising awareness for the potentially life-threatening disease.
Get screened
Ceragno's colon-cancer was detected by an early screening, which allowed him to get life-saving treatment several years ago. Since then he has been a vigorous advocate for Fight CRC, and has sponsored No-Shave November and the annual Shave-Off for the past five years.
This year, North Bergen declared March as Colorectal Cancer Awareness Month. Mayor Nicholas Sacco and the North Bergen Board of Commissioners passed a proclamation declaring the awareness month in honor of Ceragno.
According to the American Cancer Society, regular colorectal cancer screenings beginning at age 45 is the key to prevention.
"Get screened," Ceragno told everyone at the Board of Commissioners Meeting.
The NBPD has actively supported the cause from inception, and officers look forward to it each year.
Chief Peter Fasilis, who participated this year and was among the officers at the shave-off, is considering expanding the program to longer than one month in the future.
For updates on this and other stories, check www.hudsonreporter.com and follow us on Twitter @hudson_reporter. Daniel Israel can be reached at disrael@hudsonreporter.com.