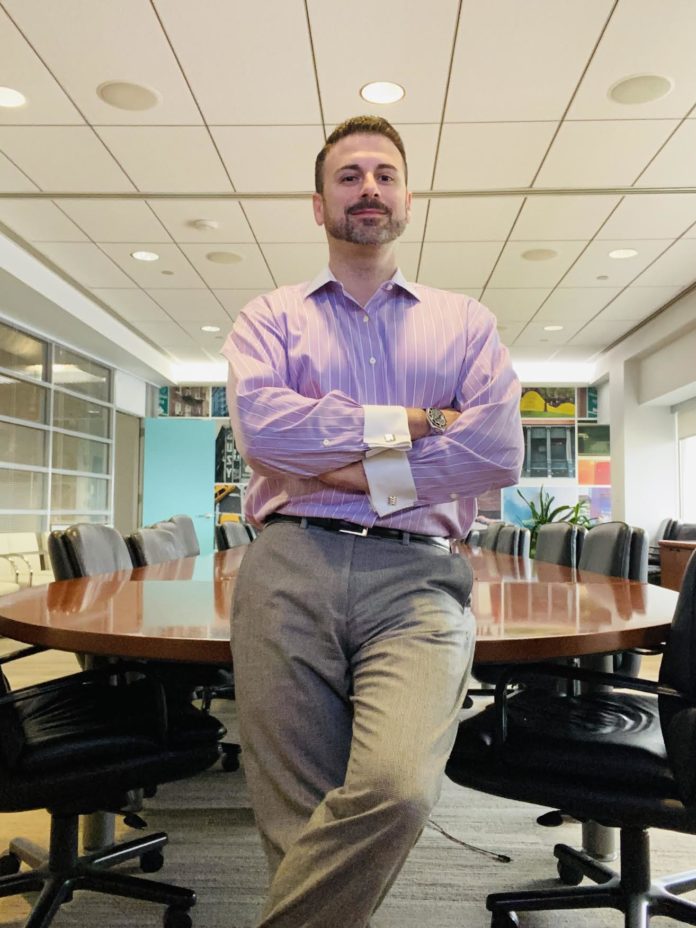 Jeffrey Machno is a Secaucus resident and emcee who hosts an array of events in the metropolitan area. He jokingly dubbed himself something of a "roving Bob Barker," having been involved in the entertainment industry for many years.
"I don't even know how to explain it," he told the Hudson Reporter. "It's like, 'Hey we're doing a show. Jeff, do you think you could host it?' And I'm like, 'Yeah, all right. Come on. Give me the mic.' And I get all these bookings."
The 42-year-old Machno has done voice-over work in the past and even did a show out in Las Vegas, eventually coming to work for the library part-time three years ago. But when the COVID-19 pandemic struck, his sister-in-law Lisa Machno, who is the Branch Director for the Katherine Steffens Library Annex in Secaucus, recommended he bring some events to the library.
So began the weekly events, first starting with "Trivia Night." Amid the era of the stay-at-home order, the virtual event was a haven for those seeking community during the isolation.
"I started doing this weekly trivia program for the library, which ended up taking off," Machno said. "We also used my connections to have people on to do an interview series, like the in-town Barbara Walters."
Machno is technically not a librarian, humbly admitting he doesn't have the master's degree for that, but nevertheless, since getting involved he has played a key role in programming at the Secaucus Public Library throughout recent years. He was also essentially the face of the library, too, manning the front desk and greeting library-goers with radiant positive energy.
"That's what I started doing for the Secaucus Public Library," Machno said. "I became their cruise director. I was always emceeing their live events. The library would have a festival, they'd give me the mic, and all day long I'd be out there."
With a background in the entertainment industry, this came easy to Machno. He also took over the library's social media pages at a time when no one had anywhere to go and everything was online.
"I was providing online content during the pandemic," Machno said. "They were looking for programming things that could be done while people were at home." 
From 'Trivia Night,' to celebrity interviews and more
The trivia took place every Friday night, with a diversity of themes from Bollywood to American television shows and more. The event was held in a virtual format given the nature of the obvious pandemic circumstances of the time. 
"I've got a software that I work with where people came on, they were able to interact with each other and me online in the comments section," Machno said. "It was a way for people during the shutdown to still socialize. It just took off, and people just enjoyed doing it. Every type of trivia, whether it be Disney trivia, Seinfeld trivia, we would have prizes."
Given the diversity of the population of Secaucus, the idea was to have something for everyone when it came to the weekly offerings. Machno added, "Any time a different group would have a holiday, I would make sure to include them."
According to Machno, local businesses would donate gift cards for restaurants and other stores. He said it "really became a community thing." 
"It went beyong the library," Machno said. "It's something that now other communities are starting to sniff around for. I was chatting with some people in Jersey City … and it's growing."
According to Machno, following the trivia series, his programming expanded to include an interview series with everyone from local officials like the mayor and police chief, to authors and some celebrities he knows through his work, as well as community heroes he wanted to honor. Guests have included Jack Black and Kelsey Grammer to even former Gov. James McGreevey.
"I had quite a few people involved there," Machno said. "It was a way to keep the community involved. It was going on for about three years. And it reached people from other towns or other states." 
In addition to that, Machno had celebrities or those adjacent to them at "Trivia Night." The guest was usually relevant to the theme of that week.
"Joan Crawford's grandson is a good friend," Machno said. "He comes on for programs where we do Joan Crawford nights. He shows her private home movies. We bring a little something for everyone. I've had Peter Freestone, that's Freddie Mercury's personal assistant who lived with Freddie for the last 12 years of his life and was in the room when he died. So these are people that I know from being in the business." 
Using industry connections to produce content
From those close to Joan Crawford and Freddie Mercury, to Dolly Parton herself, Machno has an array of celebrities whom he knows from his "9 to 5." He used his connections in order to orchestrate the interviews and provide that type of entertainment content through the library.
"Dolly Parton, she's another one I know just from being around. Being in the business, you get to know people," Machno said. "Sometimes you're lucky enough to make some really good friends, and everybody is willing to help each other. As small and tight-knit a community as Secaucus is, the entertainment industry is the same way." 
Machno said this type of programming during the stay-at-home order era of the pandemic was "extremely important" to residents. That's why it was a no-brainer for the library to allow him to expand to include the interview series and other weekly live events.
The events took place both virtually and in-person, as the state of the pandemic allowed it. Machno's programming continued to grow in popularity, leading to many regulars of the events akin to fans.
"People absolutely needed an outlet," Machno said. "They needed an outlet to socialize. It just was a way for that to happen. Everyone was having those family Zoom meetings and getting together on there for birthdays. Everyone was finding all these different ways to stay connected and this was just another way to do that. It was a way to be connected, to be entertained. You have to be able to laugh, whether there's a pandemic out there or not. If you can't laugh … it's only going to seem bleaker." 
Event programming in Secaucus and the rest of Hudson County
Now, Machno is actually no longer doing programming with the Secaucus library. He is in talks with some other entities to bring the same type of programs he offered in Secaucus to their municipalities. However, being a resident of the town, he was happy to be of service especially at a time when people needed a happy distraction. 
"Secaucus is a wonderful town, being where I grew up," Machno said. "That's where I went to grammar school. For high school, I went to Hudson Catholic in Jersey City. But Secaucus … that town could grow as much as it wants to grow and it's always going to have a small-town feel." 
Machno dreamed of working at the library. He's always loved books and people, frequenting the library many times as a kid. And his programming aimed to make the library, as well as reading, fun.
According to Machno, for grammar school, he attended Immaculate Conception and then attended Hudson Catholic High School. Following that, his interest in show business and the like was sparked by performing as a standup comedian and serving as an emcee at clubs in New York City.
After that, he performed a show in Las Vegas, and also attended the Connecticut School of Broadcasting. Also making a foray into voice-over work, he eventually found his way back home.
According to Machno, his family having lived in Secaucus impacted him greatly. In addition to his sister-in-law working at the library, his brother is a local officer for the Secaucus Police Department. 
"Everybody does know each other," Machno said. "You feel safe when you're there. Even just driving through it going from Point A to Point B, there's a sense of home when you go through it … It's a strong community. It's a community that endures. And really, during that pandemic, the town really came together." 
Machno said other towns have contacted him and that the programming is going to be growing to other towns. He wants to continue the trivia nights and interviews with celebrities as well as the other weekly events he used to host.
Machno's programming has undoubtedly made an impact in Secaucus and beyond. Residents touched by him even reached out to Hudson Reporter to underscore that he deserved recognition for his trivia nights. 
"Word got out, and now let's see if we can make the state of New Jersey, or at least Hudson County, one big community," Machno said. While he sets his sights on making his trivia events bigger than Secaucus, Machno said he would return in a heartbeat to emcee any such events again in town. 
Making an impact on local communities
"It doesn't matter what town, what state, you can always find my programming on social media platforms," Machno said. "A lot of the communities that I go to, it really exposes it. So if it's the Jersey City Library, the Secaucus Town website, whatever it is, it's going to let people know we're there. If you share the links … I've had people in Virginia, New York … Other people are coming just because they know I'm calling numbers, or I'm doing a dunk tank. They always show up. It's flattering." 
Machno takes pride in what he does. He said: "I truly love people and I love being able to make a difference." 
And people love Machno, too, from your average resident to even Mayor Michael Gonnelli. Secaucus resident Evan Comer said, "His shows continue to be watched by the Secaucus community and the surrounding towns, and his presence has even reached people in other states … I believe he is someone that brings such joy to his own community and many others and who people should be watching and talking about. He has brought many communities together with good, wholesome fun and informative entertainment. That sort of thing seems to be rare these days."
While many of his trivia events and other programming were virtual given the nature of the time, they can still be rewatched and enjoyed. Machno's content is immortalized on his Instagram at @mrjdm80 and other social media platforms.
For updates on this and other stories, check www.hudsonreporter.com and follow us on Twitter @hudson_reporter. Daniel Israel can be reached at disrael@hudsonreporter.com.