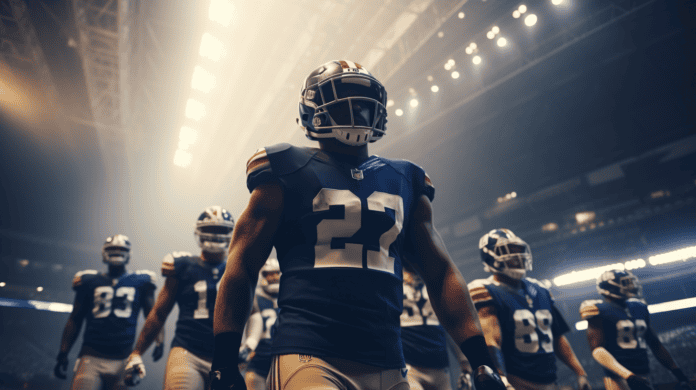 A recap of the New York Giants' final preseason showdown against the New York Jets reveals stars in the making and looming roster dilemmas. Find out who soared and who stumbled.
Key Takeaways
Reserves took center stage, revealing unexpected talent but also raising injury concerns, as seven Giants' players were sidelined.

Linebacker Isaiah Simmons and linebacker Carter Coughlin impressed, while cornerback Amani Oruwariye and backup QB Tyrod Taylor underperformed.

Questions about roster changes loom large, especially after some players made a strong case for inclusion in the 53-man lineup.
Giants' Final Preseason Game Reveals Stars and Concerns in Loss to Jets
The New York Giants didn't exactly end their preseason on a high note, losing 32-24 to the New York Jets this past Saturday night. But let's be real here; the scoreboard isn't the only factor in a preseason game. With reserves fighting for their NFL lives and a notable spate of injuries, this game was less about the final score and more about the individual performances that could influence roster decisions come Tuesday.
The Injury Toll Casts a Shadow Over the Game
The Giants saw seven players get knocked out due to injuries during the game. It's one of those harsh realities that could sway the team's personnel choices. While the extent of these injuries varies, it's evident that some of the sidelined players faced more than just a minor hiccup. Will this trigger a frenzy of waiver claims? Only time will tell, but it's an element the Giants' front office can't ignore.
Now, let's talk about the football that actually happened on the field. To put it diplomatically, it was a mixed bag of a game, akin to those preseason clashes where you're as likely to grimace as you are to cheer. For those into NJ sports betting, the unpredictable nature of the game could have made for some really interesting wagers.
Isaiah Simmons: The Shining Debutant
Linebacker Isaiah Simmons had just a couple of days to get acquainted with the team, but boy, did he make those days count. Even though he didn't log a ton of minutes, he got in Aaron Rodgers' grill with a QB hurry, forcing the veteran quarterback to abandon the pocket and toss an incomplete pass. Small sample size, sure, but Simmons gave Giants' fans a glimmer of hope.
Amani Oruwariye: From Promise to Perplexity
Cornerback Amani Oruwariye seemed like a gem when he was first signed. Post the 2023 NFL draft, however, his stock started plummeting, and his Saturday night performance only fueled the descent. From a DPI call to surrendering a touchdown and several big plays, Oruwariye looked less like a diamond in the rough and more like fool's gold.
The Young Guns: Jalin Hyatt and Carter Coughlin
Rookie wide receiver Jalin Hyatt didn't manage to catch a deep bomb, but his speed was undeniable. He practically left Ahmad "Sauce" Gardner in another zip code, showing us what he's capable of, even if Tyrod Taylor couldn't connect with him.
Speaking of Taylor, he's confirmed as New York's backup QB for the season. However, his less-than-stellar performance, including missing a wide-open Hyatt, raises concerns.
Carter Coughlin, on the other hand, came in like a wrecking ball. He was all over the field, making tackles, and creating chaos. He may have been on the bubble before, but there's little doubt about his roster spot now.
Matt Peart's Struggles and David Sills' Redemption
Matt Peart had a forgettable night, to say the least. Pushed around by the Jets' various defensive units, Peart highlighted the Giants' need for a reliable swing tackle.
David Sills, however, turned a corner. Initially listed under the "DUDS," Sills redeemed himself with six receptions for 81 yards and a touchdown. A story of resilience if there ever was one.
Under the Radar Stars
James Robinson had a sluggish start but later dazzled, while players like K Graham Gano, OL Shane Lemieux, and P Jamie Gillan solidified their "STUD" status. RB Eric Gray turned out to be a 'studly dud,' showing promise despite some limitations.
The final preseason game may have exposed the Giants' vulnerabilities, but it also illuminated some rising stars. As the team moves towards trimming down its roster, a handful of names have surged ahead in the conversation, while others may have to look elsewhere for a spot in the NFL limelight.
Whether the game's outcome affects the looming roster decisions is an unfolding drama we're all keen to watch. So, tighten your seatbelts, Giants' fans—this is going to be an intriguing week.