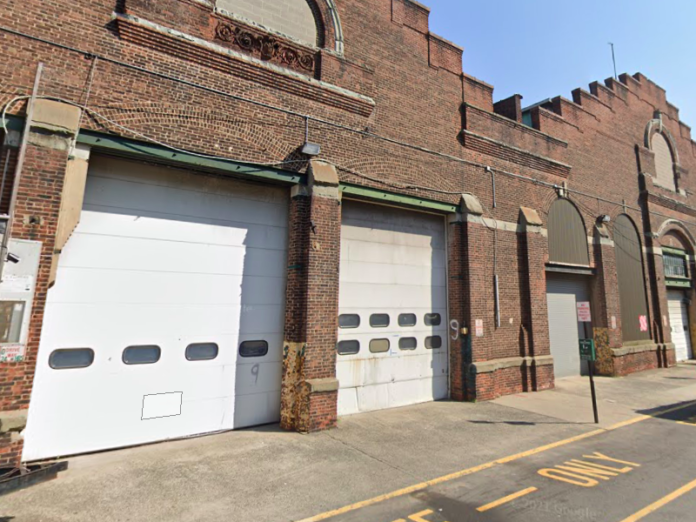 The old New Jersey Transit bus garage, currently used by the Department of Public Works (DPW), is set to be demolished. However, the city will keep a portion of the property for municipal purposes, according to Union City Mayor Brian Stack.
Decommissioned for more than a decade
In August, the Federal Transit Administration previously announced that NJ TRANSIT will receive $44,677,500 in funding to renovate its Union City bus garage, allowing the agency to create a public bus terminal, house administrative services, and charge and deploy battery electric buses. The funding will help cover the nearly $68.9 million the project is estimated to cost by NJ Transit.
In 2011, NJ TRANSIT ceased operations at its Union City bus garage located between 27th and 29th Streets and Bergenline Avenue and New York Avenue. Since then, a portion of the facility at the north end of the property has been leased to the Union City Department of Public Works for storage of various vehicles, equipment, and road salt stockpiling.
The remaining unused main facility is in a state of severe distress from disuse and age. Recent inspection of the facility found the building to be unsafe, and the public and all personnel are currently barred from entry.
The roof structure, which is integral to the larger building structure, has widespread structural failures, and various internal structural components are heavily deteriorated or fallen. A variety of internal components have been subjected to severe corrosion with rotten timbers throughout, making the entire interior of the structure unsafe.
Continued deterioration of the building cannot be permitted without risking the overall structural stability of the facility up to and including the potential for a partial or complete collapse. As the structure is both functionally obsolete and far too deteriorated to attempt its salvage, the only practicable recourse is to immediately demolish it in its entirety.
In July, the NJ TRANSIT board voted to award a $6,015,763.40 contract, plus 25 percent for contingencies, to DMR Construction Services, Inc. to demolish the structure. The existing Union City Bus Garage will be rebuilt as a 40-bus storage facility to support maintenance and storage of articulated and zero emission buses.
Union City to retain two blocks for municipal purposes
In late September, Stack said the city of Union City will retain 27th to 28th Streets from New York Avenue to Bergenline Avenue for unspecified municipal purposes. Meanwhile, NJ TRANSIT will utilize 28th to 29th Street from New York Avenue to Bergenline Avenue to establish the state-of-the-art garage for electric buses with service all over Northern NJ and New York City.
Although NJ TRANSIT was only recently awarded a $44.6 million grant to build this facility, Stack said his administration has worked alongside them for over 20 years on the long-awaited project. He added: "This will be an incredible addition that our city will greatly benefit from."
In addition to this grant, additional funds have also been secured for Union City and its residents for much needed improvements throughout the community, Stack announced.
He said this included $27 million in state funding for Union City's municipal budget; $3 million towards the Union City DPW facility; $2 million for the beautification of Bergenline Avenue from 30th to 49th Street, including streetscape improvements, lighting, planters, and more; $3 million to renovate Central Avenue from 21st Street to 35th Street with new sidewalks, decorative lights, trees, and more; $1.7 million to enhance the municipal parking lot between 8th Street and 10th Street, and the construction of an 100-unit senior citizen housing project; and $970,000 for a city-wide police radio system.
"As always, the efforts the Commissioners and I make are with the best interests of our community in mind," Stack said. "We will continue to work so that you, your loved ones, and all of the residents of Union City can enjoy a high standard of living and quality of life. Please feel free to call me, seven days a week, should you ever need any assistance."
For updates on this and other stories, check www.hudsonreporter.com and follow us on Twitter @hudson_reporter. Daniel Israel can be reached at disrael@hudsonreporter.com.