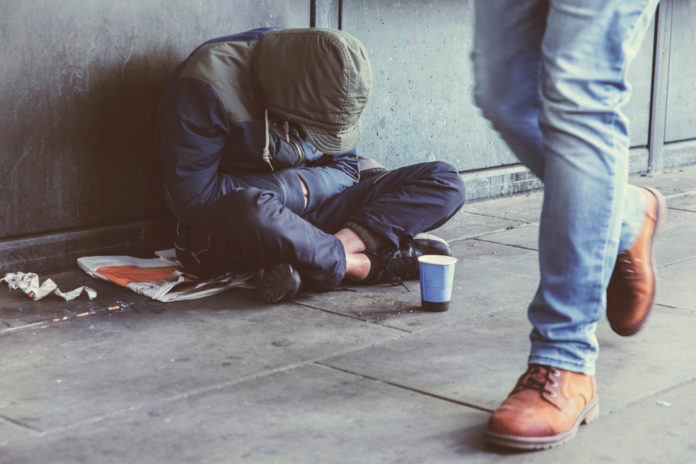 West New York Mayor Gabriel Rodriguez has acknowledged that his town is facing an increase in the homeless population and working to help those affected. Rodriguez addressed the issue at a September meeting of the Board of Commissioners after concerns were raised by resident and recent unsuccessful Board of Education candidate Vipul Parekh.
"Due to the increased homeless population going on in West New York right now, all the homeless people congregate and they have been relieving themselves on the streets," Parekh said on September 7. "It's especially concerning due to the school starting, that our kids do not see this. It's been happening a lot on 64th and Dewey, right behind #1 School, right behind the parking lot and along the sidewalks around there."
Parekh asked what the town is doing to address the issue other than through the Police Department.
"Other than calling the police, what else is the town prepared to do to help the large homeless population arising in West New York, relieving themselves and congregating in areas and sleeping on the streets?" Parekh asked.
Rodriguez retorted that West New York is not the only municipality dealing with an increase in the homeless population.
"That's not an issue that's only exclusive to the town of West New York," Rodriguez said. "There are increasing populations and homelessness throughout the county and several counties."
According to Rodriguez, the issue is very complex, given that homeless people often suffer from mental illness as well.
"We also have to keep in mind that once they are here, they are residents. There is a humanitarian factor involved with treating our homeless population. We have to remember that many of them suffer from mental illness and things of that nature. You, being an EMT, should know that better than anyone. We understand that that may be a problem, and a problem in terms of quality of life for other residents."
Parekh tried to interrupt Rodriguez, but the mayor kept going, illustrating his point that there was a humanitarian need to treat homeless people with respect rather than remove them from the town.
"You also have to keep in mind that it's not about what are we going to do with them in terms of, you sound like you're proposing to move them," Rodriguez said. "We are working with our police department in addressing that issue, in making sure that they are taken care of within the confines of a community as well. We are also looking out for the interests of other residents who are affected by their presence in town."
Rodriguez said dealing with local homeless population is a multi-faceted issue, which the town is continuing to address.
"So it is, like anywhere else in the country, a complex issue and not a black and white issue in the essence that we can't say 'We're going to do this or that,'" Rodriguez said. "It's a complex issue because it deals with people, their issues, their emotions, and unfortunately many times their mental illness and it has to be treated as such."
Rodriguez said he would continue the conversation with Parekh offline.
The next Board of Commissioners meeting is on September 28 at 6:30 p.m. For more information, go to westnewyorknj.org.
For updates on this and other stories, check www.hudsonreporter.com and follow us on Twitter @hudson_reporter. Daniel Israel can be reached at disrael@hudsonreporter.com.