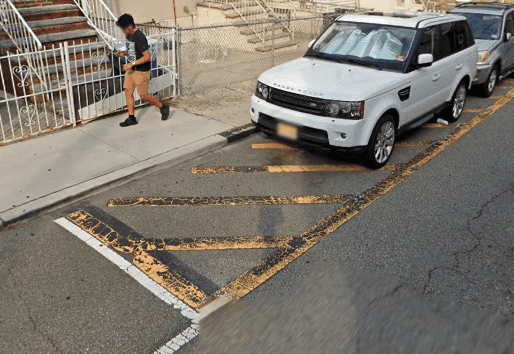 West New York officials are pushing back against resident claims that the new parking space line repainting is counterproductive.
At the October meeting of the West New York Board of Commissioners, resident Mark Bloomberg again raised concerns about the repainting of the lines of parking spaces. Bloomberg argued that the town lost spaces through the project, specifically on 63rd Street between Park Avenue and Boulevard East. He also took issue with the way the lines were painted, with the old lines still visible beneath.
In response, Mayor Gabriel Rodriguez and the board again defended the project. Commissioner Yoleisy Yanez said that the repainting has added parking spaces. She quipped that many residents had called asking for the parking space lines to be repainted.
Parking liaison sounds off
Administration Liaison for the West New York Parking Utility Amiris Perez echoed Yanez that residents had asked for this.
"We have received numerous of calls here in this office requesting from residents of this town to paint these lines, because it was causing a lot of problems among residents," Perez said. "There were individuals, actually parking in in the middle of two parking spaces, holding a spot for a friend or family member and that was causing a lot of problems. That's part of the reason why these lines were painted."
Perez said the line painting project was still ongoing.
"This project has not been completed yet," Perez said. "We're getting there. I would say that it's approximately 85 percent completed right now."
While the project is not complete, Perez said that enforcement of the lines has begun.
"We started enforcing the lines because that's another thing that we also started receiving complaints about from residents," Perez said. "As of September 29, we started enforcing the lines and we gave ample time to the community to know when we're going to start enforcing these lines."
Correcting illegalities
"I also wanted to mention that during the process of painting the lines, we actually found couple of things," Perez said. "We worked together with the Department of Public Works and the Traffic Division to correct this illegal parking that we found."
Perez said the town found illegal driveways, illegal alleyways that were converted into driveways, and other instances of illegal parking that were rectified such as illegal yellow zones and illegal handicap spaces.
"We were able to reestablish two parking spaces," Perez said after an illegal yellow zone was discovered at a residence on 54th Street. "Someone, I believe it could be the resident, actually painted an illegal yellow zone there that will take up two parking spaces."
Another area on Palisades Avenue with a similar situation yielded more new spaces.
"We were actually able to open up four new parking spaces between an illegal driveway, an illegal yellow zone, and an expired handicap spot," Perez said. "We were able to remove all of that and we added four new parking spaces."
According to Perez, the removal of those as well as some illegal handicap spaces have led to the addition of new parking spaces.
"Individuals probably went to Home Depot somewhere, put their own handicap parking sign, and simply painted the area in front of their homes," Perez said. "They claim that is their new parking space and that is illegal."
Smaller spaces?
Perez said one way the town is hoping to relieve the parking issue is by making the parking spaces smaller. She said that the town is making spaces 20 feet instead of 22 feet to allow for more.
According to Perez, there have been complaints that the parking spaces are bigger than what they're supposed to be. Perez said that the standard length of an on-street parking space is 22 feet but that the new spaces are less than that.  
"We decided that we're just going to paint the lines starting at 20 feet," Perez said. That goes in accordance with a town ordinance that would not allow vehicles more than 20 feet long to park on the street.
"That also helped to what we're trying to do here," Perez said. "So we're not even using the 22 feet standard dimension of a parking stall or on-street parking. We're just adjusting it to what the town of West New York considers applicable." 
The move aims to allow for more spaces as a result of the smaller length of space.
"It has been a very extensive project," Perez said. "We involve a lot of departments. We're trying to help resolve this parking issue."
For updates on this and other stories, check www.hudsonreporter.com and follow us on Twitter @hudson_reporter. Daniel Israel can be reached at disrael@hudsonreporter.com.