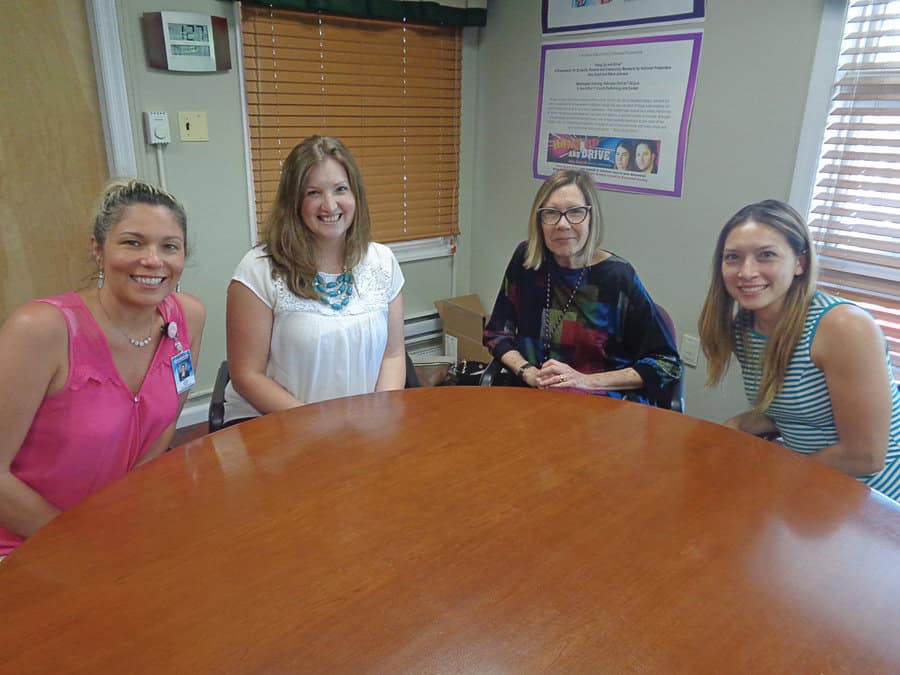 The Secaucus School District recently held a forum for local parents about the state's Harassment, Intimidation, and Bullying (HIB) program, featuring four anti-bullying specialists from the town's elementary and high schools.
The specialists in question were Dawn Doering, a guidance counselor at the Clarendon Elementary School; Jaime Viggiano, guidance counselor at Huber Street Elementary; Jill Preis, a student assistance counselor at Secaucus High School; and Sarah Sciscilo, a guidance counselor at Secaucus Middle School. They received training from Dr. Phil Nicastro of Strauss-Esmay Associates based in Toms River, which provides policies for over 400 school districts in the country.
The government website Stopbullying defines bullying as "unwanted, aggressive behavior among school-aged children that involves a real or perceived power imbalance." That can include "making threats, spreading rumors, attacking someone physically or verbally, and excluding someone from a group on purpose."
Bullying and bully-related suicide is becoming a big problem in schools nationwide. Last December, for instance, Kenneth Suttner, 17, of Missouri, fatally shot himself after enduring ridicule at school over his weight. A Yale University study found that bully victims are two to nine times more likely to consider suicide than non-victims.
"These are all people that are trained to work with students, and they have a nice way of talking with them." – Kenneth Knops
Though no federal laws exist to target bullying, bullying can overlap with discriminatory harassment, which federal civil rights cover.
Some bullying can be subtle, some more overt, but often, parents don't realize it's going on at first, or their children are afraid to tell anyone.
Looking out for it
Several of the specialists described how they discussed bullying with parents at the forum.
"As a team, we got together beforehand," said Viggiano. "We decided what we thought would be important for the parents. We found a slideshow that answered questions. It was geared towards parents, to let them know about the [state] bullying law, in terms they could understand."
That bullying law, from the state Anti-Bullying Bill of Rights, passed in 2011, strengthens standards and procedures for preventing, reporting, and investigating harassment, intimidation, and bullying, on and off school premises. Under that law, every school in the state must have anti-bullying specialists on hand that determine when HIB has occurred.
The four Secaucus specialists are essentially peer mediators who perform complete investigations and write up bullying reports.
While compiling a report, they bring in and interview the suspected student, find out if others may have seen the acts, interview them, and make immediate phone calls to parents, with principals at the respective schools involved.
The specialists then send their reports to the superintendent's office. Each specialist, in their report, has to determine whether or not the instance falls under the Harassment, Intimidation and Bullying policy, or if it was another kind of conflict.
Bullying? Or conflict?
"Sometimes, the students and the parents get confused between conflict and bullying," said Sciscilo. "We try to make sure that before we even do a report or anything, that if a student is fighting with one person and the other person is fighting back–that's more of a conflict. That's something they kind of have to mediate together with us, rather than saying it's HIB."
Superintendent of Schools Kenneth Knops further elaborated on this difference. "I could walk up to you and I could just punch you like that, and I'm not bullying you," Knops said. "So a lot of times, it's up to them to decide if it's a code of conduct issue or just an HIB."
Preis added, "Power differential is a big part of it. If we have one student that has all the power, and another student that feels like they don't have any, [where] that is repeated behavior, that would be more likely bullying." She added that official HIB also has to do with discrimination based on different characteristics i.e. the way students look, their skin color, or religion.
"Our goal is to change the behavior in the future," Preis added. "We want to avoid bullying behavior and we also want to help students make better decisions in the future. So we gear our interventions towards that."
Preemptive measures
The specialists apply their training constantly, teaching students to respect each other and each other's differences through events and activities.
"In October, throughout New Jersey, there's Respect Week, so we make sure that we participate in that and all our schools are participating in that," Sciscilo said. "We do fun activities and spirit weeks. We bring in people to talk to students at assemblies–a bunch of things."
Doering says the events start early.
"We see a big difference in elementary school as they get into middle school," Doering said. "In the elementary school, it's a learning experience and a lot of things maybe turn out to be inappropriate behavior, but we do investigate everything, just to make sure. We do counseling; we do social skills groups, just to educate the children."
At the elementary schools, "We have a character education program that we do called 'I Filled The Bucket,'" Doering added.
"So anytime a student is caught doing something good towards one of their peers, or maybe a staff member, we try to catch the good behavior and focus on the positive."
She noted, "I know that in elementary school, we put a lot of emphasis on class lists. Keeping kids apart, if we know they have a conflict, we make sure that they're not in the same homeroom the following year, to prevent bullying."
Preis said, "We have a poster in every classroom that says we won't accept harassment intimation, or bullying in this classroom. Nobody in this class will be picked on because of their anything or distinguishing characteristics."
The specialists said that elementary school students aren't as present on social media and at least do not have to worry as much about "cyberbullying" via the internet. But high school students do.
Cyberbullying
There are many ways kids can cyberbully — make a Facebook post mocking a classmate, or text harassing messages or post private photos from peers.
According to the i-SAFE Foundation, over 50 percent of adoscelents and teens have been bullied online; more than 1 in 3 young people have been victimized by cyber threats.
The specialists said they haven't really had much experience with cyberbullying locally.
"I personally have not had a Secaucus student that was cyberbullied and they tried to take their life, personally," Preis said.
LBGTQ bullying
Cyberbullying isn't the only harassment on the rise. Stomp Out Bullying, a leading national anti-bullying organization, found that over one-third of LBGTQ students are physically assaulted at school for their identity.
The organization also found that LBGTQ students at schools with comprehensive bullying and harassment policies are much more likely to report any harassment. The Secaucus anti-bullying specialists, in kind, have installed wide-sweeping policies to aid such students.
Sciscilo added that "we try to make it the norm, where it's not an odd thing. We're celebrating Pride Month and we got the stickers so they know that the teachers are accepting of it, too. You can put it on their door. So the students know that it's a normalized thing."
Bullying under Trump?
In a recent survey from the Southern Poverty Law Center, over one third of teachers said that since Donald Trump's election, they've noticed a sharp rise in anti-immigrant and anti-Muslim sentiment in their students.
Trump has inflamed controversy by calling for a ban on Muslims entering the country and severely limiting immigration.
The specialists said that locally, they haven't seen any uptick in bullying correlated to politics. "We have such a diverse group of students, so I don't think they think of it in that way," Sciscilo said. "We have so many Muslim students; we have so many African-American students. I haven't had any issues with that."
"I think in our little microcosm that our staff doesn't bully students, out administration doesn't bully teachers," Preis said. "I sort of like to think that we're insulated, even to the town level."
The specialists also have a component in their reports discussing what they recommend their schools do in response to a particular bullying incident, such as bullying of a Muslim or Hispanic child. They might do lectures about diversity in the classroom where such incidents occurred, for example.
In more recent years, parents have begun taking bullying more seriously, according to Preis.
"What I hear is a change in the attitude at home," she said. "I think that parents have come around to accept that this isn't acceptable."
Hannington Dia can be reached at hd@hudsonreporter.com