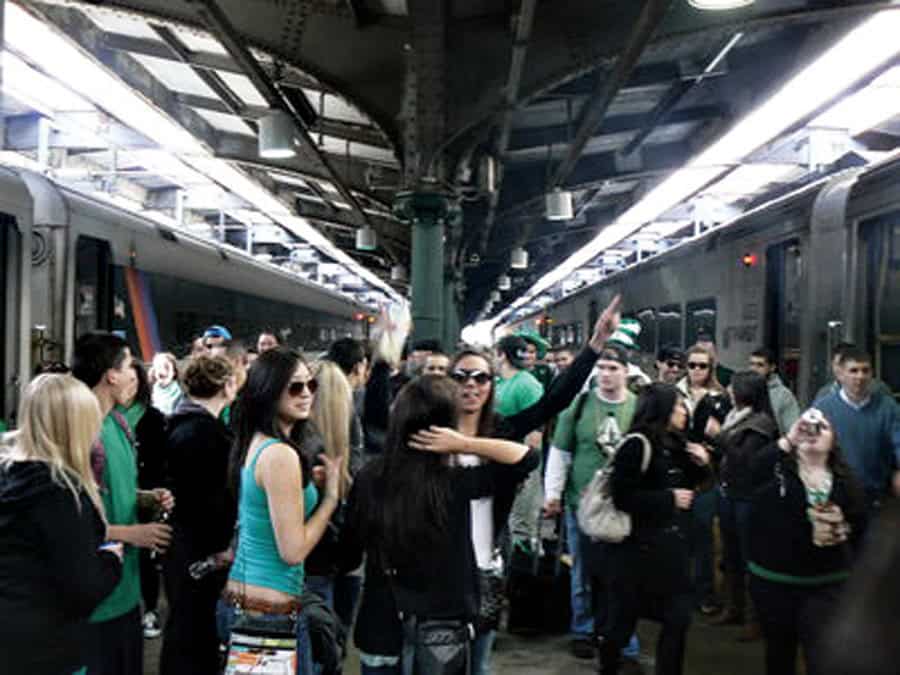 Before people decked in green descend on Hoboken for the next large bar crawl event, LepreCon, the Hoboken City Council will consider new legislation that could curtail pub crawls in the Mile Square City.
The council passed an introductory ordinance sponsored by First Ward Councilman Michael DeFusco by a narrow margin, a 5-4 vote, on Feb. 5.
The ordinance defines a pub crawl as any two or more businesses which sell alcohol, jointly have an event that serves alcohol in which over 600 people are sold tickets to spend time at the establishment.
As currently written, the ordinance would establish Pub Crawl Event Permits which any business that "arranges, advertises, plans or coordinates in a pub crawl" would have to obtain.
These permits will cost those who apply $3,000 per participating bar as well as a $200 application fee.
This permit will have to be displayed during the event. Bars with outdoor space will also need to pay an additional $1,000 to use that space during the crawl, and must be granted permission by the Hoboken police and fire departments.
They could also only use the outdoor space for a limited amount of time during the event, from 11 a.m. to 6 p.m.
According to a press release from DeFusco, by allowing bar owners to use their outdoor space on pub crawl days it will allow them "to responsibly serve more patrons and offset the costs of the permit."
The ordinance specifically carves out an exception in the form of a "Food Tour" in which two or more restaurants participate in a joint event which showcases their "culinary offerings, and where alcohol is not being marketed by the organizer."
Costly crawls
According to a press release from DeFusco, the aim of the new legislation is to establish a better system to manage pub crawls as well as create additional oversight.
The revenue generated from the new process would be used to offset the costs the city accrues during these events, including extra public safety enforcement and environmental cleanup.
Last year's SantaCon cost approximately $70,000 in police overtime alone.
"Holiday pub crawls have long been a nuisance to the quality of life in my downtown neighborhood," said DeFusco, noting that because the city faces a budget deficit this year Hoboken "cannot afford to foot the bill for additional safety and cleanup costs."
The last LepreCon resulted in four crawl-related arrests, 322 calls for service, 22 people transported to Hoboken University Medical Center for treatment, 37 motor vehicle summonses, and 12 city ordinance violations.
The 2019 SantaCon resulted in 521 calls for service, 49 city ordinance summonses, 34 motor vehicle moving violation, 20 individuals transported to hospitals for alcohol-related issues, and eight arrests.
DeFusco called the potential permitting process "common sense" before noting "many of Hoboken's bar owners rely on high traffic days to meet their bottom line for the year and this proposed legislation will incentivize owners and help them succeed while not overburdening taxpayers."
He said before the legislation comes back for a final vote, he will continue to speak with the community and local bar owners to listen to their feedback.
Just around the corner
This year's LepreCon in Hoboken will take place on Saturday, March 7 starting at 10 a.m. and $10 tickets are already being sold online.
One website called hobokenstpatricksday.com already shows at least four bars have signed on to participate, three of which are located downtown in DeFusco's ward.
The website sells "All Access Passes" to The Inn, The Ainsworth, Texas Arizona, and Willie McBrides.
These passes allow patrons to enter the bar free of admission until 2 p.m.
The website urges people to "Keep the tradition going strong!" and notes "All of the hottest bars in Hoboken will be flooded for this year's annual Saint Paddy's Celebration so make sure you're ready!" calling it the "ultimate party experience in Hoboken."
For updates on this and other stories check www.hudsonreporter.com and follow us on Twitter @hudson_reporter. Marilyn Baer can be reached at Marilynb@hudsonreporter.com.