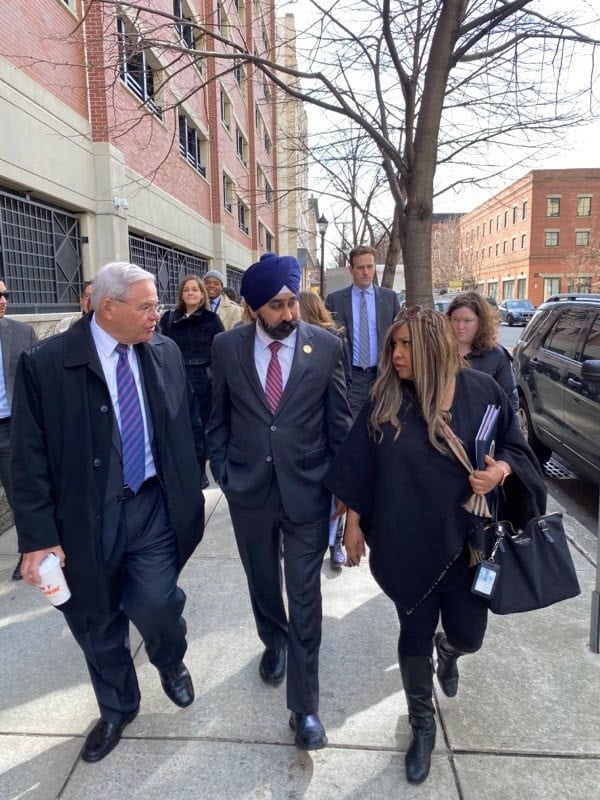 Federal, state, and local officials toured the sites of the Rebuild by Design project for Hoboken on March 2.
The Rebuild by Design project aims to protect Hoboken and parts of Weehawken and Jersey City from flooding caused by heavy weather events.
The U.S. Department of Housing and Urban Development awarded the project $230 million dollars after Hurricane Sandy flooded homes in low lying municipalities along the Hudson River in October of 2012.
In Hoboken, the floodwaters reaching six feet high in some places trapped thousands of people in their homes and cut power to almost every neighborhood.
In a continuing effort to recognize the challenges cities are facing with post-disaster recovery work, HUD Regional Administrator for New York and New Jersey Lynne Patton toured the project sites with U.S. Sen. Robert Menendez, NJ Dept of Environmental Protection Commissioner Catherine McCabe, Hoboken Mayor Ravi Bhalla, and Weehawken Mayor Richard Turner.
"Superstorm Sandy took the lives of no less than 37 New Jersey residents and caused more than $30 billion dollars in damage," said Patton. "One of the most powerful images seared in the memory of millions of Americans was the endless cascade of water flowing down the steps of the PATH station right here in Hoboken – a city underwater. Through HUD's $230 million award, Hoboken, Weehawken, and Jersey City are ensuring their residents will never suffer from such a nightmare again. Thanks to proactive elected officials such as Senators Menendez and Booker, as well as Mayors Bhalla and Turner, this pioneering project by Rebuild by Design will improve the physical, ecological, economic and social resiliency of the great Garden state."
Menendez, the ranking member of the Senate's housing subcommittee, said after Sandy hit it was clear that communities in New Jersey needed to take bold steps to protect themselves from future flooding.
He said the federal funding of the Rebuild By Design project is the kind of long-term, comprehensive approach to flood mitigation and resiliency that can serve as a model for other urban areas grappling with repetitive flooding.
The project consists, in part, of a resist barrier that will be composed of several technical components, including three types of deployable gates: roller gates, swing gates, and stop log gates. An "I" resist structure will be built for parts of the barrier below six feet high and a "T" resist structure for parts of the barrier above that height to provide more support.
The southern barrier would begin on the east side of Washington Street at Newark Street and extend south toward  Observer Highway. The barrier would begin at about grade level before climbing to about six feet tall near the intersection of Washington Street and Observer Highway.
At Washington and Observer, a rolling gate would be deployed to block the street during a storm surge. The barrier would cross over onto NJ Transit property behind the NJ Transit pump house and extend west out of public view. It would then reemerge on Observer Highway at about 11 feet tall in front of the NJ Transit engine house.
From there the barrier would continue west along the southern portion of the Observer Highway bike lane in front of the engine house before once again turning onto NJ Transit property, where it will continue toward Marin Boulevard.
The northern barrier will extend from 19th Street in Weehawken past the Weehawken Cove through what will be Hoboken Cove Park to 15th and Garden Street.
It then would run along Garden Street to the alleyway between 14th and 15th streets and then turn right on Washington Street before stopping at 13th Street.
In this zone, a resist structure will be built from ground level near 13th Street to over six feet tall near Garden and 15th streets.
"I am incredibly grateful to HUD Regional Administrator Lynne Patton and her staff for coming to Hoboken to tour our resiliency projects, and for committing her strong support for Rebuild by Design," said Mayor Ravi Bhalla. "With the leadership of Ms. Patton along with our federal and state elected officials, Hoboken will become a model for creating critical flood infrastructure that can be replicated across the country. We look forward to a continued partnership with HUD as we break ground on construction for Rebuild by Design later this year."
Patton and the officials toured Weehawken Cove / Harborside Park, the site of the northern alleyway resist structure, the New Jersey Transit Yards as well as the Hoboken Housing Authority, and the site of what will be Hoboken's Northwest Resiliency Park which will store over a million gallons of water during heavy rain events.
"Hudson River Rebuild by Design is an exciting and innovative project to protect Hoboken and its residents from flooding and enhance its vital waterfront area," said McCabe. "Yesterday's tour demonstrated that this flood control project has required unprecedented levels of coordination and collaboration across federal, state and local governments. As the program reaches 100 percent design, I'm confident that this project can become a national model with the support of our partners at HUD."
For updates on this and other stories check www.hudsonreporter.com and follow us on Twitter @hudson_reporter. Marilyn Baer can be reached at Marilynb@hudsonreporter.com.